Matt Barkley Staying at USC: 3 Bold Predictions for His Senior Year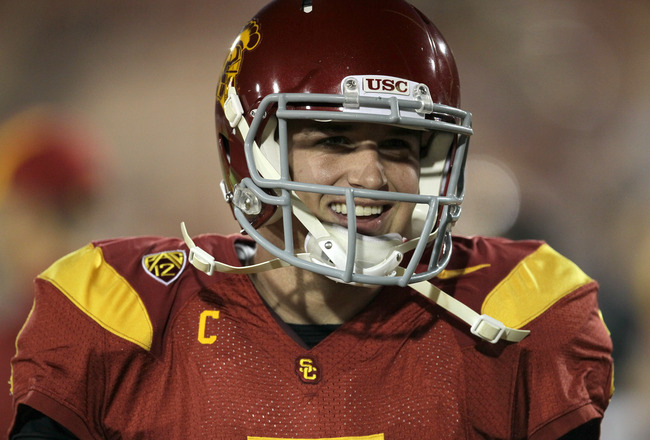 Stephen Dunn/Getty Images
Merry Christmas Trojan fans, your quarterback Matt Barkley is returning for his senior season.
He is coming off of his best season yet, as he completed 69 percent of his passes for over 3,500 yards and 39 touchdowns. This move instantly makes USC Pac-12 favorites, national championship contenders and Barkley is an instant Heisman favorite.
But anybody can make those simple, boring predictions. How about some bold predictions for the senior quarterback's season? Let's go out on a limb a little bit.
Here are a few bold predictions for Matt Barkley's senior season.
He Throws for at Least 300 Yards in Every Game This Season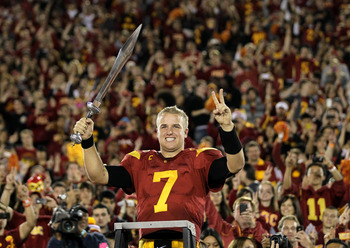 Stephen Dunn/Getty Images
Barkley threw for over 300 yards six times this season and he was playing with a very young receiving corp. All of them will return next year and he has another weapon in 4-star recruit Darreus Rogers. He also managed to throw for over 400 yards twice this season.
If this prediction comes true, he would end up throwing for at least 3,600 yards, which would easily become a new career high.
Barkley Throws No More Than 5 Interceptions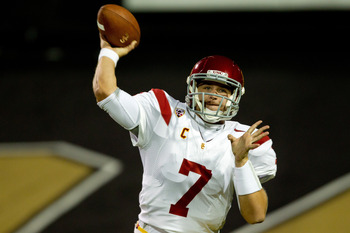 Justin Edmonds/Getty Images
Barkley is a top NFL prospect but if there's anything that really drives me nuts with him, it's the number of interceptions he throws. His first two seasons he combined for 26 completions to the other team. This year he only threw seven.
Now with everybody returning and all of the weapons on this team, I think it will be no more than five.
His completion percentage increased a solid seven percent from a year ago and with all of these top receivers, it's hard not to find somebody open.
Barkley has really improved his game and limiting mistakes has been a big reason for his success. Expect even bigger numbers and even fewer interceptions this season.
Barkley Wins the Heisman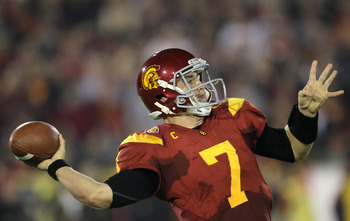 Stephen Dunn/Getty Images
With the season Barkley had last season, at the very least he should have received an invite. Now he will use that motivation and end up winning it this year.
Sure, there are plenty of candidates out there that you could make a case for heading into next year, but Barkley has all of the weapons around him. He also has several players like LaMichael James, Robert Griffin and Trent Richardson leaving for the NFL.
This is the reason Barkley returned for his senior season. He wants to win a national championship and a Heisman trophy. Who is going to tell the guy no?

Randy Chambers is a B/R Featured Columnist that covers College Football and the NFL. You can contact him @Randy_Chambers or Randy.Chambers7@yahoo.com
Keep Reading

USC Football: Like this team?