5 2012 NFL Draft Prospects Who Would Be Best Utilized Next to Cam Newton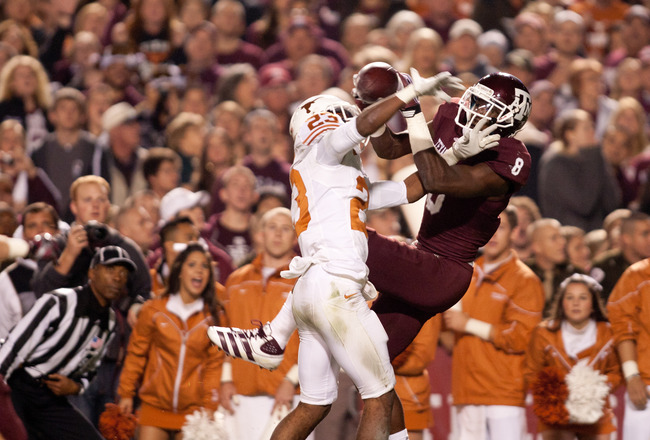 Darren Carroll/Getty Images
The NFL draft is always full of prospects than can help a team improve. However, finding the right player for your team is always a challenge.
We all know of the top receiving prospects in the nation—Oklahoma State's Justin Blackmon, South Carolina's Alshon Jeffery, Notre Dame's Michael Floyd—but many don't realize that in 2012, the Panthers will have to find skill position talent in Round 2 and onto Day 3.
The team will almost assuredly draft defense in the first round, leaving the front office with some work to do if they want to surround Cam Newton with more talent for his sophomore season.
Here are five prospects that you may not have necessarily heard of, but would play a major role in the Panthers' offense if they are drafted in 2012.
WR, Kendall Wright, Baylor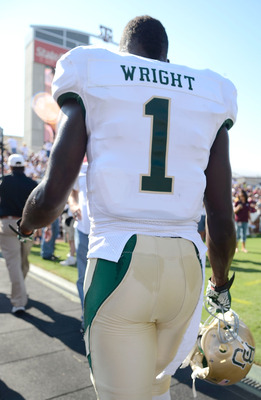 Sarah Glenn/Getty Images
Targeted Drafting Zone: 2nd Round
A legit burner and potential deep threat at the NFL, Wright brings a lot to the table as a prospect. Wright could immediately start for Carolina opposite Steve Smith and build on what is already the most explosive offense in the NFL.
Not extremely elusive, but has good vision and ability to make an ankle breaking move in the open field to pick up some additional yardage. Wright also has room for improvement as a route runner, but again, there's a lot of potential waiting to be tapped into.
WR, Jeff Fuller, Texas A&M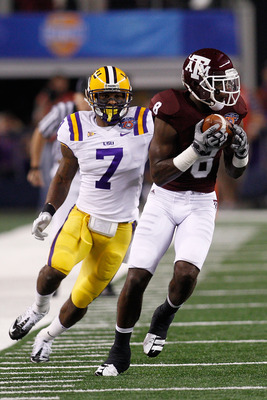 Chris Graythen/Getty Images
Targeted Drafting Zone: 4th Round
Fuller has the NFL pedigree, with his father playing in the league as a safety for the 49ers. He is quite the player himself and has a real shot to become a solid NFL receiver and already looks the part with an imposing build.
Fuller is a tough runner after the catch and doesn't shy from contact, and why bother with his strength. Standing at 6'4" and containing ample athleticism, the Texas A&M receiver would shine in the Panthers' vertical passing offense.
WR, Tommy Streeter, Miami (FL)
Joel Auerbach/Getty Images
Targeted Drafting Zone: 4th-5th Round
Streeter is another 6'4" wideout who is just as talented as Fuller. He came along out of nowhere to become Miami's leading receiver this season and quickly caught attention from NFL scouts.
Streeter has good deep speed and with his height, he could become a threat at Cam Newton's disposal. He would also earn a starting spot with his great ability as a blocker. He is dominant at the college level and it's a skill that translates directly to the professional level.
WR, TJ Graham, NC State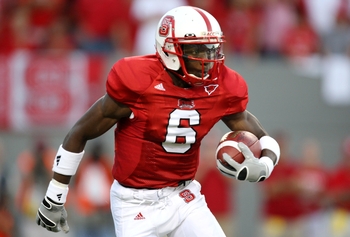 Streeter Lecka/Getty Images
Targeted Drafting Zone: 5th-7th Round
Graham is a legitimate speed demon who has improved drastically in his final season with North Carolina State, developing from a return specialist into the team's top receiver.
Graham was one of the top deep threats in the nation before a half-game suspension and nagging injuries slowed down his season. This is a player, who in a three game stretch, had three touchdown receptions of more than 60 yards, including an 87 yarder. Also in that stretch was an additional 49 yard touchdown catch.
TE, Coby Fleener, Stanford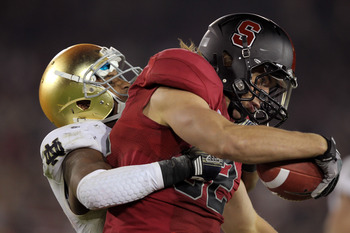 Ezra Shaw/Getty Images
Targeted Drafting Zone: 3rd-4th Round
No, that's not Greg Olsen in a Stanford uniform. However, in his senior season, Fleener has looked just as impressive as a receiving tight end for the Cardinal.
He has good athleticism for a tight end and standing at 6'6 250 lbs, he has an NFL body as well. He's a very good route runner who plays instinctively and manages to find himself open frequently. Fleener is also a player who rarely drops the pigskin and would be a welcome addition if Jeremy Shockey is no longer a Panther in 2012.
Keep Reading

Carolina Panthers: Like this team?