2012 NFL Mock Draft: Arizona Cardinals 7 Round Mock Draft, Version 1.0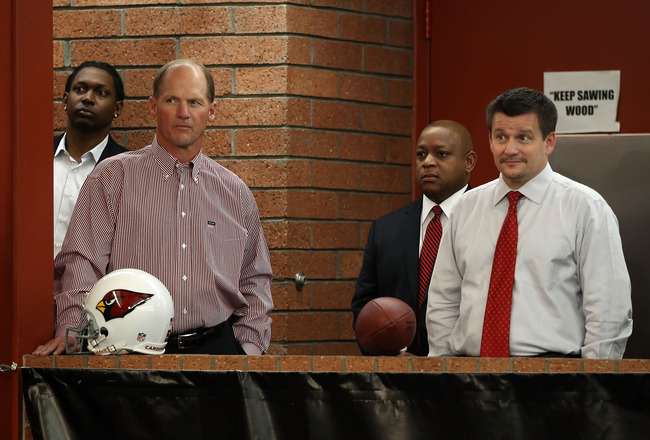 Christian Petersen/Getty Images
Okay. So I'm a little late to the party for a version 1.0 mock draft, but here it is anyway.
Just before Christmas last year, I did a complete, seven round mock draft for the Arizona Cardinals. Unfortunately the final results were pretty patchy, and I failed to predict even a single Cardinals pick, it nonetheless proved a lot of fun.
This season, I've left it a little later before throwing my predictions out there, in the hope that I'll come a little closer to the mark.
Before the combine, it's still a little early to make really solid predictions, of course, but hopefully this will make for some entertaining reading nonetheless.
Before we start, a few pointers. Since I do not have the time or expertise to mock what every other team are going to do in the draft, I have made some assumptions. For the purposes of this draft, I'm going to assume that each player goes off the board during his earliest projected round, unless I have a reason to believe he will fall. As a result, around 40-50 players are going off my big board each round, which will not happen in the real draft. As a result, better players will likely be available to the Cardinals in later rounds than the ones I am mocking for them.
As the Cardinals took Patrick Peterson and Ryan Williams in the first two rounds of last years draft, I am going to assume that the Cardinals draft mentality is now more of the "best player available" mode, than the "draft for a need" system which they have traditionally used.
The goal of this mock, therefore, is not necessarily to pick the exact players the Cardinals will take, but to project the type of draft that the Cardinals may end up having.
Round 1: Jonathan Martin, OT, Stanford.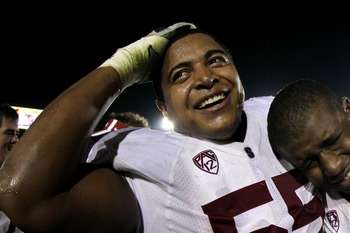 Stephen Dunn/Getty Images
The Cardinals have been here before, in need of a left tackle, and forced to reach in the draft to get one.
In 2007, the player they took was Levi Brown, unanimously considered the worst starting LT in the NFL for much of his career.
This year, the Cardinals are expected to draft his replacement, and that man appears likely to be Jonathan Martin of Stanford University.
Fortunately for the Cardinals, Martin is a much better prospect than Brown ever was. For one, Martin is very much a known quantity. Martin is part of the most successful Stanford Cardinal team of recent memory, and has spent his college career playing in college football's most pro-style offense.
What's more, he knows what it's like protecting the blindside of a real pocket passer, not a dual threat QB that we've become used to in recent years. Andrew Luck's success is in no small part down to his own prodigious skill, but without his O-Line, anchored by Martin, one has to wonder if he would have been quite so special. Martin has helped ensure that Luck is one of the least sacked QB's in college football, which surely helps his production.
By far Martin's biggest asset is his football IQ. He has an uncanny ability see plays, and inherently know what's coming, adapting almost seamlessly to whatever is needed of him. He has great quickness and agility for an offensive lineman and brings a level of skill and finesse to the game rarely seen from players who usually rely on brute force and power—though he has no shortage of those either.
Martin is an elite run blocker, who is able to create lanes with ease—no bad thing for a Cardinals team who has long hoped to improve this part of its game. Beanie Wells, and the returning Ryan Williams will really benefit from his abilities in the run game, especially his speed which allows him to chip his first block, and locate a second defender. He is very good at sealing the edge, which should also allow LaRod Stephens-Howling to become a larger player on offense.
His pass protection is good, though needs work. His is very good at identifying the pass rush, and getting into good position. His balance and footwork are good, though could use a little polishing. His biggest issue is a slight lack of power which means he struggles against the most aggressive bull rushes, and while he has always managed to hold his own at a college level, will definitely need to improve against the likes of Ray Lewis and the NFL's elite pass-rushers.
However, these are minor defects for a left tackle who will be able to make an impact from day one.
Perhaps the biggest issue with Martin could well be his final draft position.
While Martin currently ranks as the third-highest ranked OT in the draft on most boards, behind Matt Kalil and Riley Reiff, Martin's stock is definitely on the rise. Solid performances in the combine could easily see Martin climb into the top 10, and out of the Cardinals reach. Indeed, I have seen Martin drafted as early as second overall in some mocks, though I believe that those teams in need of an OT will prefer Kalil and Reiff.
Other Options.
Matt Kalil, OT, USC. Matt Kalil is widely considered a top three prospect in the NFL draft, and the best overall offensive lineman in the draft. Kalil is considered—across the board—a better prospect than Martin, but not by such a margin that he is absolutely destined to stay that way. Just as a great performance at the combine could see Martin climb significantly, a poor showing by Kalil could see his stock fall, and if he is still available when the Cardinals come to pick, they would be remiss not to consider him.
Morris Claiborne, CB, LSU. There is no doubt, the Cardinals need a left tackle, but, more importantly, they need one who can make an impact straight away. Outside of Kalil and Martin, the Cardinals may struggle to find one. Riley Reiff is a well coached lineman out of Iowa, the sort who usually make an impact in the NFL, but is more well suited to playing right tackle in the NFL on day one, and will take time to develop into a LT in a pro offense. So, with that in mind, the Cardinals would be wise to consider bolstering another part of their team which is struggling with depth, and seeking out an LT in free agency or trading.
Morris Claiborne may seem like an odd pick after spending a first rounder on former LSU teammate Patrick Peterson last season, but trades, injuries and subpar performance have left the Cardinals vulnerable at CB, and reuniting one of college football's most dominant cornerback tandems, would leave the Cardinals with one of the most fearsome secondaries in the NFL.
Round 3: A.J. Jenkins, WR, Illinois.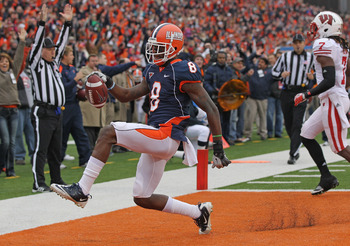 Jonathan Daniel/Getty Images
After trading away their second round pick to the Philadelphia Eagles, barring another trade, the Cardinals will not be picking again until midway through the third round.
Last season, I advocated taking another wide receiver called A.J., in that case A.J. Green who has been part of the breakout young offense in Cincinnati.
And while A.J. Jenkins does not have quite the same profile as his NFL namesake, the Cardinals will still want to consider taking a receiver early this year, for exactly the same reasons I urged them to take one last year.
The Cardinals have one of the NFL's all-time greatest WR's under contract until—to all intents and purposes—the end of his career. Larry Fitzgerald is spectacular. His supporting cast, however, is not. It is, in fact, so inconsistent as to be almost unbearably frustrating.
Early Doucet, Andre Roberts and Stephen Williams have all shown flashes of brilliance, but on the whole, have been disappointments. Teams simply do not fear them, and, as a result, are happy to blanket Fitzgerald and dare the Cardinals to throw elsewhere. In A.J. Jenkins, the Cardinals may get the No. 2 man they need.
Jenkins has been somewhat inconsistent throughout college, perhaps not the best sign for the Cardinals. However, since he would not be playing as the Cardinals sole, or even main receiver, is relatively sure handed and is good after the catch, the Cardinals will likely get what they need. These are all attributes which they would really have benefited from throughout the last season.
He is not the quickest receiver in the pack, which is why I believe he will fall into the third round, but has good route running abilities, and meets the ball very well. His ball security is not an issue, and the Cardinals quarterback—whoever that may eventually be—should not fear sending the ball his way. He is able to create enough separation from corners to remain competitive, though lacks the speed to beat them definitively.
He is particularly strong going over the middle, and can catch passes in traffic. He can hurt defenders in open field—not unlike Larry Fitzgerald—and, most significantly, is the sort of player whom defenses would need to scheme to account for, relieving pressure from Fitzgerald.
He is neither very elusive, nor very powerful, which is something of a concern, but, as he would not be the No. 1 receiver, and would likely face up one-on-one against an opposition's No. 2 corner this is somewhat mitigated against.
While he does not have the top end speed down the field of the most elite receivers, he would be a solid No. 2, opposite Fitzgerald, and would hopefully ease just enough pressure from Fitzgerald to allow him, and the more elusive Andre Roberts to devastate teams deep.
Round 4: Brandon Mosley, OT, Auburn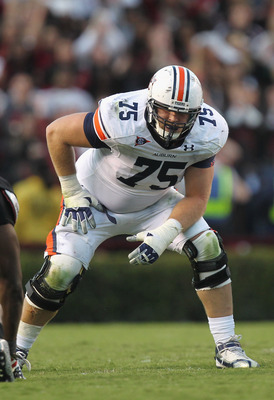 Streeter Lecka/Getty Images
Brandon Mosley is a converted tight end, who has most recently played right tackle for Auburn.
Mosley is somewhat of an unknown, given that he transferred to Auburn from junior college, and has played OT for just two seasons, however, he is already causing people to take notice.
Unlike most converts, Mosley appears a natural blocker, with somewhat of a taste for contact.
Clearly, the learning curve for Mosley will continue to be steep, as he shifts, yet again, to the professional game. Auburn's option offense under Cam Newton gave Mosley a lot of leeway, compared to what he may expect in the NFL.
His work ethic, however, suggests that this will not be a problem, and he will undoubtedly put in all of the hours necessary with Russ Grimm to fully complete his transition to RT.
He is a natural pass blocker, with a great, innate ability to sense how plays will develop. His instincts are second to none, as demonstrated by the ease at which he transitioned from TE. He has spectacular launch velocity out of blocks, and keeps his pads low, ready for the next block. He has good movement and fluidity, and his lateral agility is quickly on the rise.
His core strength is very good, and will match up well against most NFL players.
As a former tight end, his quickness and and agility are more pronounced than many interior linemen, which is to his credit. He is still not 100 percent when it comes to hand placement, or leverage, but this will come with time.
Mosley is certainly a project, but undoubtedly one of the the highest upside players in the draft. At right tackle, Mosley will likely see some playing time early, and as a former tight end, may also get some playing time at this position, should injuries necessitate, bringing extra depth to a position the Cardinals struggled at this season.
As someone so new to the position, Mosley may also have the potential to develop into a left tackle, as we have certainly not seen everything that he has to offer in his short career as a lineman.
Mosley shows a natural aptitude and skill set for a position which is very new to him, which is a huge upside. While you can never be sure, had he started his career playing tackle, he may well be a first-round talent by now, meaning that he represents excellent value for any team willing to put the work in and develop him.
As Russ Grimm is one of the better OL coaches of his time, and built one of the most dominant offensive lines in the NFL during his time in Pittsburgh, so he would likely love the challenge of moulding a player like Mosley.
Round 5: Jeff Allen, OT/OG, Illinois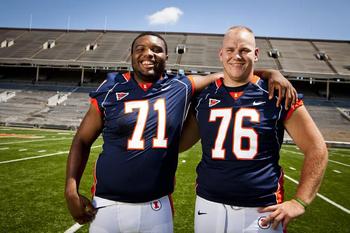 Image courtasy of Justin L. Fowler/The State Journal-Register. Licensed by Creative Commons
Jeff Allen is a versatile offensive lineman, with experience at both guard and tackle.
The Cardinals O-Line will have been seriously bolstered with the addition of Jonathan Martin in the first round, and Brandon Mosley in the third, but has been weak enough to warrant a look again here. In Allen, the Cardinals would get a player who will not necessarily start in year one, but whom the Cardinals could develop in house.
Allen is one of a growing number of left tackles, who has been moved inside to guard, and who has excelled there too.
He is very good at setting the line, using his large frame to his advantage. His pass protection is above-average, as is his awareness and football IQ. He is less impressive at run blocking, especially against zone protection where most would categorize him as below-average to poor. His hand positioning needs some work, as he at times tends to allow rushers into his body. His great pad level, footwork, low center of gravity and immovable body often make up for this, but arm strength and extension will need work.
He has a good work ethic, and exceptional dedication to learning the art of football, as demonstrated by his willingness to move positions and understand different facets of the game. His continued success at multiple positions is testament to his innate football ability and understanding.
At the Senior Bowl, Allen impressed greatly, which may result in his value skyrocketing over the coming months, but should he still be available at this pick, the Cardinals would be well advised to take a long hard look at this player.
Some would question the sense in taking offensive linemen with three of the cardinals first four picks, given their other needs, but by far, the Cardinals biggest need is on the offensive line, and it is the positions least likely to be addressed through free agency.
Personally, my feeling is that Allen would be a more natural left tackle in the NFL, and the Cardinals will use him to add depth at this position, and as insurance should Martin not pan out as expected. However, his ability to play on the right, or as guard mean that Allen represents exceptional value, and has the ability to compete at multiple positions.
Round 6: Jack Crawford, DE, Penn State.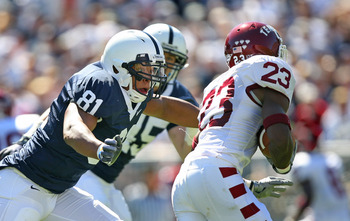 Hunter Martin/Getty Images
An optimistic pick for the sixth round, perhaps, Jack Crawford is an explosive and raw defensive end out of Penn State.
Growing up in London, England, Crawford's football education did not begin until he moved to New Jersey, aged 16. Originally a basketball player, Crawford quickly also became involved in football, playing DE and TE.
In spite of his late start, Crawford has developed into one of Penn State's more accomplished pass rushers in recent seasons, and is projected to go off the board in the fifth round. As much as he has impressed in the Senior bowl, he is unpolished, and has generally garnered negative reports from most scouts—many suggesting he shouldn't have been invited, and refusing to acknowledge his skills—and as a result I believe that he may fall into the sixth round.
Crawford is a really interesting prospect. His late start and limited football experience mean that he is in no way the complete package yet. At 6'5" and 268, Crawford has great size for his position, and has above-average athleticism too. In spite of his size, his strength and power is below average, in no small part because his lack of fundamentals do not allow him to make the best use of his physical gifts.
He is a really hard worker—he did not even know the rules of football in 2005, save what he picked up from watching Any Given Sunday—and has gone from these humble beginnings to a captain and leader on one of the better ranked defenses in college football. He shows a love and passion for the game rarely seen amongst those who didn't live and breathe it as a child, and has put in a great deal of hard graft to reach this stage.
Crawford really impressed during his Senior Bowl workout, proving he has the natural talent to succeed in the NFL. His lateral movement is good, and his ability to rush the passer is above average for someone late to his position. His hand positioning and leverage are both a real problem, and coming from a 4-3 system in college, he would take some time to transition to a 3-4 DE.
He would need a lot of nurturing, as much of his success has come solely on the back of raw instincts and as such, his development has been patchy, and inconsistent. Fortunately, The Cardinals have solid defensive end's in Darnell Dockett and Calais Campbell, so Crawford would have the time to develop naturally. He is unlikely to make a huge impact year one, but would bring great depth to a position of strength for the team.
His raw, natural abilities more than make up for his lack of finesse and technique—these things can be taught. Because this is not a position of need for the team, the Cardinals have the time they need to mould Crawford into a great NFL left defensive end, and in the penultimate round, Crawford could be one of the steals of the draft.
Round 6 (From Washington Redskins): DeQuan Menzie, CB, Alabama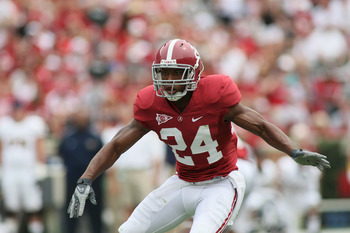 Greg McWilliams/Getty Images
DeQuan Menzie is an the oft-forgotten part of Alabama's fearsome secondary. While fellow corner Dre Kirkpatrick and safety Mark Barron have been making names for themselves, and establishing their first-round credentials, Menzie has played a huge part in making the Crimson Tide the top ranked defense in college football.
His sup-par performance in the BCS National Championship game, and questions about his durability has seen his value slide in recent weeks, with many outlets now predicting he will slip into the sixth round.
The Cardinals secondary was one of the weaker spots on their defense in 2011, and while the players eventually came together, and, with the emergence of Richard Marshall, finally began to look solid, depth at cornerback and safety is a real concern for the team.
In Menzie, the Cardinals would get a solid, versatile defensive back, much like Marshall. Throughout his carreer, Menzie has played both corner, primarily in the nickel position, and safety. He is a well built player for his position, and shows a real willingness to put his body on the line and hit opposing players, which is rarely seen in a corner.
His flat out speed is below par, as seen during the championship game, when he was burned on multiple occasions, and his agility and acceleration will need work. His arms are a little shorter than is typical for his position, which will limit his draft stock, though he still possesses good physicality and upper body strength in spite of this.
His lack of top gear, and question marks surrounding his durability mean he is not yet an every down corner, and will struggle against the NFL's top receivers.
While some teams may continue to use him as a nickel back, and hope he is able to develop into a solid corner, many teams, the Cardinals included, will look to transition him to safety, where he appears more likely to succeed, long term, knowing that he also provides much needed depth at the corner position, should injuries or even just a change-of-pace necessitate this.
All in all, a good value pick up, with a chance to take snaps for the team in year one, and who provides much needed depth at not just one, but two positions for the Cardinals.
Round 7: Adrien Cole, ILB, Louisiana Tech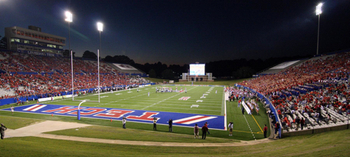 Image Courtesy AllisonFoley.
The Cardinal linebacking group were unexpectedly good in 2011. However, age is becoming a concern, with both Paris Lenon and Clark Hagans nearing the end of their careers.
Though many, including myself, would not be surprised to see the Cardinals take a linebacker or two much earlier than this, in this particular mock, they do not.
And in waiting, the Cardinals could well find themselves an absolute steal.
Adrien Cole is one of the top inside linebackers in his conference, however, coming out of WAC, will be largely overlooked come draft time. Cole was voted 2011 WAC Defensive Player of the year, and ranked first in this conference for solo tackles, fifth overall in college football, with 79.
Cole is a thick, stocky inside linebacker. His size gives him good natural leverage, and makes him a real tough hitter. He is a natural fit as a 4-3 ILB, and would work well enough opposite Daryl Washington in relief of veteran Paris Lenon.
His athleticism is a concern, and he doesn't have the skills or stamina to drop back into coverage regularly. Has good instincts which allow him to make plays on the ball carrier, in spite of a lack of real sideline-to-sideline speed.
He excels as a run defender, and plays well up near the line of scrimmage, racking up 13.0 tackles for losses in his 2011 season. Though he is not a natural blitzer, and lacks a second gear, speed wise, he can stull occasionally get into the backfield to disrupt the quarterback, and has multiple sacks each year in college since 2009.
While it's hard to imagine him as an impact player day one, given time to develop, and under the tutelage of the Cardinals veteran linebackers, could develop into a very nice situational player by the end of his first season. Should John Lott and his team be able to improve his conditioning, Cole could develop into a starter within three seasons.
The seventh round is always a punt, and the Cardinals would need to invest in at least one other player through trading or free agency, should they decide not to draft an ILB until this point. However, Cole would represent good value for the Cardinals in a seventh round player.
Keep Reading

Arizona Cardinals: Like this team?