MAACO Bowl Las Vegas: Boise State Seniors Want to Finish with Win Number 50
December 22, 2011
Ethan Miller/Getty Images
This senior class at Boise State has been incredible. It's currently 49-3 as a group.
When you think about those numbers, it is truly incredible what has been accomplished, and it is a feat that may never happen again.
If the Broncos of Boise State play to victory tonight in the Vegas Bowl, they will go down in history as one of the greatest classes in college football history.
Not only that, but the quarterback and one of the leaders of that Boise State team, Kellen Moore, will no doubt lock up his place in the College Football Hall of Fame.
Still, this game won't be a pushover, and just like many of the games along the journey, this one will be a challenge.
Kellen and the boys will have to be on top of their game tonight. This game figures to be a high-scoring affair. But, if history is any indication, the Broncos will have no problem lighting up the scoreboard.
Keys to the Game and Win No. 50
The Bronco defense will have to make some key plays. The ASU offense is potent in its own right. Junior quarterback Brock Osweiler has thrown for over 3,600 yards this year, and 24 touchdowns.
The Sun Devils don't have a problem scoring points, but I doubt Coach Chris Petersen wants his Broncos to enter into an old-fashioned wild west shoot out.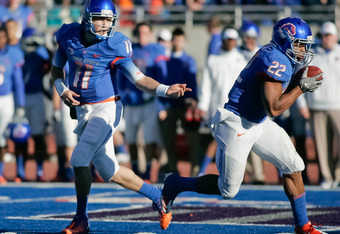 Otto Kitsinger III/Getty Images
Look for the BSU defense to blitz creatively tonight in an effort to keep Osweiler rattled.
Look for the Broncos to stretch the field a bit, but a heavy dose of Doug Martin will keep ASU off balance.
If Doug Martin and the Orange and Blue offense can run early and often, the night might be very long for the Sun Devils.
If somehow ASU is able to slow down the run game, look for Moore to spread the ball around, which he has no problem doing. Screens, short to mid-level passing and an occasional long ball will keep Dennis Erickson and his team guessing all night long.
It should be an entertaining game, and if all goes as planned, it will be an historic victory for BSU.
Prediction: Boise State 44, Arizona State 28