Chicago Blackhawks: Viktor Stalberg Shines No Matter the Line Recently
December 22, 2011
Bruce Bennett/Getty Images
The Chicago Blackhawks used a hot forward to spark their third line in Wednesday's 5-1 win over Montreal. The lightning bolt arrived in the form of Viktor Stalberg.
Yes, the same guy who hasn't been able to find a home in his short Blackhawks career is now being used by Joel Quenneville as an offensive catalyst.
Stalberg has bounced from top six to fourth line more times than I can recall in a season-and-a-half with the organization. Perhaps the vagabond life is starting to appeal to Youngblood. He is certainly making a case to get more playing time recently.
Critics of Stalberg's game can point to a lot of failed scoring opportunities and a questionable set of hands. He hasn't been consistent enough to remain on a scoring line, goes the argument.
Jerremy Morin went straight from Rockford to playing with Jonathan Toews and Patrick Kane. Perhaps Stalberg saw that as a challenge.
In any case, Stalberg has played some electric hockey this week.
The speedy Swede led a furious attack in Tuesday's third period in Pittsburgh and paced the team with nine shots. He posted a goal and an assist, then followed that up with the same output in the United Center against the Canadiens.
Stalberg has six points in his last five games and has been effective on all four lines in that time. He didn't need Kane and Toews to put up two points Wednesday. In fact, it was a hard-charging Stalberg who helped Toews secure Chicago's first goal on Tuesday night.
He frustrates at times because he doesn't convert all the chances he seems to get, but has found the net seven times and is sixth on the team with 20 points. To put that into perspective, three players being paid substantially more, Andrew Brunette (14 points), Dave Bolland (13 points) and Michael Frolik (10 points) haven't been able to contribute offensively like Stalberg has.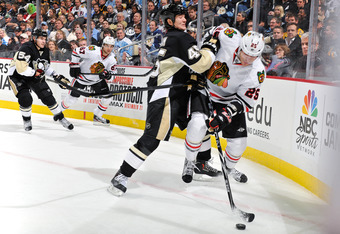 Jamie Sabau/Getty Images
Stalberg has been going hard to the net and is getting more adept at going into the corners and winning the puck. He's beginning to add a physical element to his game and that's encouraging.
Yes, his hands could be better, but do the math. At this pace, Stalberg is headed for a potential 50-point season. That's excellent output considering he's bounced around the lineup since missing the first three games of the season recovering from a knee injury.
Put it this way. Stalberg is sixth in scoring and 18th in ice time. He's making the most of the shifts he gets.
A lot of us have been waiting for Stalberg to raise his game and earn a permanent spot on a scoring line. The numbers show that that time may be here.