Fantasy Basketball Draft 2011-2012: Value Picks in the Later Rounds (7-13)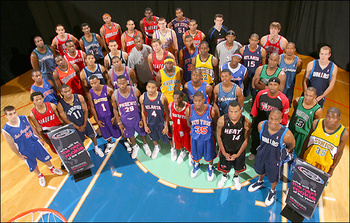 As the NBA season opener draws ever closer, kids, teenagers and adults alike frustrate over office fantasy leagues or pools made among friends.
Personally, I have always played in Yahoo! Sports league head-to-head style for every category and I will share tips that should be useful to anyone that looks to have balance across the board.
While the first few rounds of the draft are filled with typically well-known players by the average fan, the last several rounds of the draft can oftentimes be where you make or break your season.
With this in mind, I will give you my value picks for Rounds 7-13 (based on mock drafts I completed on Yahoo! Sports) that should help you bolster your starting lineup.
Round 7: Shooting Guards Aplenty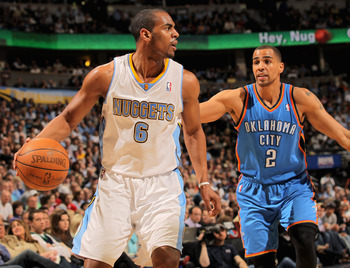 Doug Pensinger/Getty Images
The lack of premium big men in the league is apparent come Round 7 where you should hopefully have grabbed at least two starting PF/C's.
After doing several mock drafts, only Tyson Chandler and Luis Scola were the best capable big men available that can be used at both power forward and center (Yahoo! Sports).
Arron Afflalo is one of my late-round breakout fantasy players for this upcoming season. Coming back to a team that is missing J.R. Smith and Wilson Chandler, Afflalo will be given an even more expanded role after proving his fantasy value with his high FG%, respectable FT% and reliable three-point shooting.
Expect Afflalo to add to his scoring total while chipping in at least two three-pointers per game, doing all of this efficiently while playing excellent defense. He averaged only one turnover last season and is his most effective in catch-and-shoot situations.
CJ Miles is another intriguing prospect hoping to step into the role left by Andrei Kirilenko in a contract season. Different drafts had him going anywhere between the seventh and eighth round. His versatility should provide positive gains across the board in a larger role.
Round 8: Utility Bigs and Forwards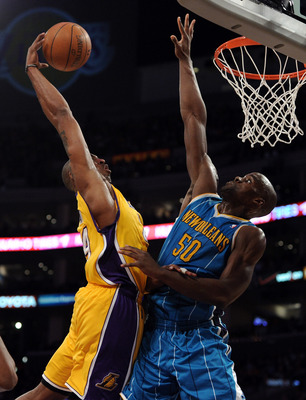 Harry How/Getty Images
Getting into Round 8, there were a few big men that stood out from the rest.
Kris Humphries re-signed with the Nets after his embarrassing offseason that had many GMs questioning bringing him on board. In Fantasy, he should continue to average a double-double in points and rebounds with a high field goal percentage and about a block a game.
He will be even more comfortable in his second year playing alongside Brook Lopez, with Deron Williams as the willing distributor to get them both easy looks.
Emeka Okafor may never have lived up to his superstar potential when he was drafted number two overall seven years ago, but he has been a consistent contributor on both the offensive and defensive end.
He will continue to average a near double-double in points and rebounds and will most likely take on more of the scoring load now that David West has left for the Pacers. His 57 percent FG percentage and 1.8 blocks a game last season round out the stat sheet nicely for a big man drafted in the eighth round.
Other Players to Consider: Devin Harris, DJ Augustin, Anderson Varejao
Round 9: Blind Hope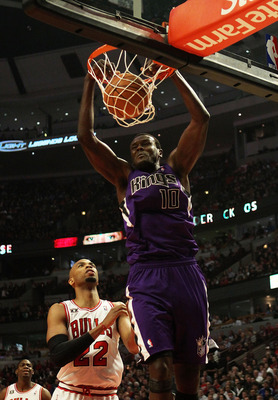 Jonathan Daniel/Getty Images
This round, according to my mock drafts, was quite tricky to maneuver with many of the players taken being either young and/or inconsistent (Paul George, Trevor Ariza, Jodie Meeks) or injured/coming off of sub-par seasons (Ben Gordon, Baron Davis, Charlie Villanueva).
Ed Davis had a decent rookie campaign, averaging nearly eight points a game to go along with 7.1 rebounds on 57.6 percent shooting with a block a game.
Coming into his second season as the Raptors' starting center, it looks that he will be primed to make the leap to consistent double-double contributor banging down low to contrast with the perimeter games of DeMar DeRozan and Andrea Bargnani.
Samuel Dalembert just ended up with the Houston Rockets as his newest landing spot. He will most likely plug significant minutes on a team lacking a true center to pair with Luis Scola.
While his offensive game has never been his forte, Dalembert will continue to be a defensive stopper, averaging about two blocks a game to go along with solid rebounding and shooting over 50 percent from the field.
Round 10: Seasoned Veterans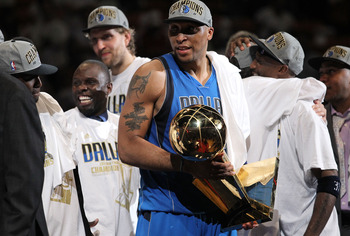 Ronald Martinez/Getty Images
This round I found to be littered with the likes of Carl Landry, John Salmons and Andre Miller, all of which are not bad options at this point in the draft, but there were two players specifically that stuck out to me.
Shawn Marion was picked fifth out of 14 in the 10th round in my mock draft. With Lamar Odom coming into town, his stock has fallen a bit.
However, Marion was an efficient player last season, averaging 12.5 points and about seven rebounds on 52 percent shooting in about 28 minutes a game.
He should retain the starting small forward position for the defending champions and fantasy owners should expect to get similar production and minutes out of Marion this season.
Jamal Crawford: While I would expect him to be drafted a round or two higher, oftentimes guys like Crawford slip down the draft, much like Tony Parker did last year when I got him as my final pick in a 12-person league.
After signing a deal and previously winning the Sixth Man of the Year award, Crawford will be asked to back up both guard positions and play a similar role in Portland to the one he had in Atlanta.
Expect pretty much the same production out of Crawford with the possibility of a few more assists with increased opportunities as a playmaker from the point guard position.
Round 11: Similar Faces, New Places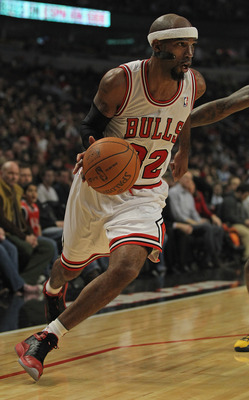 Jonathan Daniel/Getty Images
After a whirlwind of an offseason, many players that fans have been used to on certain teams got moved via trade or free-agent acquisitions.
Some fans will be tempted to take on a rookie in this round (Ricky Rubio, Kemba Walker, Kenneth Faried), but unless you need serious point guard depth, you're better off sticking with the proven player.
Richard Hamilton finally got his wish and was signed by the Chicago Bulls this offseason. That should prove to be a career revitalizer for a player who revolted against former coach John Kuester in Detroit.
Starting next to Derrick Rose with little competition offensively at the shooting guard position should mean a lot of scoring opportunities provided Hamilton stays healthy. If he is able to do that, he will be a competent late-round contributor for points, three-pointers made, and free-throw percentage.
Brandon Bass shuffled between the late-ninth round to the eleventh round, depending on whether people felt that he would adjust with the ever-aging Kevin Garnett on the depleted frontcourt of the Celtics.
While Bass has not proven to be a consistent rebounder or shot-blocker for a big man, he has good percentages from both the field and the free-throw line and should earn significant burn as the Celtics try to keep Garnett rested for a postseason run.
Other Players to Consider: Udonis Haslem, J.J. Hickson, Glen Davis
Round 12: Positives over Negatives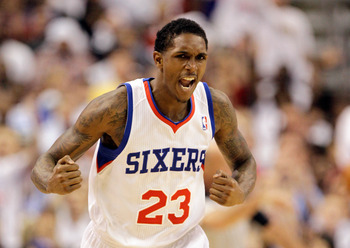 Rob Carr/Getty Images
At this late in the draft it is important to target players with upside who have a chance to earn decent minutes for their team while contributing in at least a few categories fantasy-wise.
Lou Williams had an extremely promising preseason after coming off a season where he averaged nearly 14 points per game in a sixth man role last year. His role will be the same this season with Jrue Holliday as the entrenched starter and Williams as instant offense off the bench.
Williams will be useful for points, three-pointers and decent assist totals and should contribute to the steals category as well. He is a perfect last guard off the bench in deeper leagues and should help any fantasy team.
Shannon Brown is a bit of an unknown after getting limited playing time for the Lakers in his first stint in the NBA. However, his superb athleticism and penchant for steals should earn him playing time on an aging Phoenix Suns team.
Expect Brown to continue to be a three-point threat to go along with his 91 percent free-throw shooting last season. This is an upside pick, with hopes that Brown can eventually take the starting shooting guard role from Jared Dudley or at least get upwards of the 20 minutes a game he got in L.A.
Other Players to Consider: Derrick Favors, O.J. Mayo, Josh McRoberts
Round 13: Last Call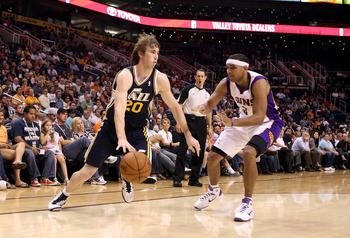 Christian Petersen/Getty Images
Since this is the final round, it is extremely hard to pick out two players to highlight, so I will point out several that were around in my mock drafts that are worth taking a flier on or picking up off of the waiver wire if injuries hit early on in the season.
There are the young guys who might see some decent playing time this season (Gordon Hayward, Tristan Thompson, Timofey Mozgov). Hayward and Mozgov specifically will be starting for their respective teams and should have the opportunity to contribute fantasy-wise.
Then there are the old guys who have had productive careers that could be useful in one or two categories specifically (Marcus Camby, Richard Jefferson, Al Harrington).
If he can stay healthy, Camby can rebound and block shots, but at 37 years old, that is easier said than done. Richard Jefferson became an extremely good three-point shooter last season and would bring that to the table along with hopeful double-digit scoring, though expect him to lose minutes to rookie Kawhi Leonard.
Keep Reading