BCS National Championship: 7 Games That Sent Alabama to Title Game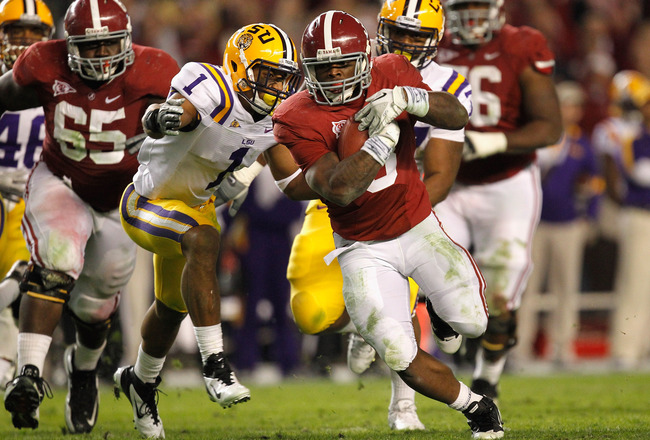 Streeter Lecka/Getty Images
After losing to LSU in the regular season, many thought Alabama's national championship hopes were bleak.
The Tide did miss out an a chance at the SEC Championship, but a string of Alabama-friendly outcomes, including winning the rest of their games, is sending Alabama to New Orleans for a rematch with LSU and an improbable shot at winning it all.
With a loss to the Tigers at home, many things had to happen to get Bama back into the hunt for the crystal trophy. In the end, there were key games throughout the season that had big impacts in propelling the Tide into the BCS Championship game.
Click through the slide show to see the seven games not involving Alabama that made the Crimson Tide's national title game invite a reality.
LSU vs Oregon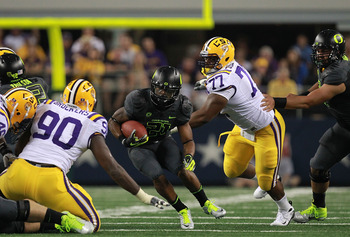 Ronald Martinez/Getty Images
LSU 40 Oregon 27
In the opening weekend of the 2011 season, the Oregon Ducks turned the ball over four times and lost to the LSU Tigers by 13 points.
If Oregon could have played better, held on to the football and beaten LSU, the one-loss Ducks and Tigers may have ended up playing in a rematch for the national title.
However, the way it turned out, Oregon lost to LSU and USC and Alabama stayed in position to get to New Orleans.
Penn State vs Temple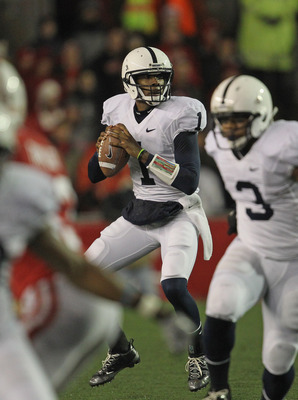 Jonathan Daniel/Getty Images
Penn State 14 Temple 10
Many voters and computers saw Alabama's non-conference road win at 9-3 Penn State as a quality win.
However, in Week 3, a week after losing to Alabama, the Nittany Lions needed a touchdown with just two minutes left in the game to beat unranked Temple. For a big part of the game, it looked as if Penn State was going to lose to the Owls.
Would it have hurt Alabama to have their premier out-of-conference win to be to an 8-4 team that lost to Temple?
This may have been all Oklahoma State needed to jump Alabama in the final BCS standings.
The way it worked out, Penn State won and Bama's strength of schedule won, too.
Wisconsin vs Ohio State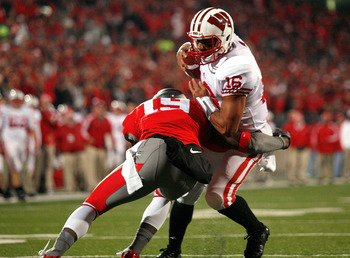 Kirk Irwin/Getty Images
Ohio State 33 Wisconsin 29
The Ohio State Buckeyes beat the Wisconsin Badgers a week after Wisconsin had lost to Michigan State.
Ohio State used a 40-yard pass play with just 40 seconds left to edge the Badgers in Columbus.
Without that flukish big play with time running out, Wisconsin wins the game and is more than likely playing LSU in the national championship game.
Wisconsin's only loss would have been to ranked Michigan State, the same team Wisconsin came back and beat in the Big Ten title game. A one-loss Badgers team with 12 wins would have probably jumped an 11-win Alabama team.
As it turns out, Ohio State helped Alabama earn a trip to the BCS Championship Game.
Arkansas vs Texas A&M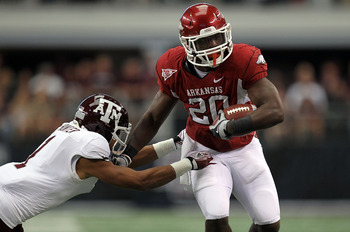 Ronald Martinez/Getty Images
Arkansas 42 Texas A&M 38
Arkansas ran a score in with 1:41 left in the game to seal a victory over the Texas A&M Aggies in Dallas.
Both of these teams were ranked in the top 20 at the time of this game and the win propelled Arkansas into being a top-12 team.
Arkansas is Alabama's most quality win of the season. This win for the Hogs over the Aggies was key in keeping the Razorbacks as an elite SEC team and therefore an elite win for Bama.
If Arkansas loses to Texas A&M, as it looked possible at several points in that game, Alabama's very best win would have been over a three-loss team that may have finished with a ranking outside of the top 15.Voters may also have noticed that the third-best team in the SEC had lost to the sixth-best team in the Big 12.
Oklahoma State plays in the Big 12 and could have very much benefited from an Aggie victory.
However, the Razorbacks won and the Crimson Tide benefited most.
Oregon vs Stanford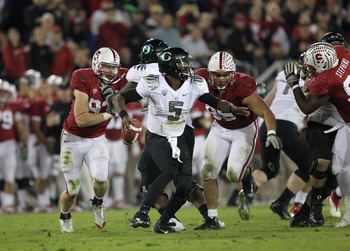 Ezra Shaw/Getty Images
Oregon 53 Stanford 30
Stanford was undefeated and ranked near the top of the polls. They controlled their own destiny and it turned out that they simply needed to win all of their games to earn a spot in this year's national title game.
However, the stumbled mightily against a good Oregon team late in the season, losing to the Ducks by 23 points.
Had Stanford been able to beat Oregon, an undefeated Stanford squad would clearly be playing LSU for the national championship.
As it is, Oregon kept that matchup from happening.
Oklahoma State vs Iowa State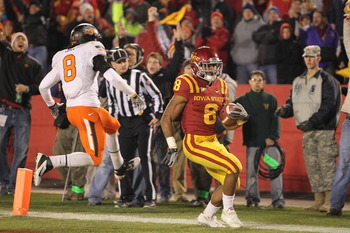 Reese Strickland/Getty Images
Iowa State 37 Oklahoma State 31
The night before Stanford lost to Oregon, the Oklahoma State Cowboys were upset by Iowa State.
The Cowboys lost on the road and in two overtimes to the Cyclones.
Many people believe, even with this loss, that Oklahoma State deserves to be playing in the national championship game instead of Alabama.
However, Iowa State is a six-win team and it is hard to overlook this bad of a loss.
Obviously, if Oklahoma State won, which they should have on several occasions, they would be headed to New Orleans instead of Glendale.
There were tons of Iowa State fans in Tuscaloosa the night of November 18th.
LSU vs Georgia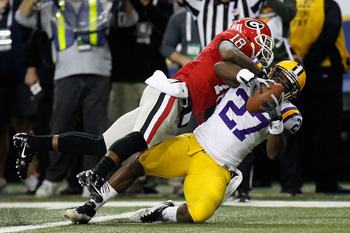 Kevin C. Cox/Getty Images
LSU 42 Georgia 10
LSU crushed Georgia in Atlanta to win the SEC title.
The Tigers beat a Georgia team that had tons of momentum and that many believed could give LSU a run for their money. The Bulldogs stayed close for a half, but were blown out in the second half of the game.
In ironic fashion, LSU broke Alabama's heart and injured their national title hopes by beating the Tide in Tuscaloosa earlier in the season. Then, the same LSU team saved Alabama's national title hopes by beating upset-minded Georgia in the SEC Championship game.
Now it is set: LSU vs Alabama for the national title
Keep Reading

Alabama Crimson Tide Football: Like this team?