NFL Week 16: Predictions and Storylines for Every Game on the Schedule
December 22, 2011
Bob Levey/Getty Images
Note: The quotes in this article are fictional.
Houston @ Indianapolis (+6 1/2)
On the same day that the undefeated Packers fell, the winless Colts knocked off the Titans 27-13 for their first win. Now 1-13, Indy could make it two in a row with a win over the favored Texans.
"Indeed," Jim Caldwell said. "We can win without Peyton Manning. But not as easily as we can lose without him.
"Peyton is throwing, and he's already started preparing for next year, which is early for him, because he usually doesn't start next year's preparation until after the first or second week of the playoffs."
The Texans lost to the Panthers 28-13, and as a result, lost their hold on the AFC's No. 1 seed. At 10-4, Houston now holds the third seed, behind the 11-3 Patriots and 11-3 Ravens.
"The Colts finally have a win," Gary Kubiak said. "But do they want more and risk losing a shot at Andrew Luck? I think not. That's why Jim Caldwell's rallying cry of 'Just win, baby' was appropriate."
Arian Foster rushes for 98 yards and a score, and adds a receiving touchdown.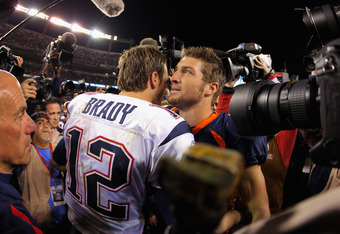 Doug Pensinger/Getty Images
Houston wins 24-13.
Miami @ New England (-10 1/2)
The Patriots clinched the AFC East with a 41-23 win at Denver, as Tom Brady outdueled Tim Tebow. Brady passed for 320 yards and two touchdowns, and ran for another score.
"Tebow's been placed on a pedestal," Brady said. "But only because he plays in a city a mile higher than every one else.
"But he showed me something last Sunday, and I showed him something. He prays before and after games; I prey during games. I don't advocate Tebowing in Denver, and I don't advocate teetotaling in New England. So drink up, Patriots fans. We're set to be the AFC's No. 1 seed. Let's just hope the alcohol, like our porous defense, is '40' proof."
In their first game since the firing of Tony Sparano, the Dolphins beat the Bills 30-23 under the guidance of interim head coach Todd Bowles. Miami is 5-9 in the East, tied with the Bills in last.
"I think I relate well to the players," Bowles said, "especially specialist Brandon Fields. We're both placeholders."
Reggie Bush ran wild last week against the Bills, rushing for 203 yards. In Foxboro, the New England defense employs the 'Kim Kardashian' defense, because he's not getting any more.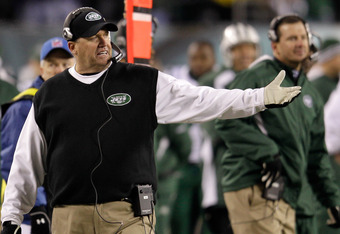 Rob Carr/Getty Images
New England wins 31-24.
NY Giants @ NY Jets (-3)
With their playoff lives on the lines, both the Giants and Jets laid eggs last Sunday. The Giants lost 23-10 to the Redskins, while the Eagles blasted the Jets 45-19.
"We had the NFC East in our grasp," Tom Coughlin said. "I can't begin to express my disappointment. Therein lies the problem. I can't 'begin,' and my team can't 'finish.'
"But kudos to Hakeem Nicks for trying his best to fire us up. Obviously, he's not David Tyree, but I appreciated his attempt to catch a ball with his facemask."
At 8-6, the Jets currently hold the AFC's final playoff spot, with a tiebreaker edge over the Bengals due to a better record against common opponents.
"This game will remind many of the old Meadowlands," Rex Ryan said. "There will be at least one implosion, and even more collapses."
"A foot fetish isn't my only kinky vice. I'm also into erotic asphyxiation, not to be confused with autoerotic asphyxiation. I'm not turned on by choking myself, but I get a kick out of seeing others choking. The Giants really do it for me."
Jets win 31-27.
Oakland @ Kansas City (-1)
Jamie Squire/Getty Images
In the year's most shocking upset, the Chiefs stunned the previously undefeated Packers 19-14, ending Green Bay's run at a perfect season. Romeo Crenel, who took over when Todd Haley was fired last week, designed a game plan that stymied Aaron Rodgers and the world champs.
"I hate to use Haley's firing as a platform for my own head coaching job," Crenel said. "Almost as much as I hate calling myself the 'Round Mound Of Rebound.' I like to think beating the Packers was my Jim Caldwell moment—one win should be enough to keep the job."
The Raiders blew a 27-14 fourth quarter lead to the Lions last week in a 28-27 loss that kept Oakland one game behind the Broncos in the AFC West. Oakland has lost three in a row to fall to 7-7 in the division.
"This was the 'Heidi' game, circa 2011," Hue Jackson said. "No, the game wasn't preempted for a showing of the goofy children's classic. However, our defense in the final quarter looked like Swiss cheese."
Oakland wins 23-20.
Minnesota @ Washington (-6)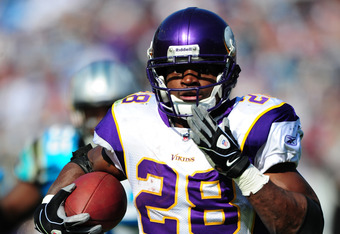 Scott Cunningham/Getty Images
The Redskins knocked the Giants out of the NFC East lead with a 23-10 win at MetLife Stadium last week, giving the Cowboys the division lead. Washington is 5-9, with two of those wins coming against the Giants.
"I guess my prediction of an NFC East title won't be coming to fruition," Rex Grossman said. "In fact, we've clinched last place. So, the Redskins division finish is like where I should be on a depth chart---behind three others."
The Vikings are 2-12 after a 42-20 loss to Drew Brees and the Saints last week in Mall Of America Stadium. Minnesota gave up 573 yards of total offense and forced only one New Orleans punt.
"Adrian Peterson accused the Saints of trying to injure him," Leslie Frazier said. "He said Jabari Greer twisted his already injured ankle. When confronted with the accusation, Greer, naturally, said, 'You're pulling my leg.' A hilarious back-and-forth reminiscent of an Abbott and Costello skit ensued."
The Redskins played spoiler last week; this week, there's nothing to spoil, because the Vikings are already rotten.
Washington wins 27-17.
Cleveland @ Baltimore (-13 1/2)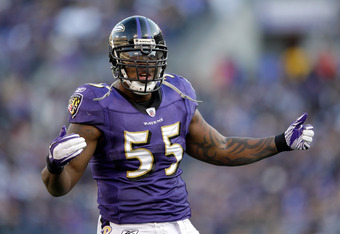 Rob Carr/Getty Images
The Ravens surrendered 415 total yards, including 145 on the ground, in a 34-14 loss in San Diego last week. Luckily for Baltimore, the Steelers lost on Monday night, and the Ravens still hold the AFC's No. 2 seed.
"I'll have to thank my brother Jim for that," John Harbaugh said. "The Harbaugh's are 3-0 against the Steelers this year. That's probably why Mike Tomlin calls us the 'bro foes.'"
The Browns, without Colt McCoy, lost 20-17 in overtime in Arizona. McCoy is expected to miss Sunday's game as he recovers from a concussion suffered from a James Harrison hit in week 14.
"'McCoy is a surname of Irish descent," Colt McCoy said. "Fittingly, my father got his Irish up at the Browns' handling of my injury. As such, the Ravens have agreed to a pre-game rendition of 'Daddy's Boy,' sung to the tune of the Irish ballad 'Danny Boy.'"
The Ravens defense was exposed against the Chargers last week. Suddenly, there's concern about the vaunted Ravens defense, and, just as suddenly, Joe Flacco's not the biggest worry in Baltimore. But against the Browns, the Ravens take care of business.
Baltimore wins 26-10.
Arizona @ Cincinnati (-4 1/2)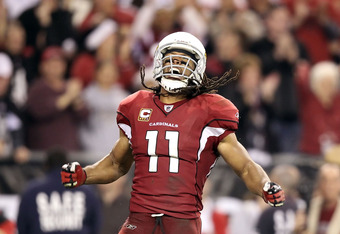 Christian Petersen/Getty Images
The Bengals are 8-6 after last week's 20-13 win in St. Louis, a win that, coupled with losses by the Jets, Titans, and Raiders, left Cincy in good position for a wildcard playoff berth. The final playoff berth will likely come down to the Bengals and Jets, who are also 8-6.
"There's a jolly fat man up North who holds our upcoming fate in his hands," Marvin Lewis said. "Yes, that's right, I'm talking about Rex Ryan. I'll be interested to see how Ryan handles the recent surfacing of news that Mark Sanchez is dating 19-year-old Victoria's Secret model Kate Upton. That can only be a distraction. Apparently, Sanchez can't keep a Secret.
"I know Sanchez has an affinity for much younger women. He should be careful, lest they erect a 'statue-tory' outside MetLife Stadium in his honor."
The Cardinals won their third overtime game of the year, turning back the Browns 20-17 on Jay Feeley's 22-yard field goal in the extra period. Arizona is 7-7 and tied with the Seahawks for second in the NFC West.
"We've yet to lose an overtime game," Ken Whisenhunt said. "I'll be interested to see how we react to even more 'extra time,' when we'll have plenty of it during the playoffs."
Bengals win 23-20.
Denver @ Buffalo (+3)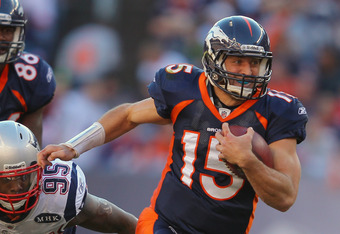 Doug Pensinger/Getty Images
Despite a 41-23 loss to the Patriots, the Broncos still hold the AFC West lead thanks to the Raiders 28-27 loss to the Lions. With two wins in their final two games, the Broncos would host a wildcard playoff game.
"Jesus works in mysterious ways," Tebow said. "And so does the Raiders defense."
"This has to be the biggest game in Buffalo in years. It's the second coming, of the 'white Bronco.'"
The struggling Bills lost their seventh game in a row, dropping a 30-23 decision to Miami to fall to 5-9.
"I believe it's time to circle the wagons," Chan Gailey said. "That should distract everyone while I high-tail it out of town in a chauffeured white Bronco. The white Bronco in association with the Buffalo Bills can mean only one thing: O.J. Simpson. So, the white Bronco the vehicle is just like the white Bronco known as Tim Tebow---they both 'drive away evil.'"
Tebow rushes for one score and passes for another, and the Broncos hold on for a 27-22 win.
St. Louis @ Pittsburgh (-16)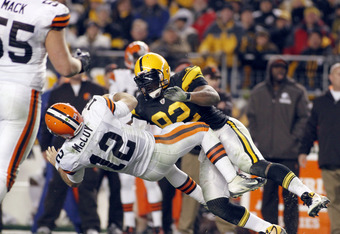 Justin K. Aller/Getty Images
The Rams hung tough with the Bengals before losing 20-13 last week. Now 2-12, St. Louis shares the NFC's worst record with the Vikings.
"The Saints haven't lost since we beat them 31-21 in Week 8," Steve Spagnuolo said. "At least someone's season turned around with that win."
With a hobbled Ben Roethlisberger, the Steelers produced little offense in a 20-6 loss in San Francisco on Monday night. With Baltimore's loss to the Chargers, Pittsburgh had a chance to take the outright lead in the AFC North, but came up short against the inspired 49ers.
"The door was left open," Roethlisberger said. "I must have though it was the bathroom door, because I closed it, in the form of three interceptions. I was just in too much pain to be effective. I tried to tell the team doctors that cortisone shots work best with a chaser. But they weren't buying."
Roethlisberger sits, but Charlie Batch is effective, and James Harrison, known in the fearful St. Louis locker room as the "Battering Ram," records two sacks and one TKO.
Steelers win 27-3.
Tampa Bay @ Carolina (-7)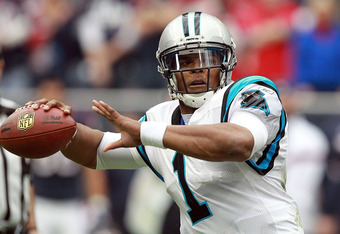 Ronald Martinez/Getty Images
The Panthers whipped the Texans 28-13 last week, shocking the AFC South champs in Houston behind two touchdowns from Cam Newton. On Sunday, Carolina hosts the 4-10 Buccaneers, whom the Panthers whipped 38-19 in Week 13.
"I'm tired of all the talk about Tim Tebow," Newton said, 'when I'm clearly the best dual threat quarterback in the league. And I love Jesus just as much as Tebow. Tebow may be Jesus' favorite white male, but my dad Cecil says I'm Jesus' favorite blackmail."
Tampa fell behind the Cowboys 28-0 last Saturday before finally succumbing 31-15, the Bucs eighth-straight loss. Tampa is 4-10, last in the NFC South.
"We give 'plundering' and 'pillaging' a bad name," Raheem Morris said. "Heck, Napster's done more pirating than the Buccaneers. And served less jail time."
Newton passes for two scores and runs for another, and the Panthers win 31-21.
Jacksonville @ Tennessee (-9 1/2)
The Jaguars suffered their worst loss of the season, a 41-14 defeat at Atlanta last Thursday. That came on the heels of their biggest win of the season, a 41-14 triumph over Tampa. In his short tenure as Jacksonville's owner, Shahid Khan has seen the best and worst of the Jags.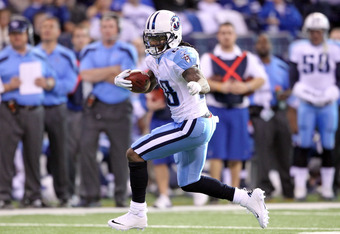 Andy Lyons/Getty Images
"That's right," Khan said. "There's a new 'sharif' in town. This Khan is a little bit 'Genghis,' and a little bit 'Chaka.' Jaguars fans should understand that I can be a little ruthless, but 'I feel for you.'"
The Titans playoff hopes took a big hit last Sunday, as Tennessee lost to the lowly Colts 27-13 in Indianapolis. At 7-7, Tennessee will need to win its final two games and hope for help.
"We're staying with Matt Hasselbeck at quarterback," Mike Munchak said. "He gives us the best shot at Jake Locker playing later. Plus, Jake makes Chris Johnson look even less effective as a runner."
Tennessee wins 27-11.
San Diego @ Detroit (-1 1/2)
With a win over the Chargers, the Lions would clinch their first playoff berth since 1999. Last week, Detroit pulled out a 28-27 win in Oakland on Matthew Stafford's six-yard pass to Calvin Johnson with 39 seconds left.
"Don't forget Ndamukong Suh's contribution," Jim Schwartz said. "He blocked Sebastian Janikowski's 65-yard field goal attempt to preserve the victory. Finally, he did something with a hand, and not his foot or mouth."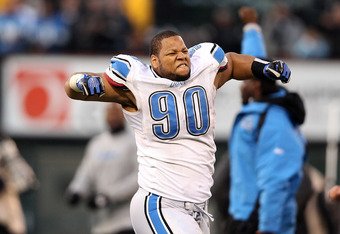 Ezra Shaw/Getty Images
San Diego stayed alive in the AFC West race with a decisive 34-14 win over the Ravens last week. The Chargers are 7-7, tied with the Raiders for second in the division, one game behind the Broncos.
"Many people say the Lions are much like the Chargers," Norv Turner said, "in that both teams have adopted the demeanor of their respective coaches. I agree. The Chargers don't know where they'll be in two weeks, and neither do I."
Detroit wins 27-24.
Philadelphia @ Dallas (-3)
The Eagles stayed alive in the NFC East race with a 45-19 win over the Jets last week. At 6-8, Philadelphia needs two wins, two Dallas losses, and a Giants loss to capture an unlikely division crown.
"I sense a divided locker room," Andy Reid said. "Some players have faith that we can make the playoffs. To them, I say 'Keep dreaming.' Others don't think we have a chance. They tell me to 'Keep dreaming.'"
Dallas now sits in the driver's seat in the East after Saturday's 31-16 win in Tampa. The Cowboys could clinch the division with a win and a loss by the Giants to the Jets.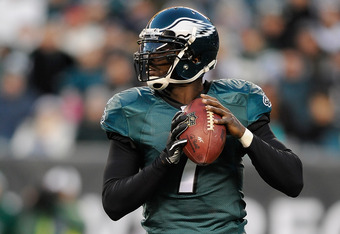 Patrick McDermott/Getty Images
"That sounds simple enough," Jerry Jones said. "At least for the Jets."
"But the Eagles scare me. They're peaking for the first time since mid-August. Me? I'm peeking, because I'm afraid to look."
Philadelphia wins 34-30.
San Francisco @ Seattle (+1)
The 49ers beat the Steelers 20-6 on Monday night in a game delayed by two power outages at Candlestick Park. San Francisco improved to 11-3 and currently holds the NFC's No. 2 seed.
"We've dealt with power outages before," Jim Harbaugh said, "usually inside our opponents' 20-yard line. That's called the 'red zone.' We just call it the 'zone,' and David Akers, who leads the NFL in scoring, has been 'in the zone' all year.
"Ideally, we'd like to maintain the No. 2 seed. We'd much rather have New Orleans visit San Francisco than vice versa. The Saints are a different team outdoors. We'd prefer the city of Santa Clara put a roof over our heads as opposed to the Saints."
The Seahawks blasted the Bears 38-14 last week to improve to 7-7, and are still alive in the playoff hunt.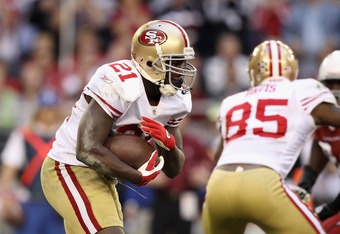 Christian Petersen/Getty Images
"Right now," Pete Carroll said, "we are the No. 7 seed in the NFC playoff picture. I'm impressed. We weren't even the seventh-best team in the NFC last year, and we made the playoffs."
San Francisco wins 22-14.
Chicago @ Green Bay (-12)
The Bears lost to the Seahawks 38-14 and fell to 7-7, and although they are still mathematically alive in the playoff race, their chances of a postseason berth are extremely slim.
"Let's face it," Lovie Smith said. "Our season ended when Jay Cutler got hurt. Just like last year. Apparently, it's harder to throw with a broken thumb than it is to ride a bike with a knee injury.
"Caleb Hanie completed only 10 of the 23 passes he threw. Apparently, he had less intent to distribute than Sam Hurd. It seems we didn't do our background checks on either one of them."
The Packers look to rebound from last week's 19-14 loss in Kansas City that derailed their quest for a perfect season. Now 14-1, the Packers can clinch home-field advantage throughout the playoffs with a win over the struggling Bears.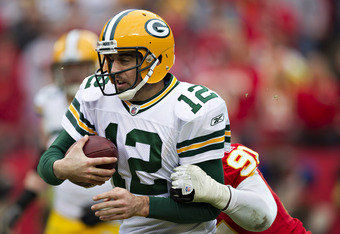 Wesley Hitt/Getty Images
"I'm speechless," Aaron Rodgers said. "More appropriately, I'm at a loss for words."
"Nobody's perfect. Except the 1972 Dolphins. Apparently, they can't lose anything, except members."
Packers win 31-13.
Atlanta @ New Orleans (-6 1/2)
Drew Brees passed for 412 yards and five touchdowns to lead the Saints to a 42-20 win over the Vikings. Brees has passed for 4,780 yards on the season, and needs just 305 yards in the final two games to surpass Dan Marino's NFL record of 5,084.
"I hope Marino is under the mistletoe," Brees said, "because he can kiss that record goodbye. Let's just say I could break that record wearing Isotoner gloves."
The 9-5 Falcons could win the NFC South with two wins in their final two games, coupled with two New Orleans losses.
"Those odds are long," Mike Smith said. "But I've been known to buck odds, as well as conventional wisdom, common sense, and percentages."
New Orleans wins 31-27.