Clippers vs Lakers: 10 Sickest Highlights from the Los Angeles Showdown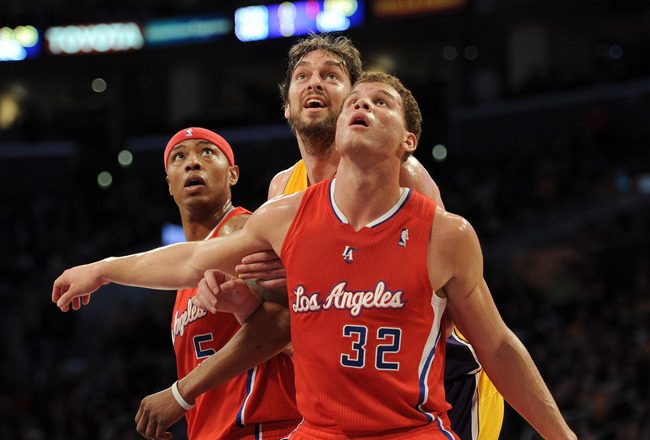 Harry How/Getty Images
After long last, the Los Angeles Clippers finally have a competitive rivalry.
No longer is their rivalry strained with the Los Angeles Lakers just because they reside in the same city and stadium. This is going to become a rivalry because the Lakers are still good and the Clippers have gotten good for the first time since 2007. While that '07 team won 47 games, it won't even compare to the consistent success that this team expects to have over the next few seasons.
With Chris Paul acquired in a trade that sent Eric Gordon, Chris Kaman and Al-Farouq Aminu to New Orleans, the Clippers received their first superstar since Bob McAdoo in the 1970's. The point guard had a great deal of success with a few sub-par supporting casts in New Orleans and is now expected to make some serious noise with a Clippers team that has a quality roster with the likes of Blake Griffin, Caron Butler and DeAndre Jordan.
The Lakers might not have gotten Chris Paul, but they still have Kobe Bryant, and that's all they'll need to compete. Forming one of the NBA's more formidable duos with Pau Gasol, Bryant isn't going to let the Clippers win over Los Angeles that easily, as he is prepared to fight for his kingdom the whole way.
The two teams have met in the preseason twice with both games ending in favor of the Clippers. While we must remind ourselves that it was only preseason and Bryant didn't even play in the second game, we can't ignore the fact that the Clippers have the look of a contender in the making. With a point guard like Paul leading the way, the Clippers should have no trouble making it back to the playoffs for the first time since 2007.
With the preseason in the books, let's take a look at the top 10 plays from the Clippers and Lakers showdowns.
10. I Have a Feeling That We'll See This a Lot More
The chances are extremely likely that we'll continue seeing this. DeAndre Jordan is too athletic and Chris Paul is too good of a passer for us to not see this at least once every game.
Jordan nearly gets forehead level with the rim as he begins to assume the role of Tyson Chandler when he was a member of the New Orleans Hornets and Paul's teammate.
9. Paul's Crossovers Look Better in Red
While the majority of us are looking forward to seeing Chris Paul hook up with DeAndre Jordan and Blake Griffin for acrobatic alley-oops, we tend to forget that CP3 isn't too bad of a scorer either.
He gets an and one layup on this play, which was following a sick crossover at the top of the perimeter on Lakers rookie Darius Morris.
8. Lob City Makes an Early Debut
It almost took an entire half, but Chris Paul and DeAndre Jordan managed to hook up for the first of many alley-oops.
With Jordan's expertise on the pick and roll supported by his athleticism and Paul having excellent court vision, these two should easily form one of the most dangerous duos in the league.
If Paul can get Tyson Chandler to average over 10 points per game, than I have no trouble in saying that he'll do the same with Jordan.
7. Welcome to the NBA, Darius Morris
Taken with the 41st pick in the 2011 NBA draft out of the University of Michigan, Darius Morris has been given plenty of minutes this preseason due to the Lakers' lack of depth off the bench.
Morris had an 11 point game on five of nine shooting in the team's first meeting with the Clippers, but he'll be most remembered for attempting to drive on DeAndre Jordan and only coming away with a humiliating swat.
At least take note of the sick crossover he had to initiate the drive.
6. Josh McRoberts and Kobe Bryant Go Lob City on the Clippers
The Clippers aren't the only team that can throw down a highlight reel alley-oop, as Kobe Bryant and Josh McRoberts proved that they can do the exact same.
McRoberts was a pick-up over the offseason that was meant to make up for the loss of Lamar Odom. While McRoberts doesn't come close to the talent and versatility of Odom, he is athletic and that should call for a number of highlight's involving him over the next few months.
5. Blake Griffin Goes Kevin McHale on Us
We knew that Blake Griffin could dunk, but did you also know that he had a terrific post game to accompany it?
Griffin gets all Kevin McHale on us as he backs down his opponent, spins, pump fakes the defender into jumping, and then goes up and around him for the easy slam.
Sorry to headphone users out there for the extremely audible scream of Griffin.
4. Lob City Expands Its Boundaries
Of course, not every alley-oop has to happen from within the perimeter.
Chris Paul is so effective at finding his teammates for easy scores that even offensively challenged players like DeAndre Jordan should have no problem averaging 10 points per game, thanks to CP3 finding him on alley-oops throughout the game.
3. Josh McRoberts Goes Magic Johnson
The Lakers aren't ready to give up the battle for Los Angeles yet. Let's not forget that they are known as the "Showtime Lakers" for a reason.
They reminded us here as Kobe Bryant sent a no-look pass to a cutting Josh McRoberts. As McRoberts drove into the lane and attracted the attention of DeAndre Jordan, he scooped it to Pau Gasol, who threw down the dunk.
Let's not give the keys to Los Angeles to the Clippers just yet. We must remember that it is only preseason and the Lakers are still capable of pulling off moves like this on any given possession.
2. Chauncey Billups Goes Glass to Blake Griffin
Chauncey Billups wanted to make sure that everyone knew he was on the Clippers too.
With all the attention focused on Chris Paul making an exodus to L.A., we almost forgot that the NBA champion was also a key member of this Clippers team that is set to start him at shooting guard.
Billups gave us a reminder here, as he throws an alley-oop off glass to Blake Griffin, who throws it down with ease while earning a technical foul in the process for hanging on the rim.
1. The Madness Begins
This was the first dunk we saw between the two teams, which featured athletic center DeAndre Jordan receiving a pass near the foul line.
With no resistance, Jordan took a step in, and dunked it in between the Lakers' two seven-footers in Pau Gasol and Andrew Bynum.
Maybe he really was worth the $45 million.
Keep Reading