NBA Season Preview: What to Watch for and Expect from the Charlotte Bobcats
December 22, 2011
Patrick McDermott/Getty Images
The former expansion Charlotte Bobcats are finally showing growth. The longtime cellar dwellers of the NBA may not be on their way to the high rises, but they are making their way out the basement and one day could go from "competent" to "contender." Let's take a deeper look at what's changed this Southeast team and scout how far they could really go.

General Comments

Ever since the Hornets left their nest in North Carolina, Charlotte was seen as a city that still had the fans and facilities for another franchise. The Bobcats, however, failed to plant their claws in their first few seasons in the NBA. A different story is unfolding now, however, as the 'cats are a potential playoff team, not a pretending one. Now with the greatest player of all time taking ownership of this team, these young guys are starting to walk after years of crawling

Team Strengths
Michael Jordan has taken control of this team, and his notorious never-give-up attitude is translating to his players. Even former Wizards whipping boy Kwame Brown got the message last season in his one-year stint. Jordan has made all the tough choices and decisions that has helped his team in the clutch. Just like his time as a player. M.J. is coming up big and making something out of nothing when everything else looks lost.
Take letting go of legendary coach Larry Brown and replacing him with another Charlotte legend in the form of former Hornets coach Paul Silas. The team's personnel have also sharpened their claws. Even without the "Whoo" of Stephen Jackson, this team has been something to scream and holler about, from the French flair of Boris Diaw to the veteran strength of Corey Maggette.

Tyrus Thomas can dunk on anybody and Eduardo Nájera is willing to muscle up with everybody. Still, the post-Gerald Wallace future lies with the ceiling-bursting potential of young great Kemba Walker, who is set to be the No. 1...in more ways than one.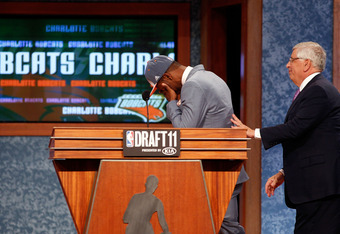 Mike Stobe/Getty Images
Team Weaknesses

M.J.'s boys right now seem to be taking a page out of T.I.'s book by doing all their work at home. Although they are looking a lot better in their house, they are looking as ugly as Viggo Mortensen on the road. It's time to beat this like Keourac and become consistent across the board. It's time this team beat the right way.
A 34-48 record last season at .415 was almost good for 50 percent, but the bottom line remains that they lost 14 more games then they won. This is why they didn't make the playoffs. At last year's trade deadline, the 'cats blazed some of their roster to Portland and other teams to clear cap space. Now they need to get rid of some old habits too.

What They Must Do To Win

This team's top priority is winning outside of the Time Warner. The talented rotation of that also features Melvin Ely, D.J. White, D.J. Augustin and Matt Carroll needs to remain strong throughout long, trying road trips. These tests on the road will help this young team mesh.

Unity isn't just a word that Dave Chappelle's Rick James imprinted on Charlie Murphy's forehead. It's what will take these 'cats to the next level. It's time for Charlotte to show more than buzz and prove they are a city worthy of an NBA franchise again.
It's plain to see that Charlotte has developed into a better team despite some growing pains. After years of trying to find the right fit, they seem to be moving forward as a team, and their win records are much better for it. The Bobcats have a cohesive core that has cultivated a strong team identity.
They can be successful if they continue to not just be about one guy, but instead they are a sum of all their parts. To make noise next season, though, this team's players will have to come together even more, play better in unfamiliar territory and improve their record on the road. Then, after this lockout truly ends at Christmas, this gifted team can lock it down. That's secure and for sure.