Los Angeles Angels Would Be Unwise to Add Dioner Navarro as No. 2 Catcher
December 22, 2011
Kevork Djansezian/Getty Images
By Game 1 of spring training 2012, the Los Angeles Angels clubhouse will have undergone some significant changes.
Out are the likes of pitcher Tyler Chatwood and catcher Jeff Mathis, replaced by starter C.J. Wilson, reliever LaTroy Hawkins and catcher Chris Iannetta.
And then there's that Albert Pujols fellow at first base.
With the impending return of Kendrys Morales and the cross-training of Mark Trumbo as a third baseman, the Angels are positionally stacked—save, perhaps, for the catcher's position.
In 2011, the Angels struggled offensively, especially with Mathis and apprentices Hank Conger and Bobby Wilson.
Mathis hit just .174 with three home runs and 22 RBI while throwing out 27 percent of would-be base stealers in 93 games for the Halos last season.
His replacement, Iannetta, was a .238 hitter with 14 HR and 55 RBI in 112 games last season. Runners stole 70 bases on his watch, while getting caught 30 times, a CS percentage of 30.
Conger was only marginally better, batting just .209 with six HR and 19 RBI in 59 contests. On the other hand, Conger threw out just 18.5 percent of those who ran against him.
Bobby Wilson hit .189 in 2011 with one HR and eight RBI in 57 games. Though Wilson is older and more experienced than Conger, he will have more to prove to the Angels coaching staff come March.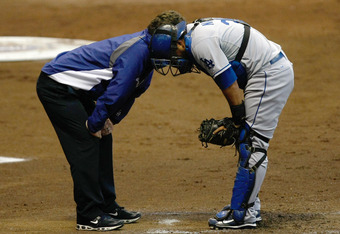 Scott Boehm/Getty Images
As I wrote on Dec. 6, trading Mathis away while adding Iannetta was a splendid move for GM Jerry Dipoto. By keeping just one catcher ahead of Conger, the Angels communicated their confidence in the youngster. Dipoto and manager Mike Scioscia not so subtly sent Conger the message that upon his maturation, Conger is LAA's choice to fill the role of full-time starting catcher.
If the Angels are really considering adding free-agent catcher Dioner Navarro to the mix, as reported by CBS writer Jon Heyman, they risk undermining the positive and fragile momentum brewing behind the plate for the 2012 season.
It would be different if Navarro were a significant offensive powerhouse or defensive specialist.
However, Navarro hit just .193 over the course of his past two big league seasons with the Tampa Bay Rays and Los Angeles Dodgers. In 64 games with 'Dem Bums in 2011, Navarro hit just five HR and recorded 17 RBI. He also threw out just 25 percent of would-be base stealers last season.
Conger is just 23 years old. He has been an Angel ever since being drafted 25th overall by the Halos in 2006. This is his club, and the Angels should not give up on the former All-Star Futures Game MVP Award winner (2010).
When the Dodgers designated Navarro for assignment in late August, manager Don Mattingly cited "philosophical differences," saying he "didn't think [Navarro] was the right guy for this team right now."
Released from Los Angeles (NL), the city's "of Anaheim" precinct should be very wary of rummaging through the Dodgers' discarded players pile, especially when a phrase as ominous as "philosophical differences" is the reason behind Navarro's canning.
Navarro has been injury-prone these past few seasons, serving stints on the DL in both Tampa Bay and with the Dodgers, and is simply too risky for the 2012 Angels.
The questions of Navarro's physical health and lack of production over his last few MLB seasons should be red flags enough to prevent the Angels from going after the 27-year-old veteran.
The opportunity and positive state of mind such a move would take away from Conger should be strike three for the Angels in their decision making process.
Whether as a No. 2 or No. 3 catcher, Navarro's addition would produce log jam behind home plate, with at most four MLB players competing to fill just one position.
At this point, sending Conger back to AAA before the season even begins would be an ill-advised decision and given Navarro's history with the Dodgers, it is clear he would not be willing to field a Triple-A assignment. 
To borrow from Mattingly's quote, Navarro is not "the right guy for this team right now."