Hawaii Football: Against the Norm, Chow Takes Long Road to Become Head Coach
December 23, 2011
Honolulu—Nestled side-by-side in the Koolau Mountain Range on the island of Oahu, the valleys of Manoa and Palolo are less than two miles and five minutes apart.
But, for one man in particular, it has taken the better part of a lifetime to make the journey.
On Thursday, 65-year-old Palolo native Norm Chow was introduced as the 22nd head football coach of the University of Hawaii at Manoa. He became the first person of Asian-American ancestry to ever lead a major college football program.
Words struggle to describe the occasion.
In a room packed with reporters, television cameras, university officials, old friends and family members, the anticipation was palpable as the minutes ticked down to Chow's first official appearance.
Hawaii, we now realize, had been starved to have one of its own guide the football team that it is so proud of. After 20 minutes up on the dais, it became clear that Chow himself was equally starved to come back home.
A man of tremendous passion and character, Chow couldn't contain his emotions. His life came full circle in front of dozens of people as a state-wide audience watched live on television.
"I hope I can hold this together," he said. "I'm honored, I'm humbled and I'm awfully excited to be here. To stand before you as the next football coach of the University of Hawaii Rainbow Warriors."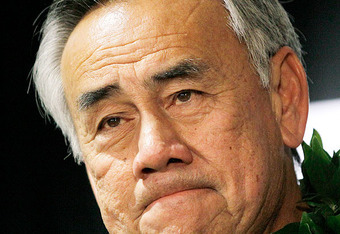 Never has there been a more accomplished football coach to come out of Hawaii than Chow.
From Palolo Elementary to Maryknoll and then Punahou School, the Chinese-Hawaiian-and-Portuguese mix became a baseball, basketball and football star in the 1960s. He went on to play offensive guard at the University of Utah from 1965 to 1967 where he met his wife, Diane.
"I'd like to thank my family," Chow said, naming his wife, four children and five grandchildren. "I need to thank my mother and my father...I don't think you can ever stop trying to please mom and dad."
He's already pleased the people of Hawaii.
Chow spent 39 years coaching at six destinations throughout the mainland. On Wednesday, he signed a contract with an annual salary worth less than half of what his predecessor, Greg McMackin, made ($1.15 million).
"Money has nothing to do with this," Chow said. "Money has absolutely nothing to do with this equation. I have a chance to come home. I have a chance to represent this university. I have a chance to represent this state. I have a chance to hopefully be an example to some.
"How much can you pay for that?" Chow asked.
The bulk of Chow's career was spent at Brigham Young, his first destination. For 27 years he coached under LaVell Edwards, BYU's legendary head coach. In 2000, he left for North Carolina State before continuing on to Southern California, the Tennessee Titans, UCLA and Utah.
Chow has coached on three national championship teams (BYU-1984, USC-2003, 2004) and has molded three Heisman Trophy winning quarterbacks (Ty Detmer, 1990-BYU, Carson Palmer, 2002 and Matt Leinart, 2004-USC). He also coached NFL Hall of Fame quarterback Steve Young.
But he never became a head coach.
"It means the whole world. It means the whole world," Chow said when asked if it's more special to become a head coach for the first time at Hawaii.
"I get asked all the time about head coaching, 'Why you haven't been?' And I'm not trying to brag to you, but I turned down opportunities to do so on the mainland.
"If it wasn't right for the family then it wasn't right for me. A long time ago my wife and I sat down and decided that our family was going to be first, and if (coaching) meant moving around we weren't going to do it, I'd get out of the profession."
Being at BYU for 27 years enabled Chow and his wife to raise a family the way they wanted to.
"We have four children that graduated from the same elementary school, same junior high and high school, and that's what our goal was. I tried to be as normal as we could possibly be," he said.
Though Chow obviously was away for a long time, he insists that he's still a "Hawaii Boy" where it counts: on the inside.
"I'm born and raised in Palolo Valley, never left the islands til I left to go away to college," he said.
Harkening back to his childhood, Chow said, "It was the best. It was absolutely the best.
"I had great parents. They sacrificed a tremendous amount for me and my two brothers to go to school...I remember some great times, and I also remember the value system that we were taught. And hopefully we can pass that on to some other people."
The young people on the Hawaii football team in Manoa would be a great place to start.
Chow has finally arrived.
Kevin Riley is a Featured Columnist for Bleacher Report. Unless otherwise noted, all quotes were obtained first-hand.