Strikeforce's Jason High Talks Future of Strikeforce, Jon Fitch and More
December 23, 2011
After starting off his mixed martial arts career with an impressive 9-2 record, Jason "The Kansas City Bandit" High (15-3) found himself preparing for his UFC debut against Charlie Brenneman at UFC Fight Night: Florian vs. Gomi.
Unfortunately for High, things didn't go as scheduled, as he suffered a unanimous decision defeat and was immediately released by the UFC following his fight.
High could have easily thrown in the towel, but chose to push forward and face adversity. High would win convincingly in his next four fights as he would sign with Strikeforce at the midpoint of 2011.
Despite it's uncertain future, High is pleased to be apart of a prestigious organization such as Strikeforce. In a recent interview with Bleacher Report's Garrett Derr, High discussed his future with Strikeforce.
"I'm thankful to be fighting for Strikeforce. I'm not sure what will happen with the organization but it looks like for now, that Strikeforce will be around for a while. My current goal is to fight the best guys on a regular basis," said High. "If I can do that in Strikeforce, I'd be happy with that."
High has won both his fights since joining forces with Strikeforce, increasing his consecutive win total to six fights. When asked if his release by UFC President Dana White has added any motivation to his recent success, High stated,
"To be honest, I don't really know Dana that well. I've taken a picture with him before, but that's been the extent of our relationship. So no, I don't think that had anything to do with me leaving."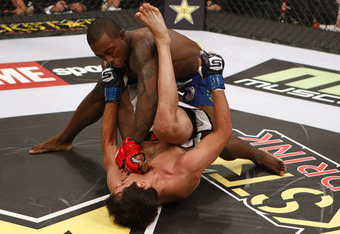 Unlike most fighters, High isn't necessarily looking into the future for a potential welterweight title shot, as his main focus is on improving his skill set.
"I feel like I'm fighting well. I'm in no rush to fight for the title. I'm getting cage time, experience. I still feel like I have a few things I can improve on before my eventual title shot comes," stated High.
"I think I have to get more comfortable on my feet. I believe my skills are all there, but I'm just so comfortable on the mat that I usually go there on accident. I'd like to increase my fight pace a little more as well. There's nothing like wearing a guy out with a fast pace and then beating the s--- out of him," laughed High. "If you haven't been in a combat sport and experienced that feeling, I'd highly recommend you add that to your bucket list."
High recently turned 30 years old and is excited as to where his career may lead him. Not only is High on the best stretch of his MMA career, but he shows no signs of slowing down anytime soon.
However, as successful as High has been and will continue to be, he's not concerned with becoming the best in the world.
"I heard Jon Fitch say once that he's not trying to be the best in the world, he's trying to be the best he can be. That's what I strive for each and every day. His reasoning was that being the best in the world is limiting yourself. I just want to be the best I can be," said High. "I think my best is better than anybody else'."
While High has certainly witnessed great success over the past two years, he's equally focused on becoming an even better person.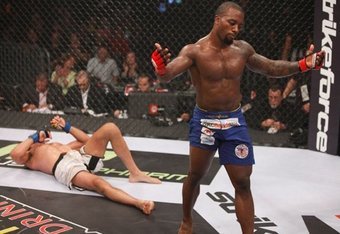 Many times mixed martial artists receive a "bad wrap" as fans and media outlets often forget they are too human-beings.
"The main thing I'd like for all fans to know is that fighters are people too. There's been a lot of things happening with the media that sometimes diminish the reputations of mixed martial artists.You can't classify all fighters under the same blanket solely based on one fighters' actions," said High.
High will now await his next bout, which he hopes will come as soon as early 2012. Until then, High will continue to surround himself with the individuals who've helped him become the fighter and man he is today.
"Right now I'm learning so much from Ricardo Liborio and everybody at American Top Team. It's a lot of fun to go down there and just listen to stories and learn new things everyday," stated High.
To learn more about Strikeforce's Jason High, follow him on Twitter.