Arizona State vs Boise State: Sun Devils Need to Unleash Vontaze Burfict
December 22, 2011
Christian Petersen/Getty Images
So what exactly is the deal with Vontaze Burfict?
That's a good question. Arizona State's talented but wild middle linebacker has been in Dennis Erickson's dog house ever since the Sun Devils lost their regular season finale to Cal, and his status for the Maaco Bowl Las Vegas against Boise State is unknown.
On the bright side, Doug Haller of The Arizona Republic reported back on Dec. 10 that Erickson was at least planning on bringing Burfict to Las Vegas with the team.
But when asked if he had it in his mind to start Burfict, Erickson said, "There's no plan for anything until we go through practice."
A week ago today, Haller chimed in with this: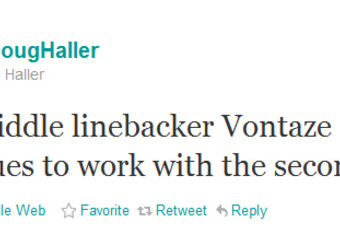 As such, all signs point towards Burfict still being in Erickson's dog house.
Such is his penalty for committing a key personal foul against Cal, and then reportedly refusing to re-enter the game after finding himself on the bench. If Erickson wants to, he can keep him there.
But why would he want to do that?
Listen, winning the Maaco Bowl Las Vegas won't mean anything for Arizona State, and it won't mean anything for Erickson either. He's already lost his job, so he can't prove anything either way on Thursday night.
But if Erickson and the Sun Devils want to salvage some dignity after a disappointing season, they should want to beat Boise State.
Burfict can help them do that. He may be a berserker, but he's a berserker that every quarterback in the country fears. "Mercy" is not in Burfict's vocabulary, and he doesn't necessarily have to make plays to make a difference. His presence alone is enough.
The Sun Devils are going to need some kind of defensive presence if they expect to limit Kellen Moore and Boise State's offense. They're explosive enough as it is, and they're probably going to be a little extra motivated to make a statement seeing as how they failed to get to a BCS bowl. Again.
Put Burfict in the game, and Moore will spend just as much time running for his life as he will completing passes with pinpoint precision. When the dust clears, that could be the difference between a win and a loss for Arizona State.
Ultimately, it's Erickson's call. He only needs to ask himself one question:
What does he have to lose?