NFL Week 16 Picks: Spread, Straight and Over/Under
December 22, 2011
Ezra Shaw/Getty Images
Week 15 in the NFL was full of excitement and featured some real surprises and milestones. 
The Colts finally got their first win of the season while the Packers finally dropped one, and Tebowmania was halted by Brady and the Pats.  Games such as these—along with a few other close calls—surely hurt many of my fellow pick-em participants. 
I was lucky enough to come out above par due to some upset picks coming through, and finished 9-7 straight up, 9-7 against the spread and 10-6 for over/under.  This puts my yearly totals at:
Straight: 154-70 (69 percent)
Spread: 126-98 (56 percent)
Over/Under: 123-101 (55 percent)
This keeps me at 60 percent across the board on the year.  With a few more solid weeks I should find myself in real contention for a second straight league championship, meaning these Week 16 picks are the most important of the year. 
Here's to not letting up as the season comes to an exciting close.
Let's get started! 
Houston Texans (-6) at Indianapolis Colts (O/U = 40.5)
While the Colts were finally winning a game in Week 16, the Texans followed up a playoff clinching win with an ugly loss to Carolina at home.  It appears that the Houston squad is satisfied having locked up a postseason berth, but even a team with their feet kicked up can likely handle this weak Indy squad. 
After losing 13 straight it's hard to see Caldwell's bunch pulling out two straight victories here.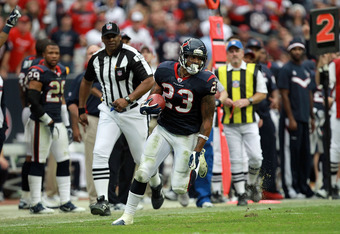 Ronald Martinez/Getty Images
Straight: Houston
Spread: Houston
O/U: Under 
Denver Broncos (-3) at Buffalo Bills (O/U = 42.5)
The Broncos run was finally halted by the ever-powerful Patriots and Bill Belicheck in Week 15.  Not even Tim Tebow's magic was enough to pull out a win, but Denver still remains in control of their own destiny atop the AFC West. 
That means that if they can win this one and the season finale against Kansas City, they will lock down the fourth seed in the AFC playoffs.  My money is still on Tebow.
Straight: Denver
Spread: Denver
O/U: Under
Miami Dolphins (+10) at New England Patriots (O/U = 49)
The Patriots continue to pair the worst defense in the league with one of the top offenses en route to yet another playoff- bound January.  
The combination of Brady and Gronkowski, among others, has been lethal, and should be enough to overwhelm a Dolphins D which has been stingy against the run, but mediocre in pass coverage.  That being said, the Dolphins have pulled out a few surprises already this year, and this would certainly be another one.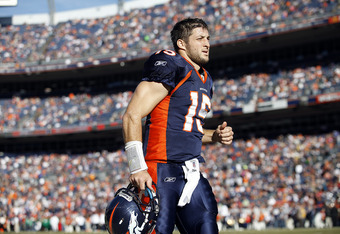 Marc Piscotty/Getty Images
Straight: New England
Spread: New England
O/U: Over 
Cleveland Browns (+13) at Baltimore Ravens (O/U = 38.5)
This game pits the AFC North's first and worst teams, both coming off a loss in Week 15.  The Ravens have solidified a playoff spot while the Browns have shown little to no improvement over their five-win 2010 campaign. 
This will turn out to be one of those games that they didn't even really have to play because you already know what's going to happen.  The only real question is whether or not Baltimore can cover the full 13 points.
Straight: Baltimore
Spread: Cleveland
O/U: Under 
Jacksonville Jaguars (+7.5) at Tennessee Titans (O/U = 40)
After dropping what should have been a gimme win against the Colts in Week 15, the Titans find themselves on the outside looking into the AFC playoffs.  The Jags also lost in Week 15 after being dismantled by the Falcons on Thursday night.  With something still to play for, Tennessee will be looking to redeem themselves in this one, and take it at home.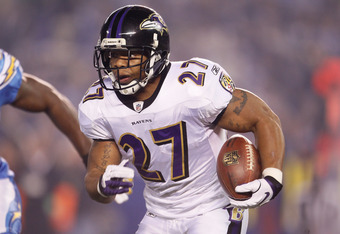 Jeff Gross/Getty Images
Straight: Tennessee
Spread: Jacksonville
O/U: Over
Oakland Raiders (+1) at Kansas City Chiefs (O/U = 42)
In a surprising turn of events, the lowly Chiefs were the first team all season to hand the Packers a loss.  It's hard to believe that one of the worst defensive clubs in the league could halt one of its top offenses, but quite often it is the last team you would expect that take down the league's final unbeaten group. 
The Raiders were the victims of an incredible comeback by Detroit, and need this one to stay alive in the AFC East behind the Broncos.  KC will not be able to pull out two wins in a row over solid teams.
Straight: Oakland
Spread: Oakland
O/U: Over
New York Giants (+3) at New York Jets (O/U = 45.5)
As if this NY rivalry needed any help to be our Game of the Week throw in infinite playoff implications for both squads.
A little Rex Ryan trash talk and it's hard to ask for much else. 
The Meadowlands will be abuzz for this matchup, and after untimely losses for both clubs last week, neither will want to drop this one for fear of ending their season prematurely.  The Giants have shown the ability to put some serious offense together, and after dropping the ball last week—both literally and figuratively—expect them to return to form.
Ezra Shaw/Getty Images
Straight: New York Giants
Spread: New York Giants
O/U: Over
Minnesota Vikings (+6.5) at Washington Redskins (O/U = 44)
The Vikings hit the road to Washington on a six-game losing streak as they have been unable to get anything started all year.  The Redskins have been very up and down, and although they have clearly found a lead back in Roy Helu Jr., the lack of consistency in QB Rex Grossman has proved impossible to rely on. 
Although they may be able to pull this one out at home, it's not enough to redeem yet another season laced with mediocrity.
Straight: Washington
Spread: Washington
O/U: Over
Tampa Bay Buccaneers (+7.5) at Carolina Panthers (O/U = 48)
The Bucs hold the dubious honor of league's longest losing streak, having tallied eight consecutive Ls. 
The Panther's, on the other hand, have won three out of their last four and looked somewhat impressive doing so.  Cam Newton has shown a lot of improvement in just his first season, and should have the offensive prowess to handle one of the league worst defenses.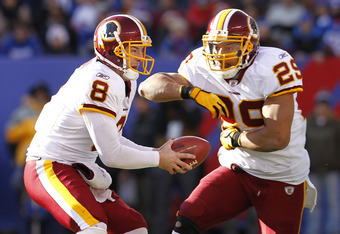 Jeff Zelevansky/Getty Images
Straight: Carolina
Spread: Carolina
O/U: Over
Arizona Cardinals (+4.5) at Cincinnati Bengals (O/U = 40.5)
The Bengals are right on the edge of the playoff push and could be the third AFC North team in the postseason with a strong close to the year.  They will need to start here against a red-hot Cardinals group who have won four in a row—two of which were in overtime. 
This game should be a real battle: Both teams have shown a solid defensive presence, and deserve some attention.
Straight: Cincinnati
Spread: Cincinnati
O/U: Under 
St. Louis Rams (+15.5) at Pittsburgh Steelers (O/U = 37.5)
This one could get ugly. 
The Steelers come off an embarrassing loss to San Francisco on MNF, and will be eager to punish the lowly Rams on both sides of the ball.  St. Louis has been unable to do anything worthwhile on the offensive side, and any defense which is forced on to the field as much as theirs has been will surely give up a lot of points. 
A similar story will unfold here as the Rams will be lucky to put any points on the board, let alone a touchdown.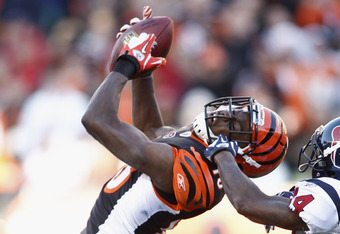 John Grieshop/Getty Images
Straight: Pittsburgh
Spread: Pittsburgh
O/U: Under
San Diego Chargers (+2.5) at Detroit Lions (O/U = 52)
The Chargers offense has clearly come to life after punishing Baltimore for 34 on Sunday night—the most points put up on the tough Ravens D all season.  The Lions made a historical comeback against Oakland to solidify their first winning season in over a decade, and put themselves in control of their own destiny. 
One more win and Detroit is guaranteed an NFC playoff spot.  After coming this far, I don't see them blowing it now.
Straight: Detroit
Spread: Detroit
O/U: Over
Philadelphia Eagles (+2) at Dallas Cowboys (O/U = 50.5)
Dallas defeated the Bucs in a must-win game in Week 15 to remain atop the NFC East.  They face off against a Philadelphia team which has found its stride offensively with the return of Mike Vick at quarterback. 
The Eagles must defeat the Cowboys here to give themselves any sort of chance at the playoffs, and even that might not be enough.  It's hard to put faith in Tony Romo in December, but something tells me they will be the ones coming out of the NFC East this season.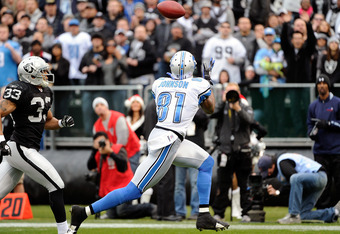 Thearon W. Henderson/Getty Images
Straight: Dallas
Spread: Dallas
O/U: Over
San Francisco 49ers (-2.5) at Seattle Seahawks (O/U = 38)
Amidst technical difficulties, the 49ers were able to throttle the Steelers on Monday Night Football giving up just three points in the process.  One of the league's top defenses continues to roll regardless of their opponent.
It will be a true test to see if they can hold their ground against 'Hawks RB Marshawn Lynch—who has now scored in 10 straight games.  If he gets one into the endzone on the ground he will be the first to do so all year against the Niners D. 
I would count on Beast Mode's impressive streak ending here while San Fran's rolls on.
Straight: San Francisco
Spread: San Francisco
O/U: Under
Chicago Bears (+12.5) at Green Bay Packers (O/U = 45)
Having finally lost their first game of the season, the Packers may be inclined to back off a bit heading into this one.  While their starters will certainly remain in the lineup, I would not be surprised to see them exit early.  Caleb Hanie's inability to get anything going with the Bears offense has led Lovie Smith to start third stringer Josh McCown in this one, and it would be a lot to ask for him to keep up with the Packer offense whether Rodgers is present or not.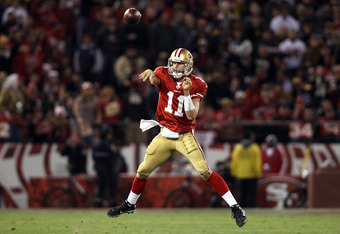 Ezra Shaw/Getty Images
Straight: Green Bay
Spread: Green Bay
O/U: Over
Atlanta Falcons (+6.5) at New Orleans Saints (O/U = 53.5)
The matchup between these NFC South rivals never disappoints, and it is unlikely that trend will end here. 
Having lost at home in overtime after a questionable fourth down call by head coach Mike Smith, the Falcons will be seeking revenge here—this time in New Orleans.  Drew Brees remains on pace to end this year with the all-time single season record for passing yardage, and it is not likely that he will slow down with something like that at stake. 
Expect fireworks here in one that comes right down to the end.
Straight: New Orleans
Spread: Atlanta
O/U: Over
Chances are there will still be plenty of questions to answer regarding playoff positions after these matchups are through, so be sure to come back next week for a similar analysis of every game. 
This is the time that we've all been waiting for!