NBA 2012 By the Numbers: Predictions, Betting Guide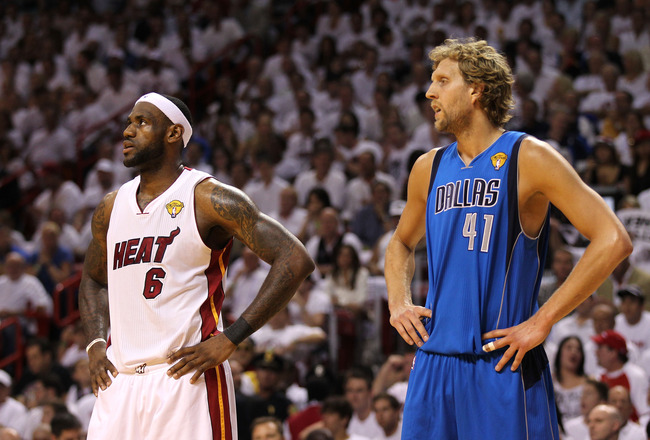 Mike Ehrmann/Getty Images
With the start of the NBA season just a few days away, sports handicappers such as myself have been busy examining the betting lines for this year's team win totals and individual player awards.
The Miami Heat are a big favorite to bring home the title in 2012, which creates good betting value for some of the other top teams in the league. Meanwhile, the MVP and Rookie of the Year awards are wide open this year.
Here are my projected records for every team, along with predictions for statistical leaders and award winners. Also included is a bettor's guide (a list of where my money is invested in for this NBA season).
Regular Season Win Totals and 2012 Champion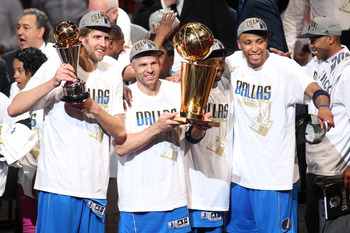 Marc Serota/Getty Images
NBA PROJECTED WIN TOTALS AND STANDINGS
EASTERN CONFERENCE
Atlantic
*NY 44-22
-BOS 40-26
-PHI 35-31
NJ 20-46
TOR 16-50
Central
*CHI 48-20
-IND 37-29
DET 27-39
CLE 21-45
MIL 20-46
Southeast
*MIA 49-17
-ORL 39-27
-ATL 37-29
WAS 25-41
CHA 15-51
WESTERN CONFERENCE
Southwest
*DAL 50-16
-SA 42-24
-HOU 35-31
MEM 30-36
NO 19-47
Northwest
*OKC 46-20
-DEN 37-29
UTA 34-32
POR 30-36
MIN 20-46
Pacific
*LAC 46-20
-LAL 39-27
-GS 35-31
PHO 31-35
SAC 22-40
NBA FINALS: DALLAS OVER MIAMI
Team over/under betting guide—win totals courtesy of Pinnacle Sports
BEST BETS
Dallas over 42.5 wins and to win title (+1230): I expect Dallas to pick up where they left off after last year and finish as the league's top regular-season team in 2012. Yeah, losing Tyson Chandler will hurt a bit, but Lamar Odom is a more than adequate replacement and will become the team's second-leading scorer behind Nowitzki. The Lakers are a mess right now and San Antonio isn't getting any better.
The Clippers and Thunder pose the biggest threat to Dallas in the West, but I expect the Mavs to roll through the NBA again this season. At 12-1, Vegas oddsmakers have given bettors tremendous value and opportunity. Take it.
Memphis under 39.5 wins: The Grizzlies would need to finish 14 games above .500 for this total to go over and I don't see that happening. Memphis finished just 10 games above .500 last season and lost its best defender in Shane Battier. Sure, they had a nice little playoff run last year, but look for Memphis to settle back into mediocrity in 2012.
OTHER PLAYS
New Orleans under 24.5 wins
Utah over 25.5 wins
Golden State over 25.5 wins
Milwaukee under 30.5 wins
Individual Statistical Leaders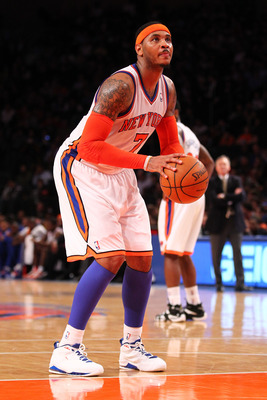 Al Bello/Getty Images
NBA Leading Scorers
Carmelo Anthony, NYK 28.2
Kevin Durant, OKC 28.0
LeBron James, MIA 27.7
Assists
Chris Paul, LAC 11.2
Rajon Rondo, BOS 10.8
Steve Nash, PHO 10.5
Rebounds
Dwight Howard, ORL 14.7
Kevin Love, MIN 14.1
Blake Griffin, LAC 13.1
Steals
Monta Ellis, GS 2.4
John Wall, WAS 2.3
Chris Paul, LAC 2.2
Blocks
Serge Ibaka, NO 2.5
DeAndre Jordan, LAC 2.4
Dwight Howard, ORL 2.3
Player props betting guide—odds courtesy of The Greek
BEST BET
Chris Paul to win the assist title (+300): Yes, I'm on the Paul-to-Griffin bandwagon and my safety belt is securely fastened. Get ready for a nightly array of highlight lob-passes to Griffin and DeAndre Jordan (and kickouts to an open Chauncey Billups) as the Clips will be near the top of the league in scoring. Paul's main competition for the assist title, Steve Nash and Deron Williams, will both lag behind because of bad supporting casts.
Look for CP3 to edge out Rajon Rondo as the king of dimes in 2012.
OTHER PLAYS
Carmelo Anthony to win scoring title (+800)
Dwight Howard to win rebounding title (+200)
2012 NBA Season Awards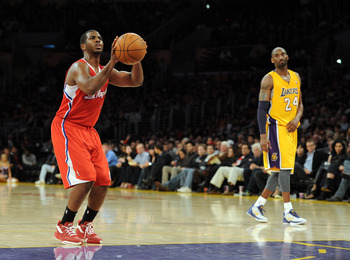 Harry How/Getty Images
MVP
1. Chris Paul, LAC
2. Derrick Rose, CHI
3. LeBron James, MIA
Rookie of the Year
1. Kyrie Irving, CLE
2. Brandon Knight, DET
3. Derrick Williams, MIN
Defensive MVP: Dwight Howard, ORL
Coach of the Year: Mike D'Antoni, NYK
Sixth Man of the Year: Lamar Odom, DAL
Comeback Player of the Year: Jermaine O'Neal, BOS
Most Improved: DeAndre Jordan, LAC
All-NBA Team
G Derrick Rose, CHI
G Chris Paul, LAC
F LeBron James, MIA
F Dirk Nowitzki, DAL
C Dwight Howard, ORL
All-NBA Second Team
G Dwayne Wade, MIA
G Russell Westbrook, OKC
F Kevin Durant, OKC
F Carmelo Anthony, NYK
C Al Jefferson, UTA
All-NBA Third Team
G Rajon Rondo, BOS
G Monta Ellis, GS
F Amar'e Stoudemire, NYK
F Blake Griffin, LAC
C DeAndre Jordan, LAC
NBA Awards betting guide—odds courtesy of The Greek
BEST BET
Kyrie Irving to win ROY (+500): At just 19 years old, Kyrie Irving will quickly become Cleveland's best player and leading scorer (sorry, Antawn Jamison). Minnesota's Derrick Williams is the odds-on favorite to win the award, but give me the kid out of Duke. At 5-1 odds, this is perhaps the best team/player prop bet to invest in this year.
OTHER BETS
Chris Paul to win MVP (+800)
Errol Krupiarz is the owner/writer of WiseGuySports. Follow him on Twitter: @WiseGuyErrol
Keep Reading

Dallas Mavericks: Like this team?