Boston Celtics Rumors: Danny Ainge Must Pull Trigger on Rajon Rondo Trade
December 22, 2011
Mike Ehrmann/Getty Images
The Boston Celtics-Rajon Rondo marriage cannot continue to co-exist. There is too much friction between them to expect things to progress well.
There were rampant rumors that the Celtics wanted to swap Rondo for Chris Paul, and there are now rumors (you'll see below) that they are still shopping. It is time to make this trade.
Disintegration of the Rondo-Celtics Relationship
Rajon Rondo has been dogged by questions of a tendency to throw temper tantrums since his days at Kentucky. This seemed to come to a head in Boston last year after the Celtics' second game in the playoffs against the Miami Heat.
Here is the scoop on that scene according to the Boston Herald, and via Kurt Helin of Pro Basketball Talk:
According to multiple sources, Rondo's errors were being pointed out when he arose and began discussing the mistakes of his teammates. Loudly. Using harsh language.

Coach Doc Rivers got up and fired back, and Rondo threw a bottle that shattered the video screen. He bolted from the practice facility and was prevented from returning when he tried later.
This set the stage for an offseason where Rondo was mentioned in trade rumors. The most prominent was for Chris Paul.
The fact that Rondo was not traded, but linked to trades, is not going to lead to him being a happier camper in Boston when he gets criticized or things go wrong. Hence, it appears the Celtics are still willing to part with him.
The Rumors
CSNNE's Donny Marshall recently talked about the Rondo trade rumors on a Celtics pregame broadcast. Here is Marshall, as quoted on Yard Barker: 
I don't think it's off the radar yet to say Rondo is going to be with this team for the entire season. I spoke with an agent earlier in the week who said this thing is still hot. To have people pay attention to Rondo's temperament, to see how he goes and plays, to see if he leaves it all out there.... They're still talking about this, about maybe moving Rondo somewhere out west—in a warm spot.
Where Celtics Go From Here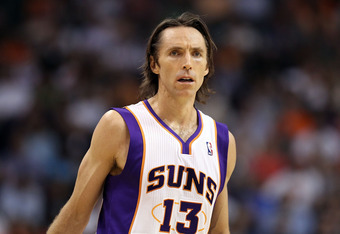 Christian Petersen/Getty Images
It is time to pull the trigger on the Rondo deal. Danny Ainge can't continue to alienate a temperamental player, keep him on the roster and expect everything to be copacetic.
Given Marshall's cryptic comments, two places come to mind: the Los Angeles Lakers and the Phoenix Suns.
The Lakers are desperate for point guard help, and they have already tried to trade Pau Gasol once.
The Suns have an aging Steve Nash who is on the last year of his contract. This could be an interesting straight-up swap for the Celtics. Nash is not near the defender Rondo is, however, he is a way better shooter.
This would help their offense, alleviate a potential problem with Rondo, and give them flexibility at the end of the season when Nash's contract expires and the organization decides how to attack their future.