Washington Nationals: Why They Need to Continue Pursuing Oswalt and Gonzalez
December 21, 2011
Ezra Shaw/Getty Images
The Washington Nationals are apparently very interested in Gio Gonzalez still. According to Jon Heyman of CBS Sports, they are "pushing hard" to acquire the young left-hander. He also reports that they are willing to deal "basically anybody short of Stephen Strasburg and Bryce Harper."
In a separate article, Heyman also reported that the Nationals are one of several teams in the running for Roy Oswalt. He reports that Oswalt is waiting until both Gonzalez and Jair Jurrjens have been moved.
The article does not mention this, but it makes a lot of sense that Oswalt is waiting to see how much teams that missed out on the other two will be willing to pay for his services.
So, will the Nationals be able to land one of them? I think that that is definitely possible. However, I would also support the idea of the Nationals trying to get both of them.
I know what you're thinking. I must be dreaming because with so much competition for the services of both of these athletes, there is no way that they will both land with the same team.
You might be right, but if the Nationals want to compete this season, I believe that a pair of moves of this magnitude needs to happen.
Look at the facts.
The National League East is just as competitive if not more competitive than the American League East. The Philadelphia Phillies and the Atlanta Braves will remain top contenders, and the Braves might get even better because their young players will gain even more experience.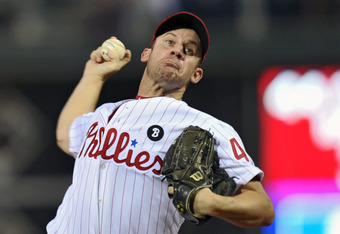 Drew Hallowell/Getty Images
Then, the Florida Marlins have made some huge moves this winter. They already had a solid young core, and Jose Reyes, Heath Bell and Mark Buehrle have only added to that team.
The New York Mets are rebuilding, so they are not quite so much of a threat right now.
The Nationals need to keep up if they want to be competitive. They could have a very nice pitching rotation led by Stephen Strasburg, Gio Gonzalez and Roy Oswalt. Their lineup should be better as Ryan Zimmerman and Jayson Werth should return to form and help produce a lot of runs from the middle of the order.
It would probably be very difficult to bring in both of these pitchers, but that is what it will take to keep up in the division. 2012 will be a very fun year if all four of these teams are able to unleash what they are potentially capable of.