Kim Kardashian May Always Haunt Kris Humphries and the New Jersey Nets
December 21, 2011
Jim McIsaac/Getty Images
Kris Humphries and the New Jersey Nets agreed to a one-year deal recently, but since then you haven't been able to get through one report without hearing the name Kim Kardashian somehow thrown in.
I must admit, I've been guilty of such an offense. I'm afraid it's just impossible to avoid referring to one of the biggest jokes in sports and reality television: the Kardashian and Humphries marriage.
Or lack thereof.
I've heard a reference to Kim K. almost everytime I've watched news pertaining to the deal. Even "Mr. Kardashian" has been thrown in there, which is good if you're aspiring to be a top lawyer, not a serious basketball player.
The length of his marriage to Kardashian has also been alluded to with several different jokes and there is no doubt this will also be a distraction on the court. Yes, that's right, there will be fellow NBA players who will use this in their arsenal of trash talking.
So don't expect Humphries will escape it in any aspect of his life. No matter what he does, this reality nightmare will follow him wherever he goes.
It will only get louder if he doesn't perform up to his abilities. Let's face it: Humphries' numbers from last season were very impressive and extremely promising, averaging a double-double for the Nets last season. In fact, he was one of the top rebounders in the entire league.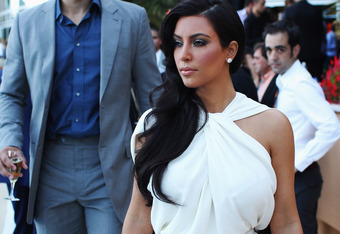 Mark Thompson/Getty Images
Assuming his hard work pays off, he will have a more prominent role on the team this season. That being said, you have to worry if all this mess about his personal life doesn't become a distraction to one of New Jersey's most important players.
If his numbers slip, people will blame it on being distracted from his gigantic mistake and all the ridicule he is taking from it. There is no guarantee even without this circus following him that he'd be able to repeat his numbers from last season.
Don't forget the possibility of Humphries being traded. It's true, the Nets hurt their pursuit of Dwight Howard by signing Humphries, but don't think for a second they will refrain from trading him to Orlando if it brought in Howard.
When it comes to getting the best center in the game, all hands are on deck with the exception of Deron Williams. The Magic desire a deal that includes Hedo Turkoglu's terrible contract and that can only happen if Humphries is included in the package.
Just another thing to add onto the list of distractions Humphries will have to overcome this season. He doesn't even know if he will finish the season in New Jersey.
The only way to silence these questions and all the talk about Kardashian is to do what he did last season: let his play do the talking. The only way to erase the jokes about himself is to go out there and prove he isn't a joke on the floor.
Once he establishes that, the memory of his past mistakes will erase just like they do for most every other professional athlete who makes a fool of themselves.
@michaelmoraitis