Alabama Football: 2012 Game Plan Won't Change with New Offensive Coordinator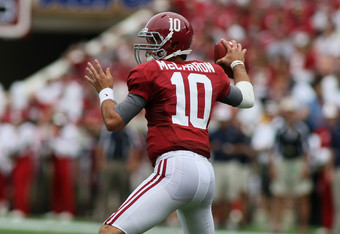 Greg McWilliams/Getty Images
Alabama will have a new offensive coordinator in 2012 and though it is not certain what kind of offensive mind he'll have, a close examination shows it likely won't change change the balanced system already in place.
Nick Saban is still the head coach and his offensive coordinator calls the plays from the booth, but that doesn't go to say that Saban doesn't have a hand in writing the playbook. On both sides of the ball Saban is sure to be the mastermind behind the play-building.
With that said, the system shouldn't change much. Saban won't be bringing in some spread offense coach, or a coach that runs the option nor a guy that runs some strange pistol-hybrid game.
It's just not Saban's system, and they don't have a quarterback mobile enough to run those anyway. They'll stick with a pro-style system.
The system will stay largely the same. A few changes will be made, certainly, such as possibly incorporating the use of a fullback in more situations in lieu of two tight ends, but expect the system the Tide has seen for the past several years.
As for the system itself, most would consider Alabama to be a team that relies heavily on the run, but that is only partially true. That held true in 2008 and 2009, but has changed greatly in the past two years.
The offense is actually quite balanced, favoring neither aspect of the game too much the past couple of years.
In 2010 the Tide rushed 467 times, good for 55th in the nation in rushing attempts, almost dead-center of the FBS, and attempted 362 passes, placing 27th in the nation in passing attempts.
Sean Gardner/Getty Images
Some would see the 2010 offense as a failure, but they placed 18th nationally in scoring offense and third in the SEC, which included Cam Newton and the high-octane Auburn offense that hung 65 points on Arkansas. They also put 27 points (though only three in the second half) on the Tigers when the vaunted Oregon offense could only manage 19.
2011 has seen a similar story of balance. With new starters at quarterback, receiver and running back (though it could be argued that Trent Richardson wasn't really a "new starter") the game plan remained the same. Alabama ranks 16th nationally in scoring offense, 49th in rushing attempts (473) and 95th in passing attempts (323).
The 95th ranking in passing attempts belies the claim that the offense is balanced, but a closer examination explains it.
Alabama has blown every opponent out of the water—with the exception of LSU—and in situations where you are up by 15 or 20 points you just don't air it out or stop the clock with incompletions. Run the ball and kill the clock is the game plan. Alabama has not had complete offensive domination like that of 2011 since Nick Saban arrived.
There is also the case that A.J. McCarron is a redshirt sophomore quarterback and isn't trusted to throw the ball much. It is a poor argument, as McCarron attempted 294 passes in 12 games. Compare that to fifth-year veteran (who is now a New York Jet) Greg McElroy's 313 attempts in 13 games in 2010 and the argument is clearly folly.
Again, Alabama is regarded as a "run first" team, but that is simply an exaggeration. They run the ball more than they pass, but they pass a lot too. They also throw on first down quite often, a quality unlike that of a "run first" offense.
Alabama's offensive scheme in 2012, regardless of having a new offensive coordinator, will hold solid running and plenty of passing.
In tomorrow's article I will examine how the 2012 players will impact the play-calling as well as what the play-calling may look like.
This article is
What is the duplicate article?
Why is this article offensive?
Where is this article plagiarized from?
Why is this article poorly edited?

Alabama Crimson Tide Football: Like this team?