NBA Free Agents: Samuel Dalembert Will Be a Welcome Addition to Rockets
December 21, 2011
Christian Petersen/Getty Images
The Houston Rockets have stolen Samuel Dalembert from the Sacramento Kings. The Rockets need to give themselves a huge pat on the back for doing so. 
On Tuesday, Chris Tommason of Fox Sports reported that Dalembert was going to re-sign with the Kings. He even quoted Dalembert as saying that the move was imminent. 
If things work out, everything structurally (with the contact), it will be Sacramento...It's close.
Apparently it wasn't that close. 
Wednesday, Dec. 21 at 4:47 p.m. EST
ESPN's Marc Stein reported via Twitter that Dalembert is going to sign with the Rockets.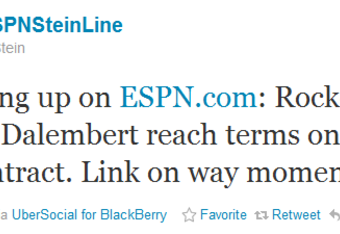 This is an excellent move for Houston. Dalembert is not incompetent at scoring. He averages between eight and 10 points per game consistently. But that's not where his strength is. 
As a rebounder, Dalembert is strong. He averages as many rebounds as he does points, and that's something that the Rockets need. They don't need someone to come in and average more than 15 points a game in the paint, Houston already has guys who can do that. 
Players like Kevin Martin and Luis Scola will score plenty of points. But someone has to do the blue-collar work, and that's what Dalembert does well. 
What also works in Dalembert's favor is that he stays on the court. He only missed two games in the 2010-2011 season, which was two more than he'd missed in any of the previous four campaigns. 
This is an excellent move for Houston, who has a team built to make a run in a shortened season. Normally, you don't need more than about an eight or nine-man rotation to win in the NBA, but in a season like this where the games are going to be compacted, the Rockets aren't going to have to throw in the towel to rest their players.
If they have injuries, the Rockets have enough depth up and down the roster to keep the team afloat. They have players who can score and now they have another player to play in the paint. 
This may not be the most high-profile move, but it was the perfect one for the Rockets to make. They are going to be a force in a wide open Western Conference this season. They have a team with a lot of depth, which is what small mid-market teams must do to win.