2012 NFL Mock Draft: Wild Cards Who Will Shake Up the Draft
December 22, 2011
Erich Schlegel/Getty Images
We think that we have all the answers when it comes to the NFL Draft. All 32 teams have needs, some more than others, and there are players out there to fill those needs. However, not every team sticks to the script and picks the player that fills their biggest hole.
What we want to look at are the players that are going to cause the draft to get thrown for a loop, either because they will go earlier than expected or drop farther than you might think. 
*Draft order determined by combination of current record and projected finish.
1. Indianapolis Colts (1-13): Andrew Luck, QB, Stanford
The only question is if the Colts will feel pressure to trade down and gear up for one more run with Peyton Manning. No matter what team is making the pick, Luck is going No. 1.
2. St. Louis Rams (2-12): Justin Blackmon, WR, Oklahoma State
While the Rams are desperate for help on the outside, they will reach for Blackmon with the No. 2 pick. He would likely be available near the bottom of the top 10.
Right now, he is getting too much respect. He needs to prove that he can overcome the Oklahoma State receiver curse at the combine. 
Other teams that need receiver help will be looking for him to fall to them, so when he goes, it will create a ripple effect through the rest of the first round. 
3. Minnesota Vikings (2-12): Matt Kalil, OT, USC
Arguably the second-best prospect in the draft, and probably the safest pick in the draft. 
4. Jacksonville Jaguars (4-10): Morris Claiborne, CB, LSU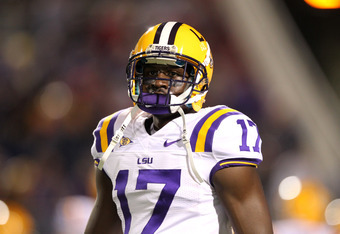 Joe Murphy/Getty Images
The Jaguars already have a good secondary, so it would not be hard to imagine them trying to fill another need that they have, especially on the offensive side of the ball. 
But elite cover cornerbacks are hard to find, and Claiborne is by far the best in this year's class. A team like the Bills will hope that he drops due to teams ahead of them needing to fill other spots. 
5. Tampa Bay Buccaneers (4-10): Dre Kirkpatrick, CB, Alabama 
Tampa Bay needs to get younger in the secondary, which makes Kirkpatrick an easy pick. 
6. Cleveland Browns (4-10): Trent Richardson, RB, Alabama
Richardson is the best running back prospect to come out of college in a long time.
7. Buffalo Bills (5-9): Riley Reiff, OT, Iowa 
The Bills need to find someone who can protect Ryan Fitzpatrick's blind side. 
8. Miami Dolphins (5-9): Matt Barkley, QB, USC
After years of searching for a franchise quarterback, the Dolphins find one.
9. Washington Redskins (5-9): Robert Griffin III, QB, Baylor 
No one has seen his stock rise as much over the last five months as Griffin. He was an unknown commodity coming into the season, and now he is going to be a top-10 pick. 
Don't be fooled into thinking that he is just a product of a college system. He has the physical tools to play in the NFL. The Redskins need to find a quarterback because I am almost 100 percent sure that Rex Grossman and John Beck are not the answer. 
10. Carolina Panthers (5-9): Quinton Coples, DE, UNC 
Now that they have found their quarterback of the future, it is time to rebuild the defense.
11. Philadelphia Eagles (6-8): Michael Floyd, WR, Notre Dame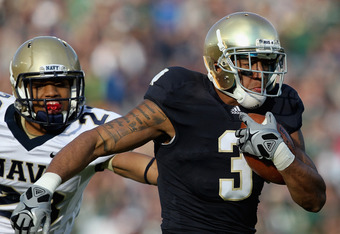 Jonathan Daniel/Getty Images
While the Eagles have more pressing needs, particularly on the offensive line, the threat of losing DeSean Jackson to free agency will force them to make a surprise pick here. 
Floyd is very different from the other receivers that the Eagles have. He uses size and strength in order to make plays. That style will be a nice complement to the other, faster players that the Eagles use on the outside. 
12. Kansas City Chiefs (6-8): Jonathan Martin, OT, Stanford
The Chiefs need to get an impact offensive lineman to protect Matt Cassel and Jamaal Charles in 2012. 
13. Seattle Seahawks (7-7): Landry Jones, QB, Oklahoma 
Jones is a sneaky pick in this draft, if he chooses to come out. No one is really talking about him because of Luck, Barkley and Griffin, but he was thought of as the second-best quarterback coming into the season. 
He clearly has the tools to play at the next level, though a weak ending to this season has not helped his stock. 
But for the Seahawks, who have had quarterback questions since Pete Carroll took over two years ago, he will be a great fit for them. The best part is they don't have to start him right away if they feel comfortable with Tarvaris Jackson. 
14. San Diego Chargers (7-7): Alfonzo Dennard, CB, Nebraska
Dennard is a short cornerback at just a shade over 5'9" but makes up for it with good speed and ball-coverage skills. 
15. Arizona Cardinals (7-7): Devon Still, DT, Penn State
Still needs to improve his pass-rushing technique, but he has star potential.
16. Tennessee Titans (7-7): Vontaze Burfict, LB, ASU
Burfict is a perfect fit in the middle of the Titans' improving group of linebackers. 
17. Cincinnati Bengals (via OAK 7-7): Lamar Miller, RB, Miami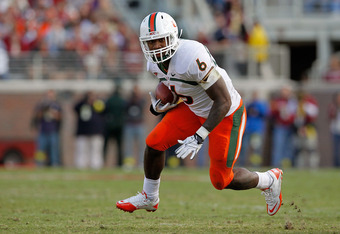 Mike Ehrmann/Getty Images
The second running back taken in this draft will either be Miller or Virginia Tech's David Wilson. Both players are so close that it is hard to argue against one over the other. 
Miller is a little bit better at breaking tackles, so that is why he gets the edge here. The Bengals have found a great battery with Andy Dalton and A.J. Green, but Cedric Benson has disappointed after a hot start. 
18. Chicago Bears (7-7): Peter Konz, C, Wisconsin
The Bears will try to patch up their offensive line with another Wisconsin player in the first round. 
19. Cincinnati Bengals (8-6): Janoris Jenkins, CB, North Alabama
The Bengals' solid defense will get better with more depth in the secondary, and Jenkins has the chance to be an above-average starter at his peak. 
20. Dallas Cowboys (8-6): Luke Kuechly, LB, Boston College
Kuechly is not the most talented player in this draft, but he is one of the smartest. 
21. Detroit Lions (9-5): Melvin Ingram, DE, South Carolina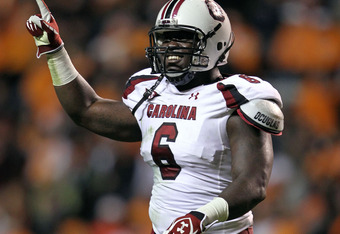 Andy Lyons/Getty Images
With the Lions' front four being exposed this season, they will be forced to draft yet another player who can help them up front. 
The good news is that Ingram, unlike 2011 first-round pick Nick Fairley, is durable and will bring a strong presence in the pass rush. He could go lower in the round if the Lions were able to find a trade partner, but either way he will end up being the player they fall in love with. 
22. New York Jets (8-6): David DeCastro, OG, Stanford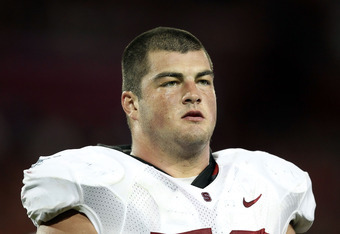 Christian Petersen/Getty Images
The Jets are going to surprise a lot of people by taking an offensive lineman with this pick, particularly with Kevin Reddick and Alshon Jeffery still on the board, but DeCastro is a terrific lineman that can step in right away and start. 
Part of the problem that the Jets have had this season is a lack of toughness up front, which was their staple the previous two seasons, and they need to get back to playing that kind of football if they want to take the next step. 
23. Denver Broncos (8-6): Fletcher Cox, DT, Mississippi State
Cox is more of a hybrid player than a prototypical defensive tackle, but he should be able to handle himself with the Broncos' already stellar pass rush. 
24. New York Giants (7-7): Zach Brown, OLB, UNC
Brown could end up going in the top half of the first round because he is one of the fastest linebackers in the country, which makes up for his slightly smaller stature. 
The Giants defense has gotten soft in recent years, and one of the reasons they always seem to collapse late is because they don't have an attitude or swagger. 
It will take time for Brown to develop into a star, but when he gets there, he can carry a defense. 
25. Houston Texans (10-4): Mark Barron, S, Alabama
The Texans' strong defense will get even better with the solid Barron added to the mix. 
26. Pittsburgh Steelers (10-4): Cordy Glenn, OG, Georgia
Glenn will help shore up the Steelers abysmal offensive line. 
27. Cleveland Browns (via ATL 9-5): Alshon Jeffery, WR, South Carolina
Jeffery was supposed to be one of the most dominant wide receivers in the country this season, but when Stephen Garcia bombed and Connor Shaw was named the Gamecocks' starting quarterback, his performance dropped. 
It will be interesting to see if he does fall this far as a result of decreased production. The Browns would love to see him get to this spot because they need all the skill-position playmakers they can find. 
28. New England Patriots (via NO 11-3): Courtney Upshaw, DE/OLB, Alabama
With no strong secondary players left, the Patriots will bolster their pass rush with Upshaw. 
29. Baltimore Ravens (10-4): Dont'a Hightower, LB, Alabama
It is time for the Ravens to prepare for life without Ray Lewis. Hightower's size, strength and physicality make him an ideal fit. 
30. San Francisco 49ers (11-3): Kendall Wright, WR, Baylor
Alex Smith has impressed the coaching staff this year, but he still needs help to really take off. 
31. New England Patriots (11-3): Mohamed Sanu, WR, Rutgers
While defense is a priority, Sanu's combination of size and speed make him too alluring to pass up. 
32. Green Bay Packers (13-1): Nick Perry, DE/OLB, USC
Speed is Perry's greatest asset, and the Packers love versatility from their front seven.