2012 NFL Draft: The Best Value Picks at Wide Receiver and Running Back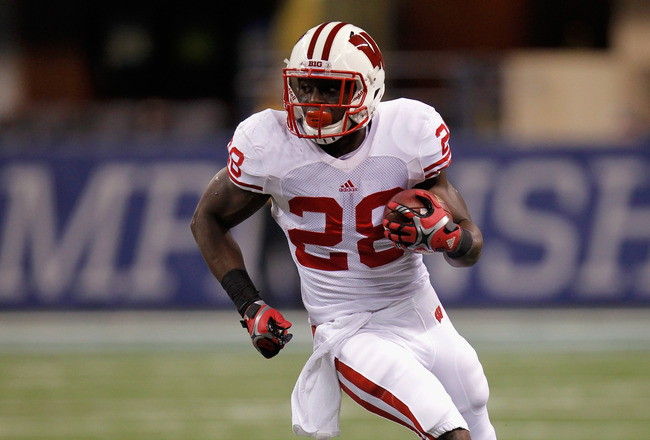 Gregory Shamus/Getty Images
What players at running back and wide receiver have the best values? The NFL draft doesn't always go well for teams, but it will be hard to go wrong with this list.
While some players deserve their high-draft status, others can be over-hyped. There is never a sure thing in the NFL. When a team spends a high draft pick on a player and they don't pan out, it can set the team back a year or more.
Here is a quick list of seven of the best wide receivers and running backs for when they can be picked up.
Montee Ball, RB
Montee Ball just has a nose for finding the end zone, and he needs only one more touchdown to tie Barry Sanders' FBS single-season touchdown record at 39.
Ball plays on the run-heavy Wisconsin offense, and his statistics show it. He has accumulated 1,749 yards on 275 carries with a rushing average of 6.4 yards per attempt this season.
Ball isn't lighting quick, but he is fast enough to accelerate through holes and is a very patient runner. At 5'9", 212 lbs., he may not seem imposing by NFL standards, but the Wisconsin back is hard to bring down.
CBSsports.com has Ball ranked the 98th-best player and the ninth-best running back in the NFL draft. If Ball decides to come out, then he should be snagged well before the fourth round.
B.J. Cunningham, WR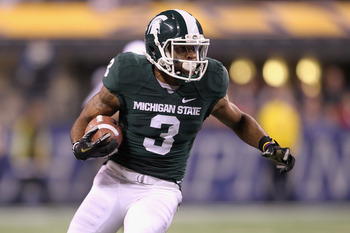 Andy Lyons/Getty Images
In each of the four years B.J. Cunningham played at Michigan State, he improved his receiving yardage and touchdown totals. NFL teams can expect that kind of improvement out of Cunningham as well.
Cunningham leads the the Spartans in every receiving category except yards per catch, where he sits second. Catching 72 passes for 1,240 yards and 12 touchdowns this season, Cunningham averages 17.2 yards per reception.
Freshman Keith Mumphery has only had two catches for 39 yards, so his average is slightly higher than Cunningham's at 19.5 yards per catch.
CBSsports.com has Cunningham projected as the 19th wideout taken and the 162nd-best player.
If a team is spending a late fifth-round or early sixth-round pick on Cunningham, they are definitely getting one of the best value picks in the upcoming NFL draft.
Michael Floyd, WR
Okay, this might seem like a stretch. Michael Floyd is the only player projected in the first round to make the list, but he could very well be the best receiver in the NFL draft.
Bleacher Report's own Matt Miller has Floyd being drafted 14th by the Philadelphia Eagles, and while this may not seem suitable for a player who was 25th in the FBS in receiving yards, Floyd is one heck of a player.
He has developed into a fantastic blocker. His hands are second to none, and he is a proven deep threat. His 6'4", 223 lb. frame makes it impossible to jam him at the line of scrimmage, and he has a second gear to burn by defenders.
There were times in which he seemed to disappear from games, but Floyd isn't entirely to blame due to the questionable quarterback situation at Notre Dame.
If Floyd falls to the 14th pick and the third receiver taken, the Eagles will have gotten a steal.
Dwight Jones, WR
Dwight Jones is ranked 24th in the FBS for total yardage this season with 1,119 yards and has 11 touchdowns on the year.
In Jones, team's can expect a fast, high-jumping, red-zone threat that will give shorter NFL cornerbacks fits.
With the abundance of wideouts in this draft, Jones could end up being a third-round pick. The wideout is ranked the 9th-best receiver by CBSsports.com and the 94th-best player in the NFL draft.
Any other year, Jones would have gone a little higher. Grabbing Jones in the late-second to third round is a good pickup for any team in need of a wide receiver.
Chris Rainey, WR/RB
Chris Rainey is the ultimate utility player. Rainey can line up as a wideout, or he can be used in the backfield as a speedy running back.
Rainey was a part of the 102nd-ranked offense in the FBS. If Rainey was anywhere else, he would have had better statistics, but he still managed decent numbers.
Rainey leads Florida with 155 carries for 790 yards, and he is tied for the lead in receptions with 28 on the season for 350 yards.
He is projected the 20th-best running back by CBSsports and the 194th-best player in the draft. He is a sure way to bring explosiveness and versatility to any team, and he is worth a late-draft pick.
There are a few character concerns with Rainey. If a team is willing to take a small risk, he is the guy to take it with. And there could be a giant reward.
LaMichael James, RB
LaMichael James' 149.46 yards per game is the the highest average of any running back in the FBS this season. In 11 games, James has rushed for 1,646 yards with 16 touchdowns and led the Ducks to one of the most prolific offenses in college football.
James might not seem like an every-down back, which is why he isn't projected higher. A lot of analysts see him as a Darren Sproles change-of-pace-type player (although he is quite a bit bigger than Sproles), but if James has proved anything during his time at Oregon, he does have durability.
CBSsports.com projects James as the fifth running back selected and 71st pick, but Matt Miller has him pegged as the 84th overall pick. Either way, if he slips to the third round, I would strongly suggest taking him.
Ryan Broyles/ Jonas Gray, WR/RB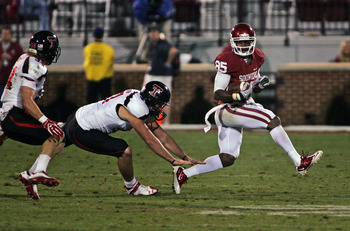 Brett Deering/Getty Images
Well, two torn ACLs pretty much took these guys off of everyone's draft boards.
Ryan Broyles and Jonas Gray both had great years even though they didn't get to finish them.
Broyles had 10 touchdowns in nine games, and he sits at fourth in receiving yards per game with 128.56.
Gray was part of a dynamic duo at Notre Dame, and his stock was rising fast before the injury. Gray had 114 carries for 720 yards and 11 touchdowns on the season (in 10.5 games). He had an outstanding average of 6.9 yards per carry.
If any team wants to bring in two character players, then Broyles and Gray are the guys. They inspire their teammates, and their good attitude is infectious.
All they need is a shot, and if they get one, don't count these two out.
Keep Reading