Chelsea FC vs Tottenham Hotspur : Picking a Possible Starting XI
December 22, 2011
Julian Finney/Getty Images
When Andre Villas-Boas's squad visit White Hart Lane on Thursday, it will be a battle to keep one's hope alive in the Premier League title race.
Chelsea do not have a very impressive resume in away games against their crosstown rivals, given that it has been six long seasons since they last won a league game at White Hart Lane.
Moreover, Harry Redknapp's team has been in top form this season, losing only once in their past 13 games which makes them the favourites against Chelsea. As regards Chelsea, they need to break the six-year wait if they want to maintain their already fading hopes of the Premier League title. Anything but a win against Spurs would virtually mean the end of Chelsea's title hopes this season.
So while Tottenham will look to continue their second-best start to a season in their 129-year history, Chelsea will have to play for everything when they face a match that will be strictly conducted to prevent any racial abuses.
While the fans prepare for an exciting derby encounter, let us take a look into the possible starting XI that Villas-Boas could use in this season-deciding game for the Blues. We are assuming that Villas-Boas shall stick to his tried-and-tested 4-3-3 formation that helped his team re-ignite their dying season.
GOALKEEPER

Chelsea's lame draw against Wigan last weekend that saw them fall nine points adrift of the top of the league was primarily based on goalkeeper Petr Cech's blunder.
The Chelsea goalie accepted his mistake that cost Chelsea some serious ground in the title race. But regardless of his mistake, the squad's overall performance was poor as they failed to finish off the match against a relegation-threatened team.
Villas-Boas has given his full support behind Cech, and there is absolutely nothing to suggest that the Czech will not be keeping guard between the posts. An interesting point will be to see him play without the protective mask after four long years.
DEFENDERS

Terry and Ivanovic have been declared fit to play against Tottenham, while David Luiz has failed to recover for the crunch match at White Hart Lane. Villas-Boas would have undoubtedly preferred the promising but sometimes erratic Brazilian centre-back at the middle of his defense with Terry, given Ivanovic's unassuring displays as a central defender.
But with Luiz out of action, it is surely going to be a Terry-Ivanovic combination at central defensive duties. With Ivanovic playing at central defense, it is most likely the unconvincing Jose Bosingwa who will be given defensive duties at right back, where he has so far failed to impress. Ashley Cole is surely to keep his place at left back though the Englishman has seemed to be a bit off colour lately.
But the limelight will be on Chelsea's "Captain Fantastic" as he fights alleged racism charges brought against him.
MIDFIELDERS

Villas-Boas faces a very tricky situation in selecting his midfield personnel. With Ramires fit, there is no doubt about him taking the field, given how much Chelsea suffered from his absence against Wigan.
The problems for Villas-Boas will be in selecting his other two midfielders.
It is very likely that Villas-Boas will stick with his winning combination that performed so well against Manchester City. That means rusty Lampard and off-form Mikel will be warming the bench, with Romeu keeping his defensive midfielder spot and Meireles getting to play in a sort of advanced midfielder.
With Tottenham being in the midst of a sudden injury crisis to some of their prime players, Villas-Boas will definitely stick with his winning combination of midfielders.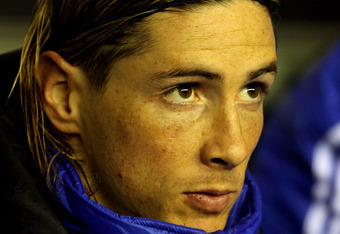 Alex Livesey/Getty Images
FORWARDS

This is one place where the players who are to start can be easily predicted.
With the youngster Sturridge high on both form and confidence, there is no doubts that he will be keeping his place at the right of Chelsea's attack when they visit White Hart Lane.
Juan Mata has also sealed his spot in the left of the attack, providing the width to Chelsea's play.
As for the role of the sole striker, it seems highly unlikely that Villas-Boas will bet on Torres. His reluctance to start Torres against Wigan makes it highly unlikely that the Portuguese tactician will have a sudden change of heart when his squad face Tottenham in a match that could very well end their title dreams.
Though Chelsea's temperamental Ivorian striker, Didier Drogba, had a poor game against Wigan, there is no doubt that Villas-Boas will give the centre-forward role to his more consistent Ivorian hitman rather than his misfiring £50 million one.
So Torres is expected to sign a few autographs and watch the match from underneath the warmth of his jacket as he has been doing for the past couple of weeks.
SUBSTITUTES

The likely candidates for warming the bench will be Frank Lampard (who might again express his displeasure at missing out on first-team action), John Obi Mikel (he has already conceded his first-team spot to Romeu), Florent Malouda, Paulo Ferreira, Salomon Kalou, Ross Turnbull and Fernando Torres (who is seemingly waiting for Drogba to leave for getting some first-team action).