MLB Trade Talk: 16 Top Targets Yankees and Red Sox Could Battle over in July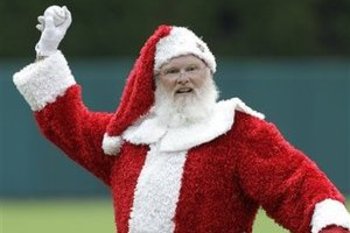 If Santa does not deliver for the Red Sox and/or Yankees this winter, the 2012 trade deadline may become Christmas in July. Photo by Paul Sancya - AP
Christmas is approaching fast, and Santa is checking his lists one final time. So far, though, he has no major presents lined up for either the Red Sox or the Yankees.
If his sleigh heads back to the North Pole without leaving a big free agent under the Boston or New York trees, what does that mean for the 2012 trade deadline?
Both teams have their eyes on starting pitchers. The Red Sox need a right fielder and a right-handed bat off the bench, while the Yankees could use a left-handed bullpen arm as well as bench strength.
The following slides show a number of prominent players who will undoubtedly be on both teams' wish lists for Christmas in July.
"Wish list" is the operative word here, because the conditions which have caused both teams to hold back from big-dollar deals in this offseason will still apply next summer. The new collective bargaining agreement calls for escalating penalties for teams that exceed the luxury tax threshold in successive years. That threshold for 2012 (and 2013) is the same as 2011: $178 million. It goes up to $189 million in 2014.
Teams that have gone over the limit in 2010 and 2011 will be assessed a 40-percent tax on every dollar spent beyond $178 million this year. (According to Joel Sherman of the New York Post, the Yankees' average luxury tax penalty has been $25.75 million per year since their penalty rate went to 40 percent in 2005.)
The Red Sox went over that limit in the past two years, and looking at their current payroll, there's no way they stay under that number and still field a competitive team in 2012. Ken Rosenthal of Fox Sports obtained figures from another organization that show the Red Sox are currently up against the luxury-tax threshold of $178 million. (Nick Carfardo also wrote about this in the Boston Globe.)
It gets worse: the maximum tax increases to 50 percent starting in 2014. Both the Red Sox and the Yankees are trying to avoid such a hefty penalty, and the only way to do that is to get back under the threshold for one year. If that happens, the penalty goes back to zero, and the first year hit is reduced to 17.5 percent.
There are several good reads out there detailing how the the luxury tax will affect free agency and trading deadline decisions for both the Red Sox and the Yankees. Matt Kory's piece for Over the Monster is a good starting point for the Red Sox situation; Chip Beck expanded on the subject for Firebrand of the American League.
Meanwhile, Joel Sherman presented the Yankees' dilemma in this article for the New York Post.
So, with those caveats in mind, here we go. (We're also assuming that none of these players are locked up by other teams between now and July 31.)
Felix Hernandez, RH Starter, Seattle Mariners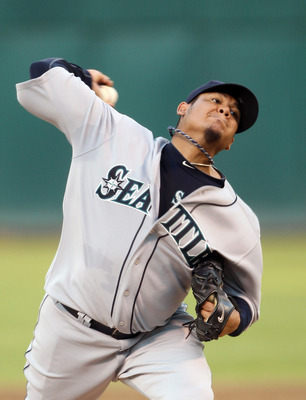 Ezra Shaw/Getty Images
OK, let's get this one out of the way first. The availability of Hernandez would cause both teams to throw their luxury tax concerns out the window. After all, it's only money...
At the same time, nothing causes greater grief among Seattle fans than hearing the constant rumors of King Felix going to the Red Sox or the Yankees.
As hard as this may be to swallow, the financial problems of Seattle's owners may not give them much choice.
I know that every previous offer for Felix has been rebuffed by Seattle, and he supposedly wants to finish his career there, but here's a road map for getting a deal done from the Red Sox perspective:
The Red Sox & Mariners Should Do a Deal for Felix Hernandez
And here's one from the Yankee side:
Felix Hernandez and the New York Yankees: The Trade Idea That Will Never Go Away
Seattle has an abysmally bad offense—so bad that many superb pitching efforts are wasted. This year they were dead last in all of MLB in most offensive statistics: batting average, on-base percentage, slugging percentage, RBI, runs scored, hits and OPS.
In the process, the Mariners set the franchise record for worst-ever team batting average (.233), breaking the previous record, set in 2010, of .236.
Their .292 on-base percentage followed a .296 OBP in 2010, making Seattle the first team to have an OBP of under .300 since mound was lowered in 1969.
The Mariners have holes at DH, left field, third base and shortstop, and they need to fill those holes with good sticks—preferably left-handed hitters who can take advantage of the short porch in right at Safeco Field.
Both the Red Sox and the Yankees have bats that could fill those needs.
Hernandez does have a contract which allows him to veto a trade to 10 teams. According to Jon Paul Morosi of FOX Sports, he blocked (in alphabetical order) the Boston Red Sox, Chicago Cubs, Los Angeles Angels of Anaheim, Los Angeles Dodgers, New York Mets, New York Yankees, Philadelphia Phillies and Texas Rangers (along with two other unknown teams).
Just looking at the list, one thing pops out: all these teams are large-budget franchises. This doesn't necessarily mean that Hernandez would not want to play for any of these teams; in fact, the opposite may well be true. Such a no-trade clause could be used as leverage to obtain a significant contract extension for Hernandez to agree to the deal.
I guarantee you that Felix will leave in a New York minute when his contract is up in 2014 if the Mariners have not become a competitive team with a chance to go deep into the playoffs.
Interestingly enough, the best way for that to happen is if Hernandez is traded away (if not now, then at the trade deadline) to get the necessary bats for Seattle to make a run.
Michael Pineda, RH Starter, Seattle Mariners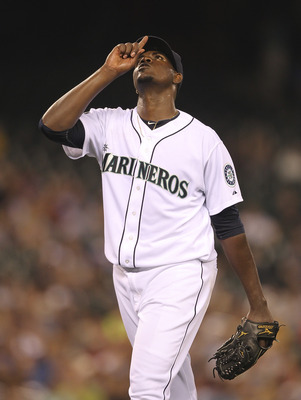 Otto Greule Jr/Getty Images
If Seattle's ownership won't risk the fan backlash that would result from trading Felix Hernandez, they might consider moving Michael Pineda in their desperate quest for offense.
Although he's a 22-year-old All-Star who finished fifth in the American League Rookie of the Year voting, he did break down in the second half, going winless in seven starts after his victory on July 30. He finished with a 9-10 record and 3.74 ERA. Most observers believe, however, that this was simply a case of an elite young arm getting tired down the stretch.
The 22-year-old Pineda threw 171 innings in 2011 and, according to Ben Nicholson-Smith of MLBTradeRumors.com, he had never thrown as many as 140 in any pro season before that.
Still, he has quite an upside after he gets stretched out. He had the fourth-fastest average fastball among MLB starters, and notched more than one strikeout per inning with a 3:1 ratio of Ks to walks. He also averaged more than six innings per start—a stat of particular interest to the Red Sox, whose bullpen was worn out last year by starters not going deep enough into games.
Yes, Pineda does allow a lot of fly balls, and might have trouble adjusting to the more hitter-friendly confines of Fenway Park or Yankee Stadium.
However, Seattle only paid him $414,000 last year, and he is still pre-arbitration eligible—making him a prime target for teams seeking ways to avoid excessive luxury tax penalties.
Jon Niese, LH Starter, New York Mets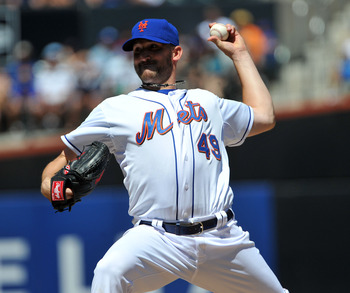 Christopher Pasatieri/Getty Images
Niese, 25, is under team control through 2015 and could be an alternative after both the Red Sox and Yankees find the asking price to be too high for the best-known names.
Even Niese, however, could command a steep price for an under-the-radar pitcher who went 11-11 with a 4.40 ERA for the Mets in 27 games (26 starts) in 2011 with 7.9 strikeouts and 2.5 walks per nine innings. Word out of the winter meetings was that the Mets were seeking a catcher, an infielder and prospects for the young starter.
The biggest advantage is that he is inexpensive ($452,000 in 2011). He will not be arbitration-eligible until after the 2012 season, and won't be eligible for free agency until after 2016.
According to Paul Hagen on MLB.com, one scout said, "Because the Mets have been down, he might not be looked at in a sexy light. But he went 11-11 for a really bad team last year, and that counts for something."
He is a ground-ball pitcher who posted a better than 3:1 ratio of strikeouts to walks last season.
Mike Axisia of MLBTradeRumors.com does raise one warning flag: Hamstring and oblique problems have held him back somewhat, which is why he's never thrown more than 180 innings in any pro season.
The Yankees may match up better with the Mets on the trading front, since they have the kind of prospects their cross-town rivals covet. Whether they would part with any of them for a lesser light such as Niese remains to be seen.
Alex Speier of WEEI.com reported last week that the Red Sox did not match up at this point either. He wrote, "Mets do not believe that Boston has the kind of players whom they would seek in a haul for a cost-effective young starter."
However, this is December. A lot can change in seven months.
Jeremy Affeldt, LH Reliever, San Francisco Giants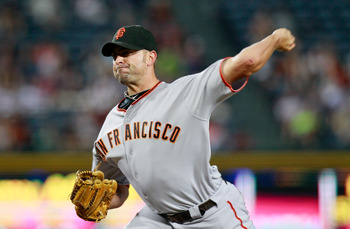 Kevin C. Cox/Getty Images
The Giants have a ton of money tied up in the bullpen right now, writes Ken Rosenthal of FOX Sports, so Jeremy Affeldt and his $5 million contract for the coming year could be had in a trade.
The Yankees are more in need of a quality left-handed reliever than the Red Sox, but that may change by July.
Affeldt put up good numbers in 2011, posting a 2.63 ERA, with almost a strikeout per inning. According to Steve Adams of MLBTradeRumors.com, he kept the ball on the ground 62.1 percent of the time—a mark that ranked seventh among all relievers in 2011.
The $5 million contract is a disincentive, however. Red Sox GM Ben Cherington is bargain-basement shopping, and according to Joel Sherman of the New York Post, a Yankees team official said Affeldt's $5 million price tag was too high.
However, by the trade deadline, Affeldt may be willing to work something out, perhaps deferring money in exchange for an extension.
Wandy Rodriguez, LH Starter, Houston Astros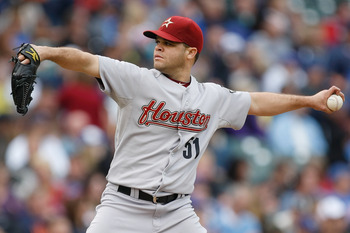 Scott Boehm/Getty Images
His name was mentioned frequently at the 2011 trade deadline, and he continues to be a popular trade rumor target this offseason. He's a left-hander, only 32, and has posted four seasons in a row with an ERA of 3.60 or lower for a 106-loss team. Despite the demand for starting pitching, however, no one has pulled the trigger on a deal.
That is probably because of his contract, combined with concerns about his ability to make the transition from the no-pressure situation of pitching for the worst team in baseball. That transition problem increases geometrically when one considers the pressure cooker of the AL East.
Luke Adams reported this week on MLBTrade Rumors.com that the Astros might even eat some salary in a trade. Although he is under club control through 2014, he's due $23 million over the next two seasons. A $13 million club option for 2014 becomes a player option if he's traded. (Also, the 2014 option vests if he throws 180 innings in '13.)
Gio Gonzalez, LH Starter, Oakland Athletics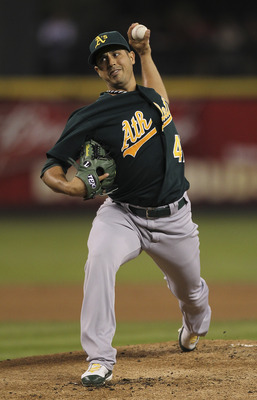 Otto Greule Jr/Getty Images
Gonzalez may be the most written about pitching trade prospect in this entire offseason, so I won't belabor his credentials. Suffice it to say that he's under team control until 2016, and he's still only 26 years old. Over the past two seasons he's 31-21 with a 3.17 ERA in more than 400 innings.
As Paul Hagen wrote on MLBTradeRumors.com, however, Gonzalez is also arbitration-eligible for the first time, which makes him expendable to Oakland. "[General manager] Billy Beane does a good job of hyping his players, and a lot of teams have been burned by that," one scout told Hagen. "But Gonzalez may be worthy of what it would take to get him."
If Gonzalez is still on the Oakland roster by the trade deadline, expect offers to come from both the Yankees and Red Sox.
Matt Garza, RH Starter, Chicago Cubs
Denis Poroy/Getty Images
If Gonzalez is the most-discussed pitching trade prospect today, Matt Garza may be number two.
At a Christmas tree lighting in Chicago earlier this month, Garza acknowledged all the trade rumors, according to Carrie Muskat/MLB.com. "I know how to beat [the Red Sox]," Garza told her. He has a career regular-season 7-4 record and 3.83 ERA against them, and also beat them twice in the 2008 American League Championship Series. (He hasn't fared as well against the Yankees, with a 1-4 record and a 4.48 ERA, which might make him more interesting to the Bronx Bombers. Either way, he's very experience with the crucible of the AL East, and would be interesting to either team.)
Garza went 10-10 with a 3.32 ERA, 1.26 WHIP and 197 Ks in 198 innings during his first season in the National League. He was the Cubs' best starter, and is probably the best trade chip that new GM Theo Epstein has as he attempts to rebuild his team.
"If Theo trades Garza, he'll be looking to take someone to the cleaners," one scout told Paul Hagen of MLBTradeRumors.com
Garza made $5.95 million last year and is locked up for two more years.
James Shields, RH Starter, Tampa Bay Rays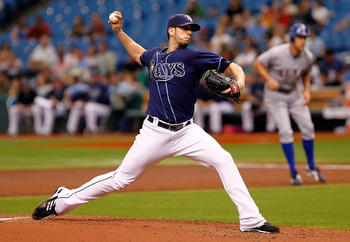 J. Meric/Getty Images
The Rays are extremely reluctant to part with any of their stud pitchers, but there are still rumblings out there that Shields could be had for the right price.
Shields is an absolute horse; in 2011 he pitched 11 complete games (tops in MLB) and had an AL-high four shutouts.
Overall, he went 16-12 with a 2.82 ERA.
Declining attendance, despite their exciting playoff run, puts really pressure on the team financially. They reduced payroll from $72 million in 2010 to $42 million in 2011.
Tampa entered this offseason seeking a DH, bullpen arms, a first baseman and a catcher. They could fulfill all of those needs by parting with one of their starters.
The bigger issue is the fact that the Yankees and the Red Sox are the last two teams that Tampa would trade pitching to.
Let's see where they are in July.
Matt Cain, RH Starter, San Francisco Giants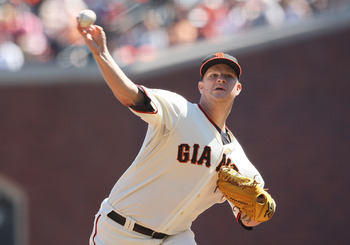 Tony Medina/Getty Images
Many think Matt Cain is the ace of the Giants staff, not Tim Lincecum. Cain has pitched more than 200 innings for five years in a row. He has a 3.35 career ERA (2.88 ERA in 2011).
However, Cain's salary jumps from $7 million to $15 million in 2012, and the Giants may not have enough money to sign both Cain and Tim Lincecum to long-term deals.
One way for San Francisco to solve its financial problem is to trade one and sign the other. I would imagine any trade would involve financial relief to the Giants, such as taking on the burdensome contracts of LHP Barry Zito and 1B/OF Aubrey Huff.
The Red Sox might be more inclined than the Yankees to do such a deal, because they could use Huff as an outfielder.
John Danks, LH Starter, Chicago White Sox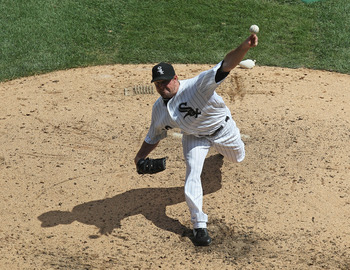 Jonathan Daniel/Getty Images
The 27-year-old Danks does not become a free agent until the end of next year, so he could be just the kind of pitcher the Yankees would target. They could get a year's work out of him, then let him go. He would have no impact on their need to get under $189 million total payroll for 2014.
However, the White Sox know this. SI.com's Jon Heyman reported that the White Sox requested top young players Jesus Montero and Manny Banuelos from the Yankees for Danks.
According to Blaine Blontz of MLB Trade Rumors, "The Yankees response to Chicago's request of Montero and Banuelos was probably akin to laughing out loud. According to Heyman, the Yankees wouldn't be willing to give up either one of Banuelos or Montero straight-up for Danks."
Danks also did not have a great year in 2011, posting an 8-12 record with a 4.33 ERA.
The guess here is that Danks will stay with the White Sox to start the season, and as the trade deadline approaches, they will part with him for less than the multiple prospects they are seeking.
Jair Jurrjens, RH Starter, Atlanta Braves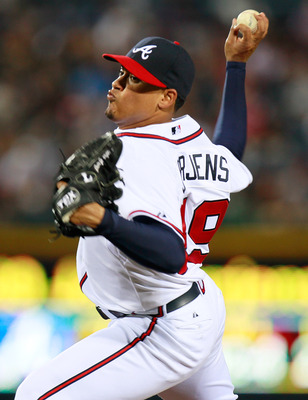 Kevin C. Cox/Getty Images
Jurrjens pitched well in 2011, going 13-6 with a nice 2.96 ERA.
He's still only 25, and is not eligible for free agency until after the 2013 season. This will be his second arbitration-eligible offseason, and he will certainly get a nice bump on his 2011 salary of $3.25 million. He should earn about $5 million in arbitration
On the down side, he's had knee problems each of the last two seasons.
The Braves also have a strong pitching staff with arms such as Tim Hudson, Tommy Hanson and Brandon Beachy. Like the Red Sox, the Braves also need a right-handed-hitting outfielder. They could afford to deal one pitcher for a bat, some prospects and a little financial flexibility. By moving Jurrjens now, the Braves will get top value; his price will drop the closer he gets to free agency.
If he is still on the Braves roster in July, I would imagine that both the Yankees and Red Sox would come calling.
Brandon McCarthy, RH Starter, Oakland Athletics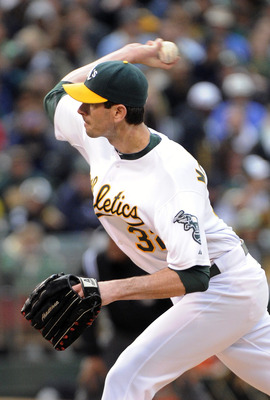 Thearon W. Henderson/Getty Images
The "other" A's pitcher may be more palatable cost-wise in the long run than Gio Gonzalez.
At age 28, Brandon McCarthy finally overcame his injury issues last season, posting a 9-9 record with a 3.32 ERA. He walked only 25 in 170 innings, while striking out 123—giving him an impressive strikeouts-to-walks ratio of almost 5:1.
Just as importantly, he earned only $1 million in 2011, and has one more year of arbitration eligibility.
The A's will be looking for prospects, as they are with Gonzalez, but the price tag would probably be one the Red Sox and Yanks could both meet.
Jeremy Guthrie, RH Starter, Baltimore Orioles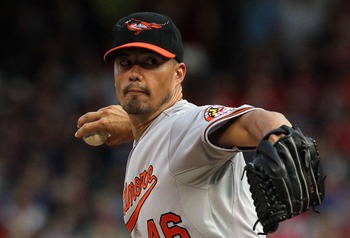 Ronald Martinez/Getty Images
Guthrie is another one of those dependable hurlers who flies beneath the radar, eating innings while posting decent—if unspectacular—stats. He was on the trading block last summer, but according to Brittany Ghiroli, who covers the Orioles for MLB.com, "Former president of baseball operations Andy MacPhail didn't pull the trigger last July because he didn't think other clubs valued Guthrie as much as Baltimore."
Guthrie has made at least 30 starts and pitched at least 200 innings each of the last three seasons. In 2011, he went 9-17 with 130 Ks, a 4.33 ERA and 1.34 WHIP in 208 innings. The 32-year-old right-hander is also hardened to the pressure of pitching in the AL East, even if his numbers aren't spectacular.
He earned $5.75 million last year, is third-year arbitration eligible and can become a free agent after the 2012 season. That would especially appeal to the Yankees, with their desire to get total payroll down to $189 million before 2014.
According to Ghiroli, the Rockies and Angels have shown interest so far. If Guthrie is still an Oriole next July, expect the Orioles to make another attempt to move him, probably to shore up their bullpen.
The Red Sox, with a gaggle of bullpen arms, could match up better in this possible trade.
Gavin Floyd, RH Starter, Chicago White Sox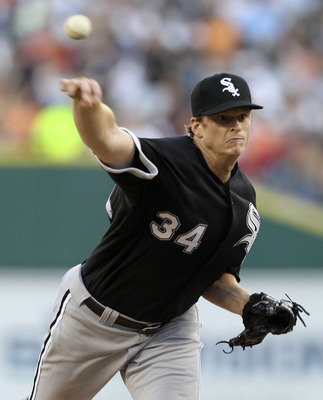 Leon Halip/Getty Images
There is nothing spectacular about the 28-year-old Floyd, who has a career 4.55 ERA. Last year, he went 12-13 with a 4.37.
However, he has been a reliable workhorse for the White Sox, posting 30 or more starts four years running. He has averaged 195 innings per year, and he gets deep into games—more than six innings per start. His ERA, however, has crept up each year, starting with 3.84 in 2008 to 4.37 in 2011.
His contract is manageable; 2012 is the last year of his four-year deal, and he will earn $7 million in 2012. The White Sox hold a team option for $9.5 million in 2013.
Indications out of the Windy City are that the White Sox would rather keep Floyd than Danks.
Either way, expect the Red Sox and Yankees to be in on both if they are still on the White Sox roster come July.
Tyler Matzek, LH Starter, Colorado Rockies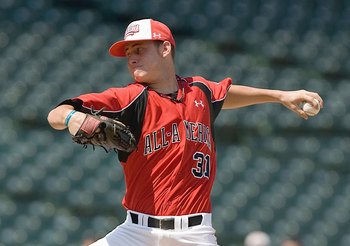 Dilip Vishwanat/Getty Images
Matzek, a 2009 first-round draft choice, missed a good chunk of the 2011 season due to some incredible wildness that eventually forced him to take a sabbatical. However, he is someone with an immense upside who is rumored to be part of a trade proposal between the Mets and the Rockies that includes third baseman David Wright.
Given the Yankees' bad experience with Andrew Brackman, and the fact that they have greater pitching depth in their minor league system, Matzek might be a better long-term prospect for the Red Sox.
David Price, LH Starter, Tampa Bay Rays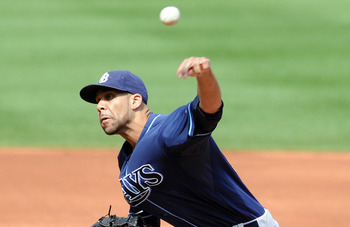 Darren McCollester/Getty Images
As unrealistic as this may seem, Price might be available if another team came in with a very strong offer. Paul Hagen of MLB.com writes, "With only two full big league seasons behind him, he still appears to have a lot of upside. But the whisper is that either Price…could be available for a team willing to cough up enough talent."
The Rays left-hander went 12-13 with a 3.49 ERA, 1.14 WHIP and 218 strikeouts in 224.1 innings in 2011.
As with James Shields, however, it is highly unlikely that the Rays would consider a trade of a stud pitcher within the division—especially to the Red Sox or Yankees.
Tim Lincecum, RH Starter, San Francisco Giants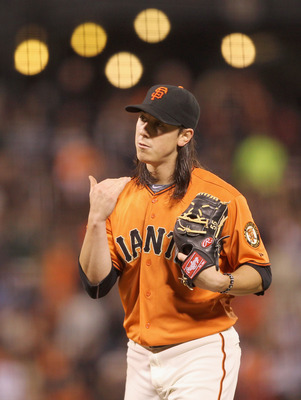 Ezra Shaw/Getty Images
We started this feature with one impossible dream, Felix Hernandez, so let's end it with another.
Just to be clear, I'm not starting the rumor about the potential availability of the Giants ace known as "The Freak."
Dave Cameron did that on Fangraphs a month or so ago, in a piece entitled, "Can the Giants Improve by Trading Tim Lincecum?"
Other writers, to include Jon Morosi of FOX Sports, jumped on the bandwagon. Doug Mead followed with an article on BleacherReport.
The precedent for a championship-caliber team trading a top-of-the-rotation pitching stud has already been established: just look at Cliff Lee.
The point is, the Giants need offense. They also need financial flexibility to lock up Matt Cain and the rest of their young stud pitchers. The best way to do that would be to trade either Lincecum or Cain.
As mentioned earlier, I would imagine any trade would involve financial relief to the Giants, such as taking on the burdensome contracts of LHP Barry Zito and 1B/OF Aubrey Huff.
Keep Reading

Boston Red Sox: Like this team?