Tennessee Titans: Why They Should Stick with Matt Hasselbeck
December 21, 2011
Andy Lyons/Getty Images
It's no secret that Tennessee Titans rookie quarterback Jake Locker has been a standout in recent weeks.
After leading an almost game-winning comeback against the New Orleans Saints in Week 14 and bringing life to the Titans offense against the Indianapolis Colts, many are clamoring for Locker to be named the starter for the final two games of the season.
This is justifiable as Locker has shown a lot of promise and brings a different dimension to the quarterback position for the Titans.
In his five games played, Locker has thrown for 542 yards, four touchdowns, and zero interceptions. Not to mention, he has also run for 56 yards and a touchdown. Pretty good stats for a guy that hasn't even played a full game this season.
While it is evident that Locker has played way beyond expectations, fans shouldn't forget who got them here.
Let's face it, Matt Hasselbeck may be the best passing quarterback the Titans have ever had, and that's saying a lot.
Hasselbeck came into Tennessee knowing his role. He was supposed to be a solid veteran quarterback who could teach the backup rookie a thing or two and then ride into the sunset as the prodigy takes over.
In most of these mentor situations, the veteran quarterback is usually pulled midway through the season for the unpolished rookie. In Tennessee, that wasn't the case.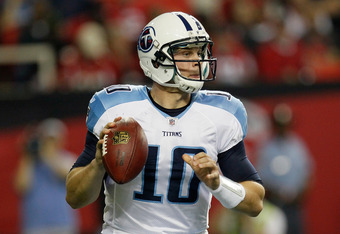 Kevin C. Cox/Getty Images
Even though Hasselbeck has struggled recently, he has put up good numbers throughout the season. Many will look at his touchdown-to-interception ratio as a ploy to get him pulled.
However, let's not forget what Hasselbeck has had to play with this season.
Any quarterback that loses his No. 1 receiver, coupled with an ineffective run game has all the odds against him.
But credit to Hasselbeck, he has fought through adversity and kept the Titans in playoff contention.
To make the playoffs, the Titans need to win their final two games and have a little help from the Jets, Raiders and Bengals.
Even though many believe Locker should be named the starter, there simply is too much at stake to not trust the veteran Hasselbeck. After all, he has been in this situation many times before. 
Although Locker has played phenomenal and gives a reason for optimism in Tennessee, it's not his time yet.
The Titans need to keep developing Locker, and when he is completely ready, they will finally unleash him as their starting quarterback.
Until then, enjoy Matt Hasselbeck because he gives the Titans the best chance to win right now.