Lakers Rumors: Point Guards L.A. Should Target Now That Chris Paul Is a Clipper
December 21, 2011
Mike Ehrmann/Getty Images
The Lakers may have turned their attention to Dwight Howard, but now that Chris Paul is a member of the Clippers, it's time they exercise a backup plan for the point guard slot.
Derek Fisher is aging fast and is no longer the type of floor general who can lead this team to a championship. Judging by the Lakers' pursuit of Paul, the team is aware of such a notion.
While the Lakers are restricted in the types of moves they can make, all hope of acquiring a capable floor general is far from lost.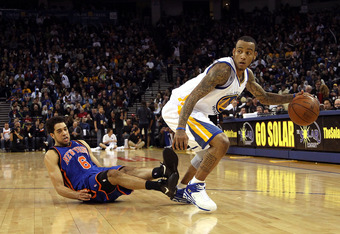 Ezra Shaw/Getty Images
The Lakers were linked to Monta Ellis prior to the lockout, and while there haven't been any rumblings lately, he is an option they should explore.
Ellis has been criticized for his tendency to dominate the ball too much, but he took great strides toward improving his playmaking abilities last season, averaging a career-high 5.6 assists per game.
Aside from developing himself into a more unselfish player, Ellis has proved to be a savvy defender when committed to playing defense. He has quick hands, which can generate a lot of steals, and he has the speed that allows him to keep pace with the fastest of athletes.
Could Ellis and Kobe Bryant thrive alongside each other? Absolutely. While both have a tendency to dominate the ball, people underestimate the effect role confusion had on Ellis in Golden State. There was never a clear-cut point guard with both Stephen Curry and Ellis in the backcourt.
If the Lakers were to take on Ellis with the intention of starting him as the full-time point guard, he has the potential to thrive in such a role.
Los Angeles will have to re-lay the groundwork for an Ellis deal, as Lamar Odom was a key piece in any package, but if they can get a third team involved, rekindling talks is not out of the question.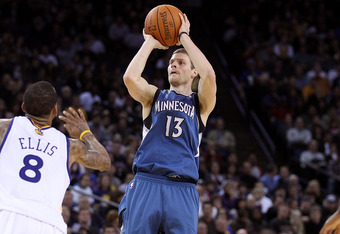 Ezra Shaw/Getty Images
Luke Ridnour
With the Minnesota Timberwolves' recent addition of J.J. Barea, Luke Ridnour is a point guard whom the Lakers should look to target.
Ridnour is a solid veteran performer who can both score and pass. He has a great shooting touch from beyond the arc and is near impossible to guard in transition.
At 30, Ridnour provides a balanced combination of veteran leadership and youth. He is seven years younger than Fisher but is entering his ninth season in the league.
One of the major knocks on the point guard is his defense. He is a poor defender who can get beaten off the dribble often if he isn't too careful. That being said, he is no more of a liability on that end than Fisher, so the Lakers would not be sacrificing anything.
Ridnour has the tools that will relieve some of the backcourt burden on Bryant's shoulders, while helping the Lakers return to championship contender status.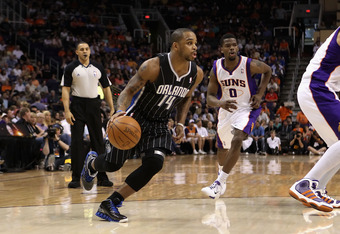 Christian Petersen/Getty Images
Jameer Nelson
The Lakers' search for a point guard and their attempt to acquire Howard do not have to remain separate.
When Los Angeles acquired the $8.9 million trade exception in exchange for Lamar Odom, it did not allow the team to absorb the contract of Hedo Turkoglu in any Howard deal. However, it does allow the Lakers to take on a player like Jameer Nelson, notes Brian Kamenetzky of ESPN.com.
Nelson is a solid floor general and a good friend of Howard's as well. He is an excellent ball-handler who is not afraid to take the ball to the rack. He is more of a scorer than a playmaker, but alongside players like Howard and Bryant, all he has to do is dump the ball off and let them create for themselves.
Additionally, Nelson is a superb on-the-ball defender. He has great coordination and knows where to keep his hands depending upon the position of the ball.
No, Nelson is not Paul, but the Lakers may be more open to dealing both Pau Gasol and Andrew Bynum for Howard if they are getting Nelson in return as well.
 You can follow Dan Favale on Twitter @Dan_Favale.