Luis Suarez Banned 8 Games: Why Liverpool's European Hopes Are in Deep Trouble
December 21, 2011
Clive Brunskill/Getty Images
Liverpool's European hopes lie in tatters after star man Luis Suarez was banned for eight matches and fined £40,000 for racially insulting Manchester United's Patrice Evra.
According to the FA, the ban is suspended until either an outcome is determined should Suarez appeal, the time for appealing expires or should the Uruguay international decide not to appeal.
As it stands, Suarez is available for tonight's game at Wigan Athletic, and could be available for Liverpool's remaining fixtures in 2011 seeing as the FA have suspended the ban for a maximum of 14 days.
Should that be the case, here are the matches the 24-year-old will likely miss:
3 Jan, 20:00 Manchester City vs. Liverpool, Premier League 
6 Jan, 20:00 Liverpool vs. Oldham Athletic, FA Cup
11 Jan, 19:45 Manchester City vs. Liverpool, League Cup
14 Jan, 15:00 Liverpool vs. Stoke City, Premier League
21 Jan, 17:30 Bolton Wanderers vs. Liverpool,  Premier League 
25 Jan, 19:45 Liverpool vs. Manchester City, Carling Cup
31 Jan, 19:45 Wolverhampton Wanderers vs. Liverpool,  Premier League
6 Feb, 20:00 Liverpool vs. Tottenham Hotspur, Premier League
Of course, should Suarez appeal and the outcome become clear before the start of 2012, he would be available for the Tottenham game and perhaps the Wolves match. He may miss the match against Blackburn Rovers on Boxing Day and more than likely the Newcastle United game four days later.
Almost needless to say, when a team is without their star man for a long period of time, it has profound effects on the rest of the side.
Liverpool need Suarez as much as possible if they are to mount a challenge for the Champions League, or even make it to the Europa League.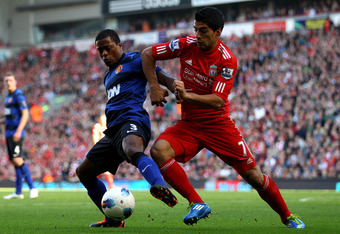 Clive Brunskill/Getty Images
With no Suarez for the League Cup fixtures, a route into Europe via an early trip to Wembley seems highly unlikely.
While in the league, Liverpool seem stuck in sixth place, a position that won't guarantee them European football next season, having painfully lacked goals this season.
And now with Suarez banned, the team have to find a new main supply of goals and creativity, a supply that hasn't been found to this point.
After all, Suarez is Liverpool's top scorer in the league this season with five goals.
On top of that, he creates more chances for teammates than any other Reds player, and carries the ball forward better than any of his colleagues. He also wins the most amount of free kicks and penalties for his team.
Not only is Liverpool manager Kenny Dalglish robbed of his best player for an African Cup of Nations-type chunk of the season, but he'll also have to rework his team tactically, with no other player in his side efficient enough in a free role up front.
In a period of fairly easy league matches in which the Reds should be targeting maximum points, the chances of Liverpool claiming enough wins to improve on their sixth position now seems highly unlikely.
Not only does Dalglish have to get his players to quickly try to adapt to some new tactics, but he also has the unenviable job of having to safeguard his players from unwanted media and other external pressure.
And for the players, not only do they now not have a key playmaker to take responsibility, they also have to try to improve their game whilst learning new tactical roles and movements.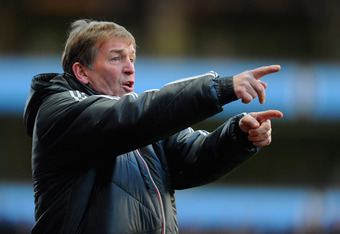 Michael Regan/Getty Images
Plus, a team without Suarez is a lot less intimidating than a team with the striker, meaning a win against Liverpool or a point at Anfield is a lot easier to achieve.
Like the early part of the season where everyone was beating Arsenal, the same could happen to Liverpool; with the main sting in their side taken out, teams will have a lot more belief when facing the Reds.
January was most likely the month in which Liverpool were aiming for their highest amount of points, something which will be a lot harder to achieve now that Suarez is out.
When he does return, Dalglish's men face Tottenham, Manchester United, Everton and Arsenal in their next four games.
By the end of the Gunners clash, Liverpool's dreams of Champions League, maybe along with Europa League ambitions, could well be down the drain, all courtesy of Luis Suarez.