NBA Predictions 2011-12: Stat Projections for Milwaukee Bucks Starters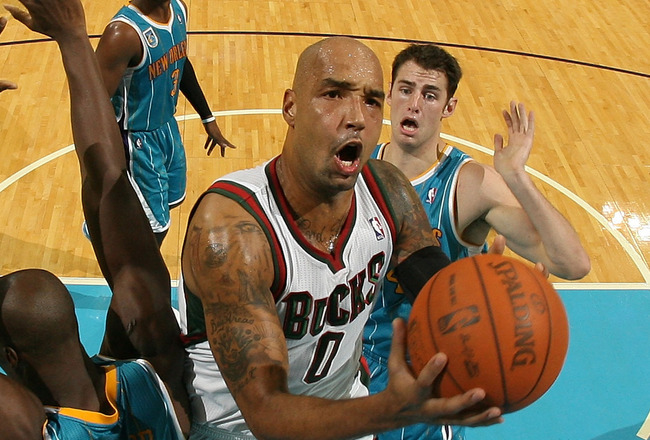 Chris Graythen/Getty Images
When the Milwaukee Bucks finally take the court the day after Christmas, it will be a very different team from what we saw last season.
While the core of talent remains, Buck's general manager John Hammond made several big changes to the roster to bring in new pieces to support the rest of the team.
Looking at the likely starters for the Milwaukee Bucks, here are the projected stat lines for the starting five of the Milwaukee Bucks.
PG, Brandon Jennings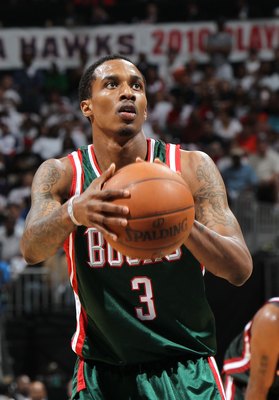 Mike Zarrilli/Getty Images
PPG: 17
RPG: 3.5
APG: 7
SPG: 1.5
The Bucks have been fairly successful in adding shooters to the team. Last season Jennings would have had much higher assist totals if there was a single person on the team who could consistently hit a jumper.
Bringing in Stephen Jackson, Beno Udrih, and Mike Dunleavy should give the Bucks some consistency when hitting jump shots.
Now Jennings should be able to drive the ball to the rim, draw the double, and kick out to a shooter on the wing. While his assist numbers will not go through the roof this season, he should be able to increase his overall per game average.
For his actual scoring, we are likely to see much of the same. I think his shot selection and FG percent should rise, but he disappears at times from the game. He is not a consistent scorer, but rather a very streaky player.
If he his able to bring some of that consistency, he could push his points per game upwards of 20. However, we have not seen the evidence quite yet that this is the case.
Still, 17 points and seven assists per game would have to be considered a success for the young Buck's point guard.
SG, Stephen Jackson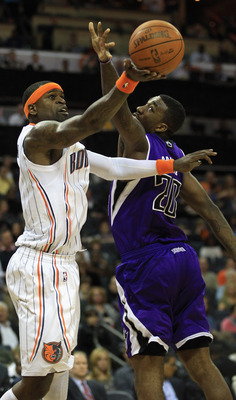 Streeter Lecka/Getty Images
PPG: 18
RPG: 4.5
APG: 3
Stephen Jackson has been making a lot of noise about his contract. He has one more year on his deal for $10M, and he wants to get one more contract before he retires.
At the age of 33, who can really blame him?
But what Jackson needs to realize is that you can't buy a luxury car without test driving it first. The Bucks need to see him on the court with the team before they can even consider an extension.
What we have to hope is that he doesn't turn into a pouty player who is trying to overcompensate. In many cases where players are seeking new contracts, they will try to inflate their numbers and importance by taking a ton of shots.
We don't want Jackson to play selfish ball.
He has the all-around talent to be the focal point of the offense this season, but it needs to happen organically. He cannot be the offensive black hole that some players last season were.
His numbers should stay largely the same, if not dip slightly due to being on a more talented team. Health issues will also be a huge factor when looking at what he will be able to contribute.
SF, Mike Dunleavy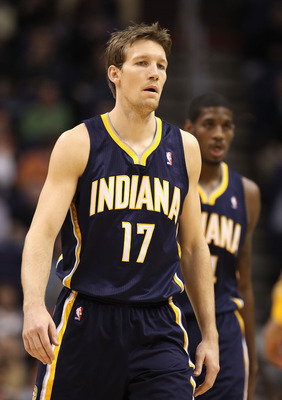 Christian Petersen/Getty Images
PPG: 11
RPG: 4.5
APG: 2.5
An argument can be made that Luc Richard Mbah a Moute may be the starter, but he doesn't have the offensive game to be a serious weapon for the Bucks.
Dunleavy can spread the floor with his shooting. And while he has never been known as a great defender, he is serviceable, and can make a shot. He is a player the Bucks sorely missed last season.
While it would be nice to have his scoring punch off the bench, defenders will have to respect him. This will allow more opportunities for the rest of the starters.
Mike is going to be a streaky player.
There will be nights where he puts up 20 points, and there will be nights where he puts up five. But at the end of the day, his ability to shoot the three-point shot brings an element to the team they have been missing.
Can he stay healthy? That is the biggest concern for the Bucks. He has missed 100 games in the last three seasons.
PF, Drew Gooden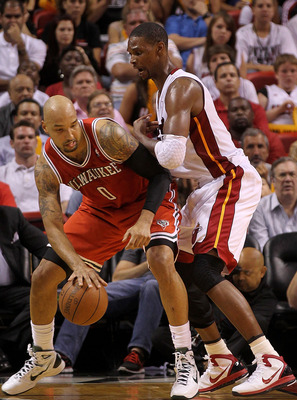 Mike Ehrmann/Getty Images
PPG: 11
RPG: 7.5
APG: 1.5
Drew Gooden could prove to be the X-factor for the Bucks this season.
He has come back from the lockout in tremendous shape, and seems to have a fire to want to make an impact on the court.
The Bucks never got to see the real Drew Gooden last season as he was hobbled all year with plantar fasciitis. If he is able to stay healthy, he will provide the Bucks with the first impactful power forward they have had in quite some time.
With his ability to rebound and hit mid-range jumpers, he could see his scoring number increase. He also brings size and a toughness to bang under the boards for rebounds that the Bucks sorely missed last season.
C, Andrew Bogut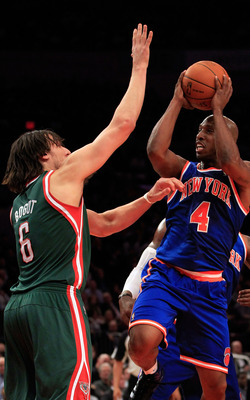 Chris Trotman/Getty Images
PPG: 12
RPG: 11.5
APG: 2
BPG: 2.5
Andrew Bogut is a top-five center in the league.
Aside from the injuries, the guy plays basketball at an extremely high level. His elbow will likely never be the same after the horrific fall two seasons ago, but it looks like he has adjusted his game to compensate for the injury.
He has seemed better using his left hand, and his sky hook can be deadly. But for whatever reason, the Bucks seem content to not make him the focal point of the offense.
For being a seven-footer, the guy can pass pretty well. And in a league where the center position is often an advantage for the Bucks, you would think they would run the offense through him in the post.
But so far they have chosen to give him very few opportunities. As long as they do that, his numbers will largely stay where they have been the last few seasons.
Bogut is also one of the premier shot-blockers in the league. His numbers in terms of actual blocks per game likely won't increase, but teams will think twice about driving to the rim when he is around.
Conclusion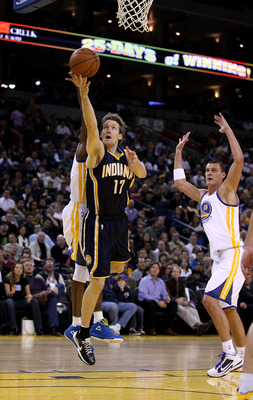 Ezra Shaw/Getty Images
There likely won't be a Bucks starter who sets the world on fire. Meaning that there will be improvements to the team, but no one starter is going to break out and put up career numbers.
All of the starters will contribute, and the star will be determined on a nightly basis.
This is good and bad.
Other teams are not sure who is going to be the playmaker on any given night, but at the same time, neither are the Bucks.
Keep Reading

Milwaukee Bucks: Like this team?