NBA Predictions 2011-12: Rookies Ready to Bust into the Limelight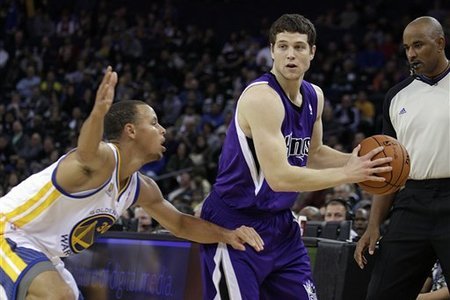 This past summer's NBA draft was not considered to be laden with talent, but that doesn't mean there aren't a few diamonds in the rough waiting to bust into the spotlight.
While last summer's draft class boasted a shallow pool of talent, there are a number of players who are ready to excel at the NBA level.
Some rookies' skill sets are understated, while others will be required to assume a more prominent role than first expected, but regardless of the motivating factor, there are several first-year players not only ready to make an impact on their team, but on the league as well.
Begin Slideshow

»
Ronald Martinez/Getty Images

Kemba Walker is incredibly undersized at 6'1", but his incredible speed and ball-handling skills more than make up for that.
While D.J. Augustin will continue to play major minutes, Walker will not spend much time on the bench. Look for the Charlotte Bobcats to play both athletes in the backcourt for a large part of the game.
Walker's bolstered minutes will give him more of an opportunity to showcase his talents. He moves fantastically well without the ball, yet is also adept at creating his own offensive. He boasts a great mid-range game, and improved his long-range accuracy by leaps and bounds in his last year at UConn.
Furthermore, Walker's defense is grossly underrated. He is a great on-the-ball defender, which will allow the Bobcats to utilize him against the most elusive of backcourt oppositions.
Walker will not win Rookie of the Year, but he is certainly going to prove his mettle, emerging as one of the best player's from his draft class, in addition to making an immediate impact in Charlotte.
Kevork Djansezian/Getty Images

Despite being selected second overall, Derrick Williams was widely viewed as the most talented player to come out of this year's draft, and for good reasons.
Williams can score from anywhere on the court, in any way he chooses. He moves without the ball well, yet can also create for himself. He is undersized for the power forward position, but this shouldn't hinder his development too much, as he is likely to receive minutes at the 3 with the Minnesota Timberwolves.
While the Timberwolves are oozing forwards, Williams is going to get a chance to play. His explosiveness warrants some major minutes, which he is likely to receive on a young Minnesota team.
Williams' versatility will enable him to transition into the NBA seamlessly, and also make it easier for him to play out of his natural position if needed. He is going to turn heads around the league as Minnesota utilizes him in any way it can.
After this season, he could be deemed a superstar in the making.
Harry How/Getty Images

Kyrie Irving has already been drawing a lot of praise in the short time he has been officially able to play with the Cleveland Cavaliers.
There were those who felt that the Cavs should have selected Derrick Williams over Irving, but the first-year point guard is bound to prove those doubters wrong.
Irving is a great playmaker who makes everyone around him better. He has a great sense of awareness, which enables him to effectively discern between when to pass and when to look for his shot. And although he is a pass-first point guard, he is also a great scorer, especially when driving to the basket.
Despite being a rookie, Cleveland will look to Irving to lead the team. He is going to have full reign on the offensive end of the ball, and it is not illogical to believe that he could be among the league leaders in assists per game.
No, Irving will not have the Cavaliers and their fans saying "LeBron who?" but he will make the rebuilding process that much easier as he emerges as the face for the organization.
Chris Trotman/Getty Images

Expect Marshon Brooks to enter the limelight in his first season with the New Jersey Nets.
Anthony Morrow will be the unquestioned starter at the 2-guard, but Brooks is going to be a valuable weapon off the bench for New Jersey.
Brooks is a great three-point shooter, and will feast off the open looks he'll receive as a result of Deron Williams drawing double-teams. He is also an adept ball-handler who can create for himself off the dribble.
While the rookie shooting guard should prove to be quite an offensive force for the Nets, he will also turn heads with his exceptional perimeter defense. He has quick hands which allow him to poke the ball away clean on that end, and his speed enables him to keep pace with the most agile of athletes. His freakishly long 7'2" wingspan doesn't hurt him here either.
Brooks was a great selection by the Nets, and in only his first season, he is going to show the rest of the league why.
Jimmer Fredette is the best scorer to come out of his year's draft.
Fredette can knock down shots from anywhere on the court, and moves efficiently without the ball, in addition to being skilled at creating his own offense.
One of the most underrated aspects of Fredette's game is his ball distribution. As an undersized 2-guard, he has developed a great court vision, which will allow him to pick up minutes at the point guard position as well.
Defense is the biggest concern surrounding the prolific scorer, but the fact is that BYU designed its system so that Fredette didn't play aggressive defense. At the NBA level, Fredette will have no choice but to be aggressive on defense, and as one of the more savvy and agile players to come out of the draft, he should not prove completely inept on that end of the ball.
The Sacramento Kings are going to give Fredette a green light on offense, and not only will he deliver on that end, but he will prove competent on the other.

You can follow Dan Favale on Twitter here @Dan_Favale.