Projecting Where the Top NFL Free Agents Will Be in 2012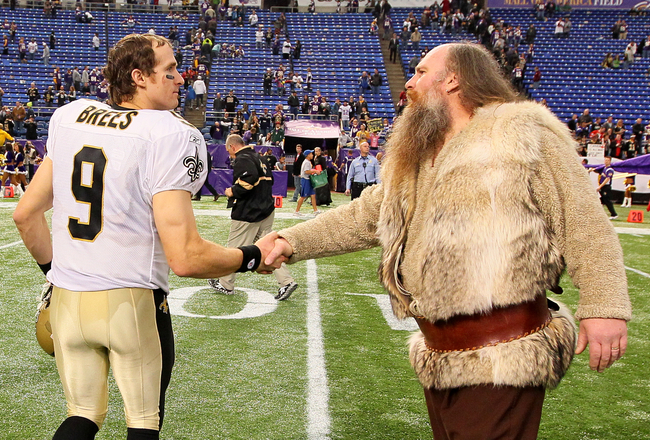 Adam Bettcher/Getty Images
It is never too early to start thinking where some of the top-flight NFL free agents may land in 2012. Here is a slideshow of some predictions I have for the upcoming offseason. There are a few curveballs thrown in and then some easier predictions.
Note: The Viking in the picture is not a free agent, but I think he would benefit from a change in scenery—maybe the beaches of Miami?
Drew Brees: New Orleans Saints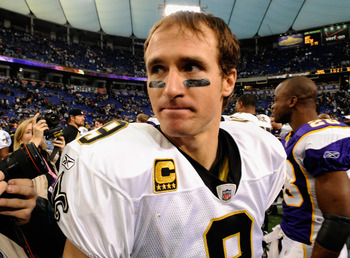 Hannah Foslien/Getty Images
2012 Team: New Orleans Saints
No way the Saints will let their leader leave via free agency. Brees has become a household name and one of the most elite quarterbacks in NFL history. I am not sure he is a Hall of Famer yet, but he is almost there.
Brees has the opportunity to bring another title to the Big Easy and should finish his career in Louisiana.
Ray Rice: Baltimore Ravens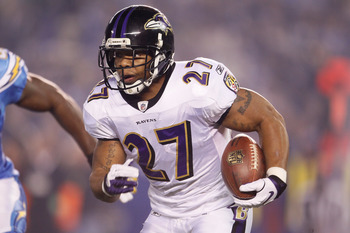 Jeff Gross/Getty Images
2012 Team: Green Bay Packers
The Ravens will probably issue the franchise tag on Rice, but I am not playing with franchise tags for this discussion. The Packers will work vigorously to sign Rice and I believe that will help Green Bay alleviate some pressure on Aaron Rodgers. The running game for Green Bay has been dreadful this year and Rice will make a major splash at Lambeau.
Reggie Wayne: Indianapolis Colts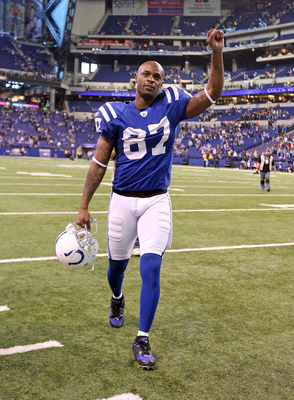 Andy Lyons/Getty Images
2012 Team: Indianapolis Colts
Reggie Wayne is a face in Indianapolis and there is no way Bill Polian lets him leave. Reggie Wayne will be a Colt for the remainder of his career and should be able to get back in the game as an elite wideout with Peyton Manning returning or with the possibility of Andrew Luck in the huddle.
Jermichael Finley: Green Bay Packers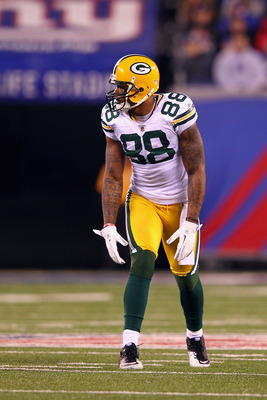 Al Bello/Getty Images
2012 Team: Washington Redskins
This is a hard one to peg, simply because conflicting arguments arise. Finley has been vocal on live TV about his love for Green Bay, but then I seen fans stressed out that he'll leave. Whichever sides wins out will mean Finley is staying or going.
The Redskins love to spend money and Finley will demand top dollar. I do not think Green Bay will attempt a bidding war with Washington and will more than likely allow Finley to leave.
Demetrius Bell: Buffalo Bills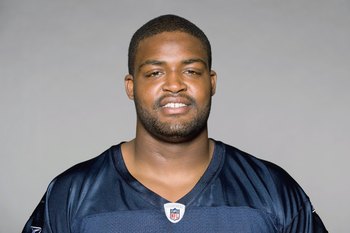 NFL Photos/Getty Images
2012 Team: Buffalo Bills
Demetrius Bell has turned into a really talented tackle in the NFL. If anyone is paying attention in Buffalo, Bell should be a Pro Bowler this season. He has been that good. Bell is a free agent after 2011 and will more than likely test the market, with the Bills ultimately bringing him back.
He has flown under the radar all season, but come signing that contract next year, Bell will no longer fly that low.
Robert Mathis: Indianapolis Colts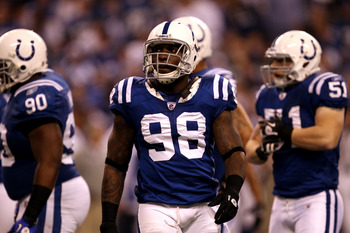 Jonathan Daniel/Getty Images
2012 Team: Arizona Cardinals
The Colts will struggle to pay Mathis what he wants and I believe Mathis is content with moving on. Mathis makes sense in the desert and to about 10 other teams. He will be one of the highest-paid defensive linemen in 2012 and the Cardinals need his toughness and athleticism.
This could go in a variety of directions, but I ultimately believe he will wind up in Arizona.
Mario Williams: Houston Texans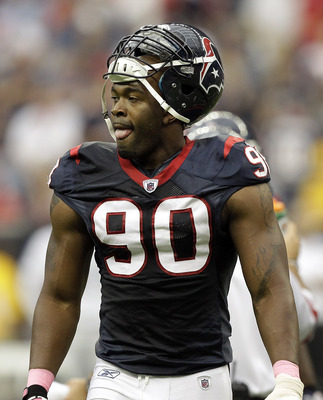 Bob Levey/Getty Images
2012 Team: Houston Texans
Mario Williams suffered a season-ending injury early in the season, which may affect his market a bit, but he is young enough and talented enough to get a great deal. Houston will more than likely franchise Williams in hopes of getting a major extension worked out. Mario Williams will be a Texan for years to come.
Brent Grimes: Atlanta Falcons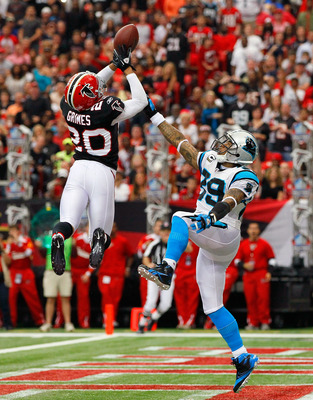 Kevin C. Cox/Getty Images
2012 Team: Tennessee Titans
This is another one of those hard-to-peg guys entering free agency. Brent Grimes has turned into an elite corner, but injuries have hampered his market value for 2012. The Falcons will do what they can to bring him back, but the Titans have long coveted a guy like Grimes.
Look for Brent Grimes to get a deal close to what Houston paid Johnathon Joseph in 2011.
Matt Flynn: Green Bay Packers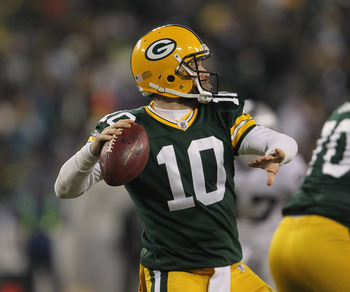 Jonathan Daniel/Getty Images
2012 Team: Kansas City Chiefs
Matt Flynn has waited his turn long enough and will not be the backup to Aaron Rodgers in 2012. The Chiefs make sense and Flynn should win any competition with Matt Cassel for the starting job. Cassel has been solid, but Flynn has the ability to be a solid top-15 quarterback in the NFL.
There are a couple of other teams who could make a play on Flynn like the Dolphins and Seahawks.
Matt Forte: Chicago Bears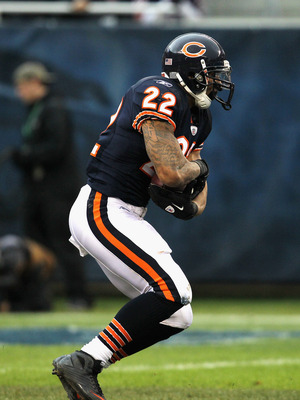 Jonathan Daniel/Getty Images
2012 Team: Chicago Bears
The Bears have made it known that they want Matt Forte back, but they have fumbled a bit at getting an extension together. Forte has been their offense this season and letting him walk will cost the organization a ton. The Bears will throw everything they can at Forte to keep him around and Forte will balk, but in time will accept.
Wes Welker: New England Patriots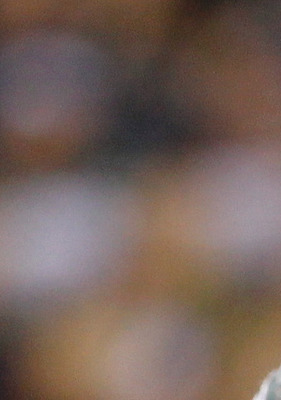 Rich Schultz/Getty Images
2012 Team: Philadelphia Eagles
Wes Welker has been the flat-out best wide receiver in the NFL this season and that will help him get a huge payday in 2012. Tom Brady would love to have Welker around next season, but I think Welker will want to move on.
The Eagles make the most sense as they will more than likely need to replace DeSean Jackson. Welker provides instant offense for whatever team he ends up with, and I believe the Eagles will pay top dollar for his services.
Alex Smith: San Francisco 49ers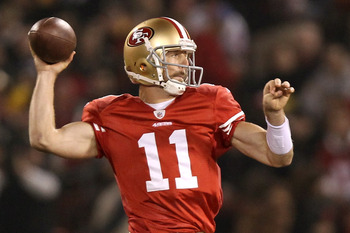 Ezra Shaw/Getty Images
2012 Team: San Francisco 49ers
Alex Smith has finally had his coming-out party in 2011, which should garner interest in him throughout the league. Jim Harbaugh loves Smith and will push to keep him around. There will be other interested parties out there for Smith, but inevitably, Smith will return to the Bay on a decent contract.
Let us hope this was not a one-year fluke like Derek Anderson a few years back.
Ryan Grant: Green Bay Packers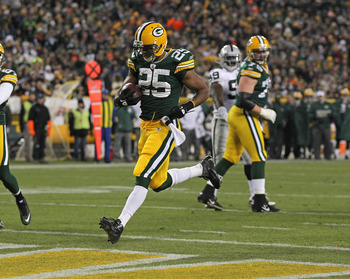 Jonathan Daniel/Getty Images
2012 Team: San Diego Chargers
Ryan Grant has not been the same since he had a tough knee injury in 2010. He is not a starting tailback in the NFL anymore, but he can still provide excellent depth as a backup and should be able to find a job pretty quickly. The Chargers would be a perfect fit and Grant will help push the young Ryan Matthews throughout a season.
While Grant may not be the same guy he was two or three years ago, he can still provide some much-needed help on the ground.
Peyton Hillis: Cleveland Browns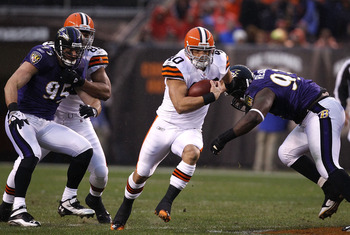 Matt Sullivan/Getty Images
2012 Team: Cleveland Browns
Peyton Hillis has had a down year, but there are many factors that go into the lack of production. Hillis has been hampered by injuries all year and the Browns lost guard Eric Steinbach in training camp, which has affected the run blocking all season long. Hillis is a rare breed of running back and will be in demand, but I think the Browns would love to bring him back and they make it priority No. 1.
Mike Tolbert: San Diego Chargers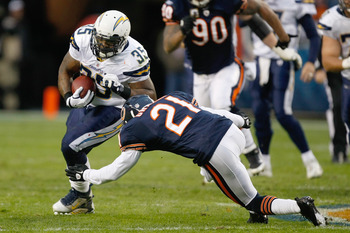 Scott Boehm/Getty Images
2012 Team: New York Jets
Mike Tolbert has exploded on the scene this season and that fact should help him land a solid contract in 2012. The Jets will need a backup plan with the impending loss of LaDainian Tomlinson and Tolbert will fit right in.
Tolbert can line up at tailback, fullback, H-back or receiver and make things happen. He is a big, hard-running machine that can make a difference to any team's offensive plans. The Jets will go hard for Tolbert and the combination of Tolbert and Shonn Greene should allow the Jets to create new offensive schemes to throw teams off balance.
BenJarvus Green-Ellis: New England Patriots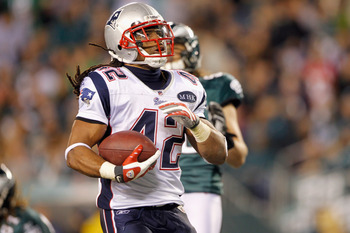 Rich Schultz/Getty Images
2012 Team: New England Patriots
BenJarvus Green-Ellis thrives in the Patriots offense, but he may suffer in another. This is why I believe they keep him around for a couple of more years. The Patriots have a slew of backs with Green-Ellis, Stevan Ridley, Shane Vereen and Danny Woodhead and somehow they make it work. There will be other teams bidding on his services like the Bengals and Seahawks, but ultimately, I think he remains in Foxborough.
Vincent Jackson: San Diego Chargers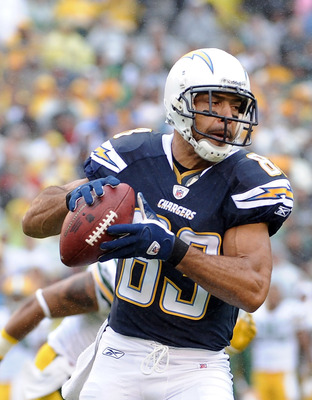 Harry How/Getty Images
2012 Team: San Diego Chargers
This may come as a surprise to everyone, but the Chargers need V-Jax and there is no way they let him go. He is an elite receiver and Philip Rivers relies heavily on Jackson in the passing game. There has been some discontent in recent years with Jackson and the Chargers, but Norv Turner is likely gone and Jackson will enjoy a new coach in San Diego.
DeSean Jackson: Philadelphia Eagles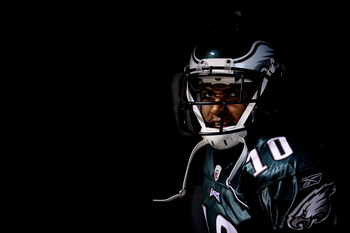 Nick Laham/Getty Images
2012 Team: New Orleans Saints
The New Orleans Saints would love to have DeSean Jackson as a deep threat for Drew Brees and I have a feeling Marques Colston will not be around, so the Saints will make a strong push for Jackson. It is almost a given that DeSean will not return to the City of Brotherly Love and will be testing the waters this coming offseason.
Look for teams like Kansas City and St. Louis to make strong pushes as well.
Dwayne Bowe: Kansas City Chiefs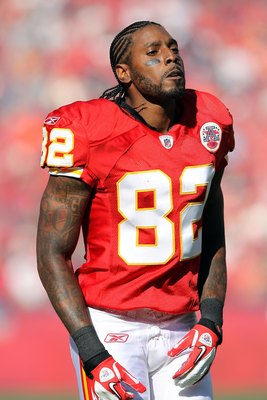 Jamie Squire/Getty Images
2012 Team: Kansas City Chiefs
Dwayne Bowe is the face of the Chiefs and will more than likely be offered the moon to stay in Kansas City. Pair Bowe up with the up-and-coming Jon Baldwin and we may have the next pair of elite wide receivers in the game. Bowe will probably test the waters, but Scott Pioli will not let him go—no way, no how.
Marques Colston: New Orleans Saints
Otto Greule Jr/Getty Images
2012 Team: St. Louis Rams
The St. Louis Rams have coveted a guy like Marques Colston for years and this may be the best opportunity to land their guy. Colston would love to stay in New Orleans, if the price is right, but he may ask for more than the Saints are willing to shell out. I think the Rams will overpay for Colston because they are desperate to get a receiver for Sam Bradford.
Marques Colston will bring a ton of value to the Rams and should instantly allow their offense to stretch the field.
Tony Gonzalez: Atlanta Falcons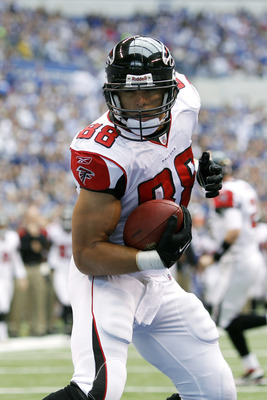 Joe Robbins/Getty Images
2012 Team: Atlanta Falcons
Tony Gonzalez may go down as the greatest tight end to every play the game and the Falcons recognize that. Tony Gonzalez will remain in Atlanta on a one-year deal and probably hang them up after 2012. I could see the Chiefs offering a package for him to play his final season in Kansas City, but the Falcons love the guy and he is still productive for the Falcons offense.
This should be a no-brainer in 2012.
Fred Davis: Washington Redskins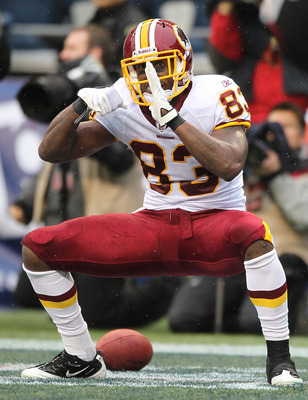 Otto Greule Jr/Getty Images
2012 Team: Arizona Cardinals
Fred Davis has finally broken through and become an extremely reliable tight end in the NFL. The problem is his off-field issues. The Redskins are trying to clean up their image and Davis will more than likely not be part of their plans in 2012.
The Cardinals need another pass-catcher for Kevin Kolb and should make a hard push for Davis. The Packers and Seahawks could also jump in the race, but I feel Davis would be better suited in Arizona with Larry Fitzgerald.
Carl Nicks: New Orleans Saints
Getty Images/Getty Images
2012 Team: Houston Texans
Carl Nicks is probably wondering why the Saints have not extended an offer for him yet and this could leave a bad taste in his mouth. The Texans want to bolster their offensive line and going after Nicks would make a ton of sense. The pass protection in Houston has been abysmal to say the least and Carl Nicks would immediately fill that need.
I also do not think the Saints will be able to throw enough at Nicks to keep him around.
Ben Grubbs: Baltimore Ravens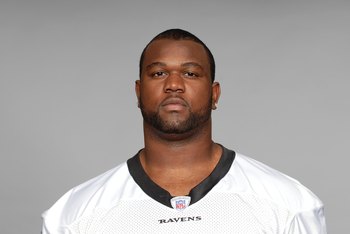 Getty Images/Getty Images
2012 Team: Baltimore Ravens
Ben Grubbs has really excelled at the guard position over the last two years and the Ravens know this. They will make him an offer he cannot refuse and Ben Grubbs will stay in Baltimore for a few more seasons. The Ravens love the guy and he may be the best guard in the NFL right now that no one ever talks about.
I think Grubbs will get some offers on the market, but the Ravens should blow everyone out of the water. Some teams that could come calling would be the Indianapolis Colts and the Green Bay Packers.
Antonio Garay: San Diego Chargers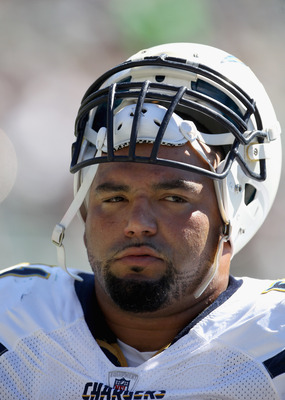 Ezra Shaw/Getty Images
2012 Team: San Diego Chargers
Antonio Garay is the anchor for the Chargers defensive line and probably the best defensive tackle available. There is not really an in-house replacement for Garay in San Diego, so they shell out the big bucks to keep him around. Garay has become an above-average tackle who has excelled at stuffing the run this season.
He will need some stronger supporting members of the defense to keep him around longer, but the Chargers would make the right move by keeping him in San Diego.
Calais Campbell: Arizona Cardinals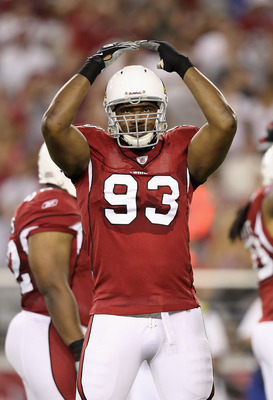 Christian Petersen/Getty Images
2012 Team: Atlanta Falcons
Calais Campbell has finally become the talented end Arizona thought he would be, but they do not want to pay him like that. Campbell should receive a strong suit of offers from across the league, but the Falcons should be prepared to to pay the most. The Falcons will need someone to replace the aging John Abraham, who more than likely will not be back in 2012 and Campbell makes perfect sense.
Jason Jones: Tennessee Titans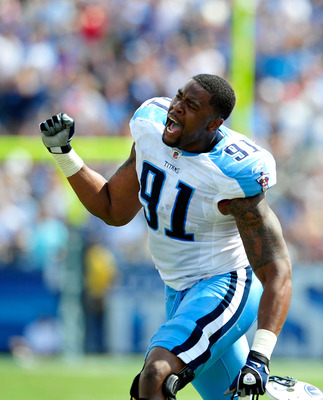 Grant Halverson/Getty Images
2012 Team: Tennessee Titans
The Titans have let too many guys go and would make another mistake by letting Jason Jones leave via free agency. Jones has become a staple in Nashville and should be able to land a monster salary from the Titans management group. If healthy, Jones is one of the best defensive linemen in the game, but injuries have hurt him in the past, which could scare some people away.
Look for the Detroit Lions and New York Jets to make a push for Jason Jones, but the Titans will probably win the bidding war.
John Abraham: Atlanta Falcons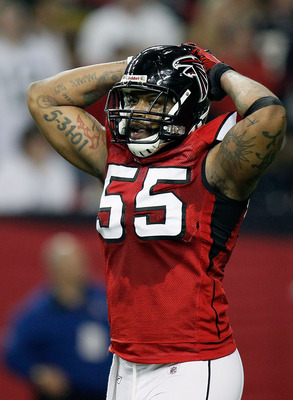 Kevin C. Cox/Getty Images
2012 Team: New Orleans Saints
John Abraham has put together a Hall of Fame career, but his time is running out. He is not the elite player he was a couple of seasons ago, but he will demand more money than the Falcons believe he is worth. The Saints have long wanted a guy on the end like Abraham and may be willing to overpay for him for a couple of years. If John Abraham does not get an offer he likes, he may decide to call it a career and move on.
Cliff Avril: Detroit Lions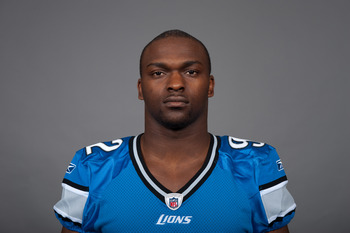 Handout/Getty Images
2012 Team: Detroit Lions
Cliff Avril has come into his own and has essentially become the heart and soul of the Lions defensive line. While he does not have a great motor like some other ends in the league, he makes up for it with intensity on the plays he does not take off. I believe Avril could become a Pro Bowler very soon.
Curtis Lofton: Atlanta Falcons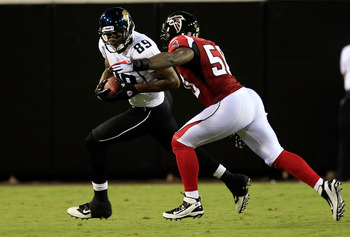 Sam Greenwood/Getty Images
2012 Team: Detroit Lions
The Falcons could build around Curtis Lofton, but so could a handful of other organizations. The Lions have tried to find a guy like Lofton and I believe they will offer him more than anyone else. Lofton is explosive and is a tremendous tackler, but he does have trouble in coverage against quicker backs and tight ends.
Lofton is a couple of years away from being elite, but the upstart Lions franchise would offer him the best opportunity for success.
Anthony Spencer: Dallas Cowboys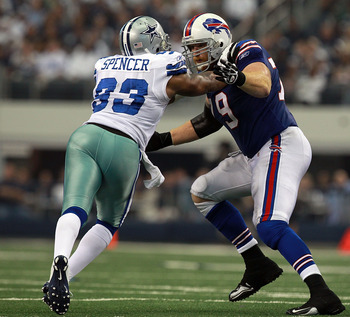 Ronald Martinez/Getty Images
2012 Team: Dallas Cowboys
Anthony Spencer may be one of the most underrated linebackers in the NFL, but he has shown a knack for pressure off the edge. The Cowboys love the guy and he is a real team player. I do not see Spencer playing anywhere else but Dallas.
The Panthers and Vikings could use a guy like Spencer, but I do not think they have him as priority No. 1.
Stephen Tulloch: Detroit Lions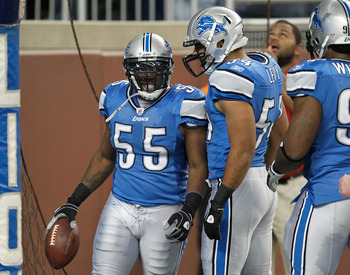 Gregory Shamus/Getty Images
2012 Team: Washington Redskins
Stephen Tulloch has quietly put together a Pro Bowl-type season. The Lions signed him to a one-year deal in 2011, but may wish he had extended that to a few more years. Tulloch will be one of the top linebackers in the free-agent class and should garner interest from about every team in the league.
The Redskins need to revamp their defense and Tulloch would fit in well in D.C. Look for Arizona and Baltimore to make a run at Tulloch as well.
Carlos Rogers: San Francisco 49ers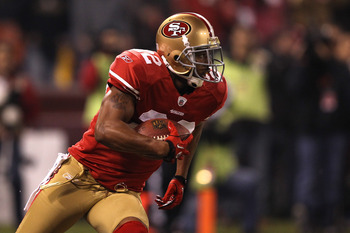 Ezra Shaw/Getty Images
2012 Team: San Francisco 49ers
Carlos Rogers was overlooked in the 2011 free-agency class, but has managed to put together an excellent season. The 49ers will be reluctant to let anyone swoop in and outbid them for Rogers. Carlos is looking at a multiple-year deal this time around and should be able to land an above-market-value contract from San Francisco.
The Chiefs and the Giants will be the other two teams trying to pry Rogers away from the Bay, but do not count on him going anywhere.
Cortland Finnegan: Tennessee Titans
Wesley Hitt/Getty Images
2012 Team: New Orleans Saints
The Saints will be looking to make a major splash come free agency and Cortland Finnegan would help an undermanned defensive backfield. Tracy Porter is overrated and will probably not be brought back, so enter Finnegan.
Finnegan has shown his uncertainty about staying in Tennessee, so do not count on the Titans to offer much of anything for him. The Seahawks could also make a play for Finnegan, but he does not fit their profile.
LaRon Landry: Washington Redskins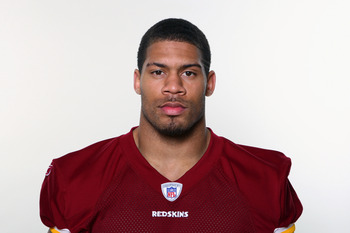 Handout/Getty Images
2012 Team: Washington Redskins
The Redskins love Landry and will make him their highest-paid player this coming offseason. Landry is turning the corner into elite status and if he can stay healthy, should provide excellent coverage and rush defensive skills for many years. The Bears and Lions both love the guy too, but he may be too costly to go anywhere else.
Keep Reading