Kemba Walker and Star Power in the NBA
December 22, 2011
Andy Lyons/Getty Images
In the realm of the NBA, star power is an alluring concept. It's what attracts us to talented players like LeBron James, Kobe Bryant, Derrick Rose, Kevin Durant and the rest of the players we basketball fans refer to as "superstars." Star power isn't something quantifiable; it's more of a gut-feeling thing. When you watch a player, you just can't help but think to yourself, "Damn, that guy just makes me love to watch this sport."
But how does a player earn it? Is it just something they're born with? Is it something they build up over time as their heroic deeds pile up in our memory banks until we can't help but associate them with pure, unadulterated studliness? 
I think it has to be a combination of the two. Take Tim Duncan for example. The longtime member of the San Antonio Spurs is almost without question the greatest power forward to ever line up for a team in The Association. He's won multiple titles, been named the league's MVP, drilled unexpected three-pointers in the most crucial of situations and just exuded greatness for as long as I've followed this sport.
But I do not equate Duncan with the concept of star power. His stoic nature and lack of effervescent personality seems to keep him from gaining this elusive trait. Guys like Duncan are the ones who make me believe that a combination of swagger from the earliest days of a player's life and his actions on the court is the only way to truly become a full-blown superstar.
Now, hopefully you noticed that the title of this piece has a little something to do with Kemba Walker, the incoming rookie point guard for the Charlotte Bobcats. If you've read many of my articles about either the 2012 class of rookies or the upcoming season, you've probably noticed that I'm a little bit infatuated with Walker. In fact, I'm not embarrassed to admit that I have a serious man-crush on him. Let's be honest here though. No one who follows sports should make fun of a guy for having a man-crush. We've all had them.
The reason that I, along with so many other basketball fans around the country (and by no means just the ones located in either Charlotte or Connecticut), am so drawn to Walker is that he undeniably possesses that trait that is lacking in the genetic makeup of Duncan and so many others in professional basketball.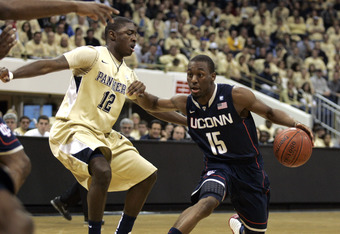 Justin K. Aller/Getty Images
Walker has the necessary first step to becoming a superstar covered, and we're all just anxious to see if he can back it up with his deeds on the basketball court. He's met every challenge he's faced so far in his career despite his generously-listed 6'1" frame.
After watching quite a few games in which his Huskies played last season, I still have a ridiculous amount of his exploits firmly ingrained in my memory. Without even looking at video highlights, I can recall his shot in overtime against the Texas Longhorns when his attempted pass out of a double-team was batted back to him and he scooped it up towards the basket with his right hand from five feet behind the three-point arc as time expired. Of course, the shot went in.
I remember the vast number of game-winners he hit during that incredible 2010-2011 campaign, most notably his shot at the end of the Big East Conference Tournament game against the Pittsburgh Panthers. After drawing a huge mismatch in Gary McGhee, Walker drove in once, stepped back to get McGhee off balance and then pulled off one of the greatest moves I've witnessed. Driving forwards to the free-throw line, Walker stepped back once more, launching himself almost all the way back to the three-point line as McGhee fell in a bundle back in the paint, providing a perfect example of what we mean when we say "broken ankles." Of course, the shot went in.
I've tried to imitate that shot multiple times while shooting hoops with friends. My step-backs are never as impressive, but on the rare occasion that the ball swishes through the net with nary a ripple in the nylon, the feeling is so sweet. And it usually gets my opponent a letter in horse.
But that shot itself wasn't what stood out the most to me. It was Walker's reaction to it. When ever I think of the diminutive floor general, the first image that pops into my head is the one that took place just after. After the ball went through the hoop, Walker's teammates embraced him. As he was embraced from behind with his arms clenched at his sides, the expression on Walker's face was one of pure joy. There was nothing more than a simple appreciation for what he had done mixed with an unabashed love for the moment and the game of basketball.
It's a look we don't see too often in money-driven professional sports. We see it when Kevin Durant lights up the scoreboard during a summer game at Rucker Park. We see it when Blake Griffin throws down a monstrous alley-oop, knowing full well that it will be replayed over and over on SportsCenter and YouTube. We see it when Dirk Nowitzki lifts up the trophy at the end of the season after years of hard work.
Truthfully, we don't get to see that look as often as we would like to. But Walker gives it to us and that's what makes him special.
Up to this point, I hadn't even mentioned how successful the rookie has been. He led his team to an unprecedented run through the Big East Conference Tournament and the ensuing NCAA Tournament, winning more games in a row than anyone thought possible. Everyone bet against him and he proved everyone wrong, time and time again. But that success isn't nearly as important as everything else I've talked about, which is why I'm limiting the discussion of it to this one paragraph.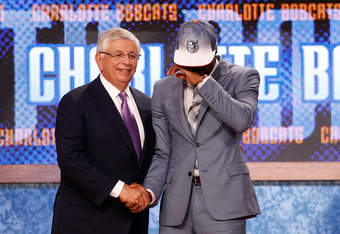 Mike Stobe/Getty Images
When Walker's name was called during the 2011 NBA draft, he walked up on stage to shake David Stern's hand and promptly broke down in tears. The moment overwhelmed him. Some may try to claim that he was simply crying because he was in shock that he would have to actually play for the Charlotte Bobcats, but I'm going to choose to believe that he was appreciating the moment, the opportunity and the work that had gotten him to this point.
Now, a new journey of his career is set to begin. Walker got off to a stellar start when he scored 18 points in 19 minutes against the Atlanta Hawks in his first preseason game, including a runner in the lane with under a minute left that would prove to be the game-winner. He scored more points than anyone else, and his team outscored the Hawks by 16 when he was on the court—a stark contrast to the 16-point deficit when fellow point guard D.J. Augustin was running the show.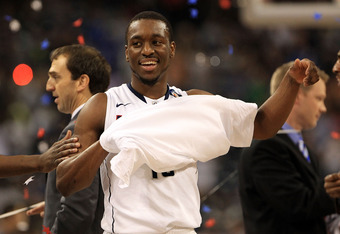 Streeter Lecka/Getty Images
As he's my pick for Rookie of the Year, I'm obviously expecting big things for Walker this season. But even if he struggles out of the gate, he's still going to be a role model for young players. He carries himself the right way, conducts interviews in a professional, Tim Tebow-esque manner, and plays for the love of the game.
Walker may not be a superstar in the NBA yet, but it's hard not to root for him to get there.