Dan Hardy and the UFC: Why They Should Let Him Fight in Strikeforce Instead
December 21, 2011
Dan Hardy is on a four-fight losing streak and in a recent interview with MMAFighting, he showed an attitude of someone who has lost confidence in himself.  He almost seems like he wants to be cut because of his performances as an act of penance or punishment.
It is easy to see why Hardy feels this way, as he hasn't exactly been doing well in the Octagon.  Not only has he lost his last four fights, but none of them were even close.  He lost every single one of them by a large margin if he didn't get submitted or taken out during the course of the bout.
And yet it is also easy to see why the UFC keeps him.  He makes exciting fights, he sells events as an interesting character and he is a British star which is a market they are still trying to grow. Keeping him is something that benefits the UFC.
But only if he wins the occasional fight, and he hasn't been doing that.
It wasn't that long ago that the UFC had to cut Keith Jardine, who was a company favorite.  Jardine landed on his feet in Strikeforce and is now fighting in an upcoming main event.
With how Hardy is feeling and the recent skid he has been on, it might behoove  UFC president Dana White to let Hardy switch over to their B-brand and see how he does there.  If he wins a few fights, then no harm, no foul.  He can come back to the UFC with only a slightly diminished popularity.
After all, Strikeforce appears on Showtime and even though a premium cable network doesn't have as many viewers as the average UFC event, it would still give Hardy national exposure here in the States.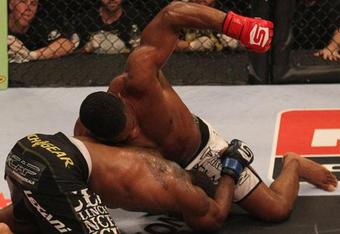 And there are so many fun matches that could be made with him, too.
The biggest, of course, would be against fellow trash-talking UK fighter Paul Daley.  Both can crack, both have trouble with wrestling and both can throw leather.
Even if that fight doesn't happen, there are still a lot of different fighters that could match up with Hardy. 
He could fight K.J. Noons in what would be a boxing match, he could face Tyron Woodley, or Evangelista Santos in a loser-gets-cut bout.
There are plenty more fights that could be rattled off, but the point is that Hardy would have options. Sure, they wouldn't be against the best fighters in the world, but at this point, that is the last thing Hardy needs.  
He needs to rebuild and see if he deserves to be placed in an organization that houses the best fighters in the world.
Fighting in the UFC minor leagues for a while wouldn't kill him.  It would also free up a space for someone new to try to break through.
It would also energize a weakened Strikeforce and give them some much-needed star power, while also letting Showtime subscribers who are MMA fans realize that if their favorite UFC fighter gets cut, they might just end up still being on TV and with more fun matchup possibilities in their immediate future.
Hardy doesn't have many more options and probably one last chance.  It might be worth his while to do it away from the brightest lights in the sport.