Philadelphia Eagles: Has Juan Castillo Fixed the Defense?
December 21, 2011
Joseph Labolito/Getty Images
The Eagles, by any rational measure, don't deserve to be in the playoffs. But here they are, right in the thick of things.
The main culprit in their failures has been their poor defensive play. Is it possible that those days are behind them?
Two weeks ago in Miami, most fans and analysts wrote the Eagles' strong performance off. The Miami Dolphins are not a playoff team. Now maybe their last opponent, the New York Jets won't be either.
It can be viewed as two good performances amongst mediocre teams. What if you were to widen the scope?
The Miami Dolphins started 0-7. Since that time they have played seven more games. One against the Eagles. Throw away the Eagles game, and here is what the Dolphins have done in that time.
Five wins and just one loss in Dallas on a last second field goal. They outscored their opponents by 92 points over those six games. They averaged 28.2 points per game and gave up just 12.8.
Their passing offense produced 1,280 yards with a 62.4 percent completion rate. They threw 10 touchdown passes to just one interception, and averaged 8.59 yards per attempt.
Running the football, they gained 804 yards on 180 rushes for a 4.5 average. They scored another seven rushing touchdowns.
As a unit over the six games, they turned the ball over six times, allowed 10 sacks, and converted 48 percent of their red zone opportunities into touchdowns. They averaged 347.3 total yards per game.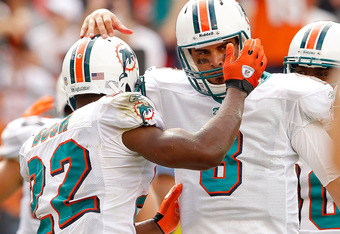 Mike Ehrmann/Getty Images
Here is what they did, or did not do against Philadelphia.
In the passing game, they completed 17-of-29 for a completion rate of 58.6 percent. They gained 155 yards, threw one touchdown pass, and threw an interception.
Their running backs carried the ball 23 times for 107 yards for an average of 4.6 yards per rush. Reggie Bush ran 10 times for 94 yards in the second half, with the Eagles holding a big lead and playing against the pass. He rushed four times for nine yards in the first half. 
That is just 262 yards, but only 202 if you count the 60 yards lost on sacks.
The Eagles defense tortured the Dolphins for nine sacks and three turnovers. They only allowed one touchdown on three trips in the red zone. It was an offense that was very effective heading into the game. They scored 30 points the following week.
The Jets were riding a three-game winning streak into Lincoln Financial Field. They outscored their opponents by a combined 99-53 margin in that span.
Mark Sanchez played his best stretch of football of the season prior to Sunday. He completed a modest 55.7 percent of his passes for 526 yards, but he threw seven touchdown passes against just one interception.
Their running backs toted the ball 88 times in those games, amassing 388 yards. They averaged 4.4 yards per carry, and scored another six rushing touchdowns.
In the three games, they turned the ball over four times, allowed just three sacks, and scored touchdowns on all 11 of their trips to the red zone. They gained an average of 304.7 yards per game.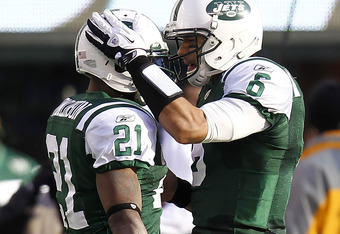 Jeff Zelevansky/Getty Images
Against the Eagles, the Jets quarterbacks went 16-for-29 for 177 yards with two touchdowns and two interceptions. The Eagles sacked Sanchez four times.
The Jets handed the ball off 25 times for 91 yards, which is just 3.6 yards per rush. The Eagles forced four turnovers, and held the Jets to only two touchdowns on their five red zone opportunities. They held the Jets to 268 total yards. With 30 yards lost on sacks, it falls to 238.
That is two teams that are playing well on offense in both phases. They've been efficient in passing and dominant in rushing. They take care of the ball and are scoring 30 points per game between them. The Eagles completely dominated them both, allowing a combined 29 points the last two weeks.
What may have been even more impressive, was the fact that in the two games, eight total drives started in Eagles territory. On those possessions, the defense allowed three touchdowns and two field goals. They also forced two turnovers and one turnover on downs.
In the last two weeks, the Eagles offense or special teams turned the ball over deep in their territory. Only to see the defense take the ball right back.
They may not be the Eagles of Reggie White and Jerome Brown in 1991; however this is certainly not the unit that blew five fourth quarter leads, and has the worst red zone defense in the league.
They appear to have developed a killer instinct. Maybe all the pieces are finally coming together. Either way they have been highly effective and look like they can match up with anyone.
If this unit continues to play at this level, they may keep playing well into the new year.