Can the San Francisco 49ers Stop Rookie Sensation Doug Baldwin?
December 21, 2011
Otto Greule Jr/Getty Images
A year ago, Stanford wide receiver Doug Baldwin had just finished final exams. He was also preparing to meet Virginia Tech in the Orange Bowl.
And later, undrafted by the NFL, perhaps preparing for life after football.
But not so fast. Baldwin signed with the Seattle Seahawks as an undrafted free agent, to try out in front of an old college adversary—former USC coach Pete Carroll. 
And nothing has been the same—for Baldwin or the Seahawks—ever since.
Just ask the New York Giants. They were on the receiving end of a 163-yard receiving day (with a touchdown) for Baldwin in a Week five Seattle victory. 
How about the St. Louis Rams? Playing on the punt-return team, Baldwin blocked a punt that was returned for a touchdown. He also toasted the secondary for a wide-open 29-yard scoring reception. 
His special-teams play against the Rams, which also included a 37-yard kick return and a downed punt at the six-yard line, earned him the NFC's special-teams player of the week award. 
"He just continues to do stuff," Carroll told the media after the Rams game, as reported by Eric Williams of the Tacoma News Tribune.
"Every chance you give him he does something. He's just such a battler. He's a great competitor, and, I've said it before, he's got a chip on his shoulder that drives him to be a tough guy and a playmaker."
Not surprising, considering Baldwin played his college football for a coach who defines competitiveness—first-year 49ers head man Jim Harbaugh.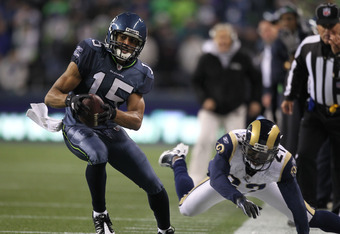 Otto Greule Jr/Getty Images
In fact, Harbaugh didn't realize what he had in Baldwin. He reflects on the consensus around the league that, in Williams' description, Baldwin was "too small, too slow and deemed not athletic enough." 
Cam Inman of the San Jose Mercury-News reported that at Tuesday's 49ers' news conference, Harbaugh stated he regretted his decision, by saying "We should have drafted him."
Inman noted further that in a media call just before the press conference, Baldwin said he and the 49ers had talked. However, he felt San Francisco "already had a pretty stocked roster at wide receiver."
So the kid headed North—not just up the coast, but also up the Seahawks' depth chart. 
And now the question is, can the 49ers stop him?
The answer is a qualified yes. The 49ers' secondary did an outstanding job defending the Pittsburgh Steelers' excellent wideout Mike Wallace, on Monday night.
They played him tight, while giving ground over the middle to secondary receivers Jerricho Cotchery and Heath Miller, both whom surpassed Wallace in receiving yards. 
The Niners' coverage of Wallace showed they learned their painful lesson in Arizona a couple of Sundays ago, when they were waxed by Cardinals wide receiver Larry Fitzgerald. 
Against the Steelers, they were willing to give up the short pass. But not the home-run ball (as evidenced by Tarell Brown's interception of a long pass by Pittsburgh quarterback Ben Roethlisberger at the two-yard line).
The 49ers remember, though, that this is the same Doug Baldwin who, late in the game, brought the Seahawks to within two points of San Francisco with a 55-yard touchdown catch in Week one. 
That was before Ted Ginn, Jr., got into the act with his two brilliant kick and punt returns for game-clinching touchdowns.
You can bet the 49ers will be studying Baldwin's TD, and lots of other highlight footage this week. 
The result? Look for Baldwin to have plenty of company on Saturday afternoon in Seattle. He's not a secret anymore, and the 49ers' defenders have the tools to stop him.
But here's a warning the Niners would do well to observe: Baldwin has been underestimated before.