WWE Retrospective: Why 2011 Has Been the Year of Zack Ryder
December 21, 2011
On February 17, 2011, Zack Ryder posted his first episode of Z True Long Island Story.  At the time, he was a wrestler who barely showed up on TV and constantly got beaten in squash matches.
Fast forward to December and he is now the United States champion.
It's impressive that it took him a little less than a year to turn his career around, but it also took a lot of hard work.  He constantly was sending autographs to fans that bought his shirt, buying props for a show that made him no money and spending time creating new segments and ideas for the show.
None of that is easy and it costs time, money, sleep and serious mental energy.  There was no promise that it was going to work out either.  It could have just as easily outraged his bosses and caused him to get cut even faster.
At first it was barely noticeable.  It didn't seem like anyone was going to buy his merchandise or endorse his character, but like anything worth doing, it took momentum to get it rolling.
Ryder continually put shows out week after week and kept reinventing it to make it stay fresh and relevant.  Not everything he did was perfect, but the effort showed every single time and it made fans come back for more.
His work ethic and drive made the fans clamor for him, and after a while, the WWE took notice.  Rather than continuing to put him in joke matches, he started to slowly win matches on WWE Superstars and then started to appear on RAW and SmackDown.
Ryder could have slowed down on his show because of this.  Instead of calming down, he ramped up his show with the show getting other wrestlers in it.  He even got Hugh Jackman to make an appearance.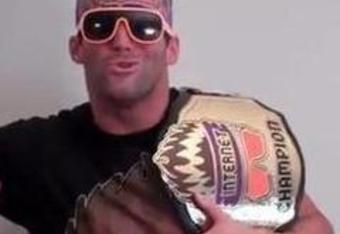 Ryder has met the fans' commitment with his own, and the more they give him, the more he sends back.  He never stops trying and he never stops learning.
It has allowed him to channel what should have been a ridiculous character with a 15 minute window to expand into a fully developed character that fans have found they can root for and support.  He used social media and his own ingenuity and hard work to make it pay off for him.
Between using emerging technology to get himself over without the company's help and working his tail off to not only stay employed by the WWE but become the United States champion, he has had a landmark year.
CM Punk did well this year and finally got his due, but he was still a major star in the company.  Zack Ryder went from nothing to selling out merchandise and having fan-made posters cover arenas all over the world.
He went from almost nothing—someone who was going to get his pink slip—to a main event wrestler in one year.
And he started it with only the fans and himself to support him.
So Ryder changed his fortune in one year.
Let's see what he does in 2012.