2011 Fantasy Football Team Defense Rankings: NFL Week 16
December 21, 2011
Jared Wickerham/Getty Images
Here's the LestersLegends' Week 16 2011 fantasy football defense rankings.
1. Pittsburgh vs. St. Louis: When the Steelers get smacked in the mouth, they usually respond. Facing the team scoring the fewest points (11.9 ppg) and allowing the most sacks (49) will certainly help. The Steelers are second with 15.6 ppg allowed.
 
2. Baltimore vs. Cleveland: The Ravens also had their butts handed to them. They'll take it out on the Browns (13.9 ppg). Ravens are tied third in points allowed (16.9) and second in sacks (45).
 
3. Houston @ Indianapolis: The Colts finally won, but that doesn't change much. They still rank 28th in scoring (15.1 ppg). Meanwhile Houston is tied for third with 16.9 ppg allowed.
 
4. San Francisco @ Seattle: Niners are giving up just 13.2 ppg. Marshawn Lynch has been a beast, but the Niners have yet to allow a rushing TD. T-Jack is not a quality QB.
 
5. Green Bay vs. Chicago: The Packers got tripped up last week, but they will want to get that taste out of their mouth. Chicago just can't score without Cutler and Forte.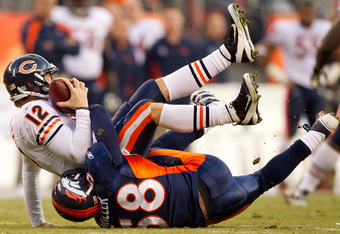 Justin Edmonds/Getty Images
6. Cincinnati vs. Arizona: The Cardinals are winning, but with 47 sacks allowed and 19.5 ppg (25th) they present a good match-up for Cincy's tenth-ranked defense (20.2 ppg).
 
7. Washington vs. Minnesota: The Vikings' ship has sank. Christian Ponder looks lost. Their line is atrocious. If the Skins could shut down the Giants, this should be child's play.
 

8. Denver @ Buffalo: You know Denver can get after the quarterback (39 sacks). They are going to limit the Bills' possessions with their rushing attack. The Nills are averaging just 14.3 ppg during their seven-game losing streak.
9. Oakland @ Kansas City: Kyle Orton was much better than Tyler Palko had been, but this team still struggles to put points on the board (13.7 ppg). Oakland has 39 sacks.
 
10. Carolina vs. Tampa Bay: The Bucs rank 27th in the league in scoring (17.6 ppg). It's been even worse (16.8) during their eight-game losing streak.
 

11. Tennessee vs. Jacksonville: I'll still miffed at the Titans for dropping the ball last week against the Colts. However, I can't overlook the fact that they face the Jags' 29th ranked scoring attack (14.8 ppg).
 

12. New York Jets vs. New York Giants: This is, in essence, a home game for both teams though the Jets fans got more tickets. The Jets have the ability to slow Eli and the passing game. I
 

13. Kansas City vs. Oakland: While they held the Packers in check last week in a shocking upset, I don't think they will be quite as effective on the road. They could force Carson Palmer into some mistakes though.


14. Dallas @ Philadelphia: The Eagles have come to life, but if the Cowboys ninth-ranked run defense (98.1 ypg) can keep Shady in check and they can make life uncomfortable for Vick, the Birds could stumble.


15. Philadelphia vs. Dallas: The Eagles lead the league with 46 sacks. If they can get after Romo, picking up sacks and forcing mistakes, they could get the Cowboys' potent offense off track.
Week 16 Fantasy Football QB Rankings
Week 16 Fantasy Football RB Rankings
Week 16 Fantasy Football WR Rankings
Week 16 Fantasy Football TE Rankings
Week 16 Fantasy Football K Rankings