Golden State Warriors' Monta Ellis at Center of Sexual Harassment Lawsuit
December 20, 2011
Elsa/Getty Images
The Golden State Warriors are in the middle of preparing to open the NBA regular season. They will have to do so amidst nasty allegations surfacing that star guard Monta Ellis sexually harassed a former Warriors employee. 
The lawsuit has been reported by Yahoo! Sports' Marc Spears via his Twitter feed and alleges that Ellis sent dozens of lurid photos to the female employee.  
The Warriors are off to Sacramento for a preseason game against the Kings. The news is still in its infancy, but it seems that there is a tentative press conference scheduled for Wednesday set up by lawyer Burt Boltuch. 
The press conference is to specifically address the lawsuit and the allegations that have been made against one of the brightest budding stars in the NBA. 
So far there has not been any comment from Ellis, and he has reportedly not received the lawsuit. Spears does go on to tweet what specifics he does have available on this unfolding story.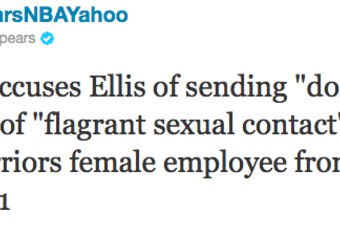 Once the veracity of these serious allegations is determined, we can assess how this might affect Ellis and the Warriors as they enter a season of tremendous promise. Ellis is coming off a season in which he was featured in 80 games, scoring 24.1 points per game and dishing out the best assist average of his career at 5.6. 
It's important to note that Ellis has not yet had his say in this matter. While we keep a level head, we can't help but recognize what kind of fallout might come from a star athlete sending lurid photos of a "flagrant sexual contact" to a professional trying to do her job. 
This can only mean that photos do exist, since a lawsuit is going to hit the franchise almost a year after the alleged incident. 
We are about to hear a great deal more about Ellis than we have ever bargained for as the nature and scope of the photos is released. This is one headache that the still maturing team did not need.