George Mason Basketball: How Andre Cornelius Will Help the Patriots
December 21, 2011
Wednesday night's game against Duquesne marks the long-awaited return of senior guard Andre Cornelius to the George Mason Patriots. As those of you who follow Mason basketball know, Andre was suspended for 10 games at the beginning of the season for misdemeanor credit card fraud, but finally, his 10 games are up, and Cornelius can now join a Patriots team that has sorely missed him.
First, let's look at where Mason has been severely lacking so far this season. The guard play all season has been hot and cold, and much of this is due to a lack of real experience in the backcourt. Of the two men running the point, Corey Edwards and Bryon Allen, Edwards is a true freshman and Allen played very limited minutes last season.
There has also been a real lack of depth in the backcourt, particularly once injuries or foul trouble hit. There was even a point so far in this season where walk-on Bryce Lewis had to play minutes in the first half just to give the point guards a breather.
Mason has also struggled in its perimeter defense, and most of the problems have come from Mason just allowing way too many open looks from deep. Most recently, Mason allowed 20 three-pointers over its three-game road trip, including eight to a poor shooting Towson team and seven to a Virginia team that has struggled to get production from its guards.
Speaking of guard play, opposing guards have routinely lit up Mason's defense, including allowing 38 points to Rhode Island's Jamal Wilson, a career high; 23 points to Bucknell's Cameron Ayers, tied for his career high; and 18 points to Virginia's Sammy Zeglinski, his season high. 
Mason has also not been able to answer any of these three-pointers of late. Much of this problem stems from Vertrail Vaughns, the team's three-point specialist, cooling down Since Mason's game against Albany, Vaughns has attempted 21 three-pointers, hitting only three of them.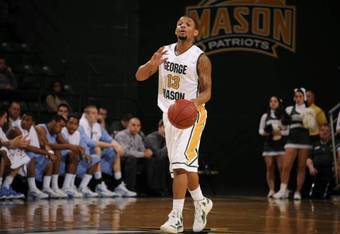 All of this has led to Mason not being able to light up the scoreboard like it expected—not being able to stretch out defenses, not being able to stop teams defensively and not being able to come back from large deficits.
Now, Cornelius' return obviously won't make all of these problems go away, but there is no denying that he will help. For three years now, Cornelius has played the point guard position, and although he can be wild with the ball at times, he has the big-game experience to help out the young point guards and to be a steady hand when Mason needs him most. 
Cornelius has also been one of Mason's better man-on-man perimeter defenders over the past few seasons. He plays a very fast, in-your-face style defense, and provided that he doesn't get too many reach-in fouls, is a pain to try to get open and score on.
Cornelius is also one of Mason's most prolific three-point shooters, and you can bet we will see him try to get his shot going early and often on Wednesday. Cornelius is a historically streaky shooter, but when he is hot, as he was against UNI last season, he is nearly unstoppable and can keep Mason in any game even if it is playing poorly. 
Personally, I would like to see Cornelius start at the shooting guard position tomorrow. Despite the inexperience of the current point guards, both Edwards and Allen have shown steady improvement over the season, and I think it will help in the long run if both of them continue to get experience running the point.
By starting Cornelius at the shooting guard spot, it allows him to only focus on getting open and hitting his shots offensively. While guys like Corey Edwards are more pass-first players, Cornelius has always been shooting-oriented, so why not just put him in a position where this is encouraged?
The move would also allow the beleaguered Vaughns to come off the bench again, a role which he thrived in last year. Having him come off the bench, I think, will help him get his explosiveness back shooting the ball and make him the instant offense again that he was last season.
Overall, Cornelius' return just makes this Mason team better, and considering it went a respectable 7-3 without him is pretty scary. I expect to see some rust on him tomorrow night against Duquesne, but once that rust wears off, opposing teams better watch out, because Mason just added one more dangerous weapon to its lineup.