Penguins-Blackhawks: Malkin To Carry Hobbled Pens vs. League-Best Chicago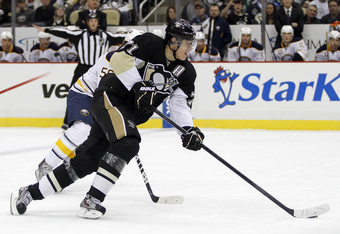 Malkin is among the league leaders in points and points per game
Justin K. Aller/Getty Images
Evgeni Malkin is on a scoring tear, but it hasn't been quite enough to keep the decimated Penguins lineup from sliding down the Eastern Conference standings.
Chicago, meanwhile, has won eight of 10 and sits atop the NHL standings behind a potent offense and goaltender Ray Emery.
Jordan Staal, Ben Lovejoy and Craig Adams are game-time decisions for the Penguins, while Sidney Crosby, Kris Letang and Zbynek Michalek remain out of the lineup.
Tension city. Blackhawks to PP after Neal trips Kane at the blue line and its likely a 6-on-4 effort with 1:29 left. Pens take their timeout.
Things are getting tense. A few minutes left and the Blackhawks are dictating the play. Penguins have to step up in the neutral zone to disrupt their rush.
Chicago's transition game is absolutely killing the Penguins. Both of their goals and a countless number of other good chances have come off the rush.
Chicago's top line is breaking through against the depleted Pens' D. Niskanen and Orpik get caught standing still and its 3-2. Stalberg with the goal, Kane with the assist.
Stalberg accepts a pass from Toews and its 3-1 early. Fleury was huge in denying a 3-on-1 involving Toews, Kane and Sharp but it was the 2-on-2 that beat Fleury.
Penguins running the show tonight through two. Some thoughts:
Malkin is Conn Smythe material: Geno has been unreal lately and the points parade hasn't slowed tonight. Malkin has assisted on all three Penguins goals, as well as the phantom whistle that denied Neal a second goal and Geno a fourth assist. He's also 15-4 on the draw. He's tied with Kessel, Giroux and Stamkos for the league lead at 39 points and after tonight may have the best PPG average in the NHL.
Physical play: There have been a number of big (and questionable) hits so far from players on both clubs, with 24 combined hits.
Penalties: The Blackhawks have 29 penalty minutes through two periods, including a double-minor and a ten-minute misconduct. However, the Pens are only 1-for-7 on the power play despite a number of great chances.
Matt Niskanen is good: Thought to be the seventh defenseman coming into the season, Niskanen has been the Penguins' best defenseman in the absence of Letang and Michalek. He has two assists through two periods and eight points in his last six games. Martin may have lost his spot on the first power play to Niskanen, who has clicked nicely with Malkin and Neal.
Marc-Andre Fleury coming through: The Blackhawks have had a great deal of very good scoring chances. If Fleury's not on top of his game tonight, the score looks much different.
Watch for the Blackhawks to draw a few more calls in the third, and for the Malkin line to continue logging a ton of minutes.
Ben Lovejoy leads the 4-on-4 rush and Tyler Kennedy buries the loose change. 3-0 Pens. Malkin with his third assist of the night, Lovejoy with his first point since October. Pens with a minute of PP time following 4-on-4.
Geno took a stick hard to the face and the Pens go to the four-minute power play. Geno went to the locker room but did not appear to to have a serious head injury. Maybe some stitch work. Staal, Neal and Kunitz to start this power play.
Pens have 225 straight sellouts.
Can't be lost in this game that Fleury is playing very, very well. Not a ton of saves, but each of them a quality save against a good chance. Chicago very low in shots per game but they get good ones.
Terrible whistle robs Neal of league-leading 20th goal and Pens of a 3-0 lead. Hawks also escape a too-many-men call shortly thereafter.
James Neal does it again. Neal makes it 2-0 (ES goal) after the Pens get a huge 3-on-1 break. Neal beat Emery cleanly to the stick side, his 19th of the year. It also puts him one shy of the league lead and a handful shy of his 2010-11 total. Malkin and Niskanen assist once again.
The assist was Niskanen's 100th career NHL point and second of the night.
Pens escape the first without giving up a goal, but Hawks will start the second with 38 seconds of PP time on fresh, fresh ice.
First period highlights:
Malkin continues dominance. He made a beautiful outlet pass to Chris Kunitz, one of the first times the Pens' PP was able to break the Chicago PK down the middle. Geno has points in six straight and 13 total over that span. He also went 8-2 on faceoffs in the first, an area in which he has traditionally struggled.
Engelland blows up Marcus Kruger. Engelland nailed Kruger near the boards, and it was John Scott who received 17 minutes in penalty time for instigating, fighting and a 10-minute misconduct. Engo may face a phone call for the hit, which caught Kruger up high, but it's going to be a difficult disciplinary call to make. Kruger had his head down and was low to the ice, and Engelland didn't hit him with an elbow. Will be an interesting story to watch unfold.
Pens' PP strikes Blackhawks 27th-ranked PK. Coming into this game, the Pens' PP was working at better than 24 percent while Malkin plays and Crosby does not, compared to less than 15 percent with both 87 and 71 either in or out of the lineup. Niskanen and Geno assisted on Kunitz' goal, both of whom are working on power play point streaks of several games. Kunitz drove from the wing to the netfront on his backhand, beating Emery with a quick deke in close.
Blackhawks' cycle working. The Pens are without three regulars on defense in Letang, Michalek and Martin, and the Blackhawks, when they were able to stay at even strength, cycled in Pittsburgh's zone rather easily. Fleury made a number of huge saves to stave off the Hawks early and will have to be sharp for the rest of the contest.
Pens go to first penalty kill after Williams takes a tripping call with 1:22 left. If Hawks score late it'll be a huge momentum swing.
Kunitz finally beats the Blackhawks blueline and it's 1-0 Pens (PP). Penguins make good on the Scott instigator call and take advantage of bad Blackhawks PK.
It's Kunitz' 12th of the season, assists from Malkin and Niskanen.
Deryk Engelland lays a hit on a Chicago player and Blackhawks' resident goon John Scott takes exception. Engelland and Scott scrap against the boards, and Scott (6'8") probably takes the decision on the strength of his infinite reach advantage. He also gets a 10-minute misconduct on the play, ultimately worth 17 minutes of PIM.
However, it's also two minutes for instigating (following the clean hit), and Pens are back on PP.
Penguins about to go on a power play after Chicago controlled much of the play early.
Hawks are running their cycle nicely as Pens' young defensemen struggle to keep up. Orpik, Niskanen and Engelland the only NHL regulars on Pens' blue line tonight—Simon Despres and Alex Picard both call-ups, while Lovejoy is seeing his first action in a long time.
Game on. Malkin and Neal create a few chances right off the bat.
Brent Seabrook, who was questionable heading into Tuesday, will play against the Penguins. Sean O'Donell, Sami Lepisto and Dan Carillo are scratched, as are Pittsburgh's Paul Martin, Eric Tangradi and Steve MacIntyre.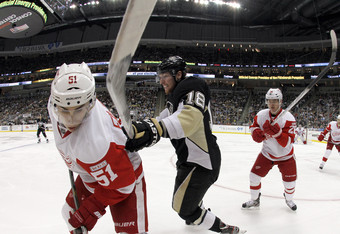 The special teams battle will likely determine tonight's winner. The Penguins' power play unit is ranked eighth in the league at 19.9 percent, but they're clicking at better than 24 percent when Evgeni Malkin mans the first unit without Sidney Crosby in the lineup.
James Neal also leads the league with 10 power play goals.
The Penguins' penalty kill began the season better than ever, but injuries have decimated their personnel and the Pens have dropped to fourth in the NHL (87.4 percent) after clicking at better than 93 percent before injuries.
Letang, Michalek, Staal, Richard Park, Brooks Orpik, Craig Adams and Paul Martin, each of whom plays significant time on the PK, have missed time this year. Letang, Michalek and Martin will miss tonight's action.
Meanwhile, Chicago has the league's 7th-ranked power play unit, but one which features Hossa, Patrick Kane, Jonathan Toews and Patrick Sharp. The Hawks have at least one power play goal in three straight and seven of eight, and are clicking at 29 percent over that span.
However, their penalty kill is among the worst in the league, ranked 27th in the NHL at just 77.7 percent effectiveness.
Staal, who missed games against Ottawa and Buffalo, has been held without a point in his last six appearances after playing some of his best offensive hockey to start the season.
Tuesday is his first game since a 4-1 loss to Detroit one week ago. Staal has 12 goals and six assists in 28 games this season.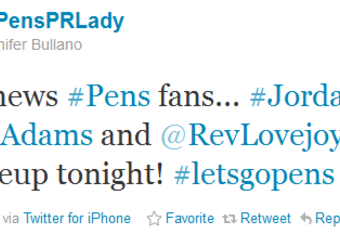 Also, the Penguins have reported that Staal, Adams and Lovejoy are all in the lineup tonight. Staal and Adams have been battling lower-body injuries, while Lovejoy has missed nearly two months with a broken wrist.
Evgeni Malkin and Marian Hossa are playing some of the best hockey in the league right now and are tied at 36 points apiece.
Malkin jumped to the top-ten of the NHL in points after a five-point effort against Buffalo Saturday, scoring a hat-trick and two assists.
Hossa, meanwhile, is a plus-18 and riding a five-game point streak.
This article is
What is the duplicate article?
Why is this article offensive?
Where is this article plagiarized from?
Why is this article poorly edited?

Pittsburgh Penguins: Like this team?