NBA Trade Rumors: How Does Kris Humphries Signing Impact Dwight Howard Pursuit?
December 20, 2011
Elsa/Getty Images
The New Jersey Nets have secured a big man for the 2011-2012 season.
But alas, this particular big man is not the same big man that Nets fans are hoping for.
According to a report from Yahoo! Sports' Adrian Wojnarowski, the Nets have agreed to terms with power forward Kris Humphries on a one-year contract that will pay him between $7 million and $8 million. Humphries is expected to sign the deal on Tuesday and be in uniform for the Nets' preseason tuneup against the New York Knicks on Wednesday.
Humphries, universally known as Kim Kardashian's ex-husband, was supposedly looking for a multi-year deal worth $10 million annually, but couldn't find one on the open market. That should come as no surprise seeing as how he's only had one good year, and he only started 44 of the 74 games that he played.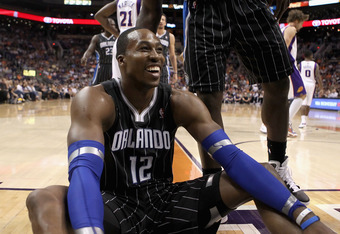 Christian Petersen/Getty Images
Giving Humphries a one-year deal fits with the Nets' desire to be financially flexible so they can secure the services of a superstar player down the road. The one that obviously comes to mind is Orlando Magic center Dwight Howard.
Per Wojnarowski, the Nets had a deal in place to land Howard last week, but it was nixed by Orlando's ownership. The Magic will enter the season with Howard on their roster, but may decide to trade him before the March 15 deadline.
The Humphries signing is advantageous for two reasons. Firstly, it makes them an even more attractive option for Howard, who has kept his demand to be traded to the Nets on the table. It will be harder for him to take it back knowing that the Nets have a stronger team for him to fit into.
Second and more importantly, Humphries' contract won't keep the Nets from pursuing Howard in free agency if it comes to that. 
Essentially, the Humphries signing keeps the Nets on Howard's radar. It is still very much possible that he could be traded to the Nets at some point during the season, but even if he isn't, the door will be open to him next offseason.
The Nets aren't giving up, folks. If all of this works out, they'll have a superb core that they can contend with for years to come. If it doesn't, the Nets will continue being the Nets.
And that's not a good thing. Especially not with a move to a new city and a new arena waiting in the wings.