Philadelphia Flyers: 10 Questions Facing the Team Right Now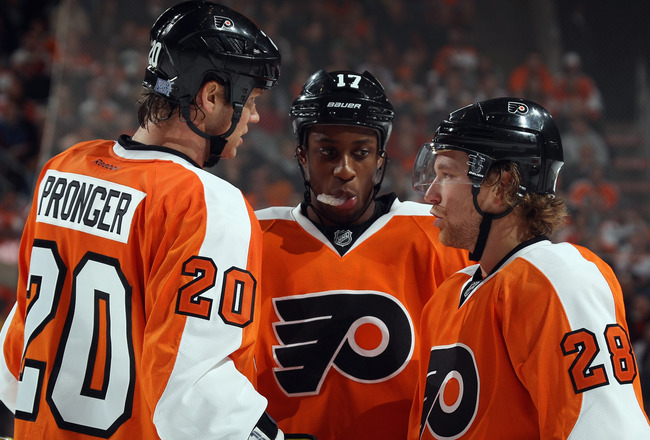 Bruce Bennett/Getty Images
The Philadelphia Flyers are a team in transition.
Team captain Chris Pronger has been lost for the season and possibly forever.
Claude Giroux, tied with Phil Kessel for the NHL lead with 39 points, is also out with a concussion, although his diagnosis is not nearly as dire, at least not at this point.
A plethora of rookies have been in and out of the lineup, all contributing important minutes in big situations while the veterans acquired in the offseason have started to fit into their expected roles.
Not to mention, the enigmatic play of the intellectually psychedelic $51 million goaltender Ilya Bryzgalov.
Quite a bit of turmoil for a team with the second most points (44) in the Eastern Conference.
So what are the most pressing questions facing the Broad Street Bullies right now? Let's discuss.
Do the Flyers Need to Add a No. 1 Defenseman to Replace Chris Pronger?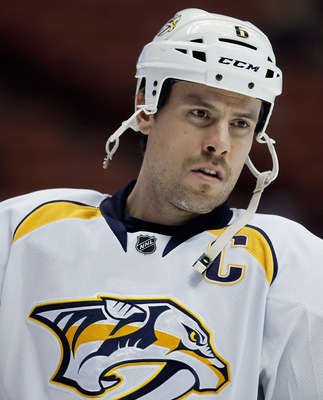 Jeff Gross/Getty Images
The name on every Flyers fans' Christmas wish list is Shea Weber.
The captain of the Nashville Predators brings everything to the game the Flyers have missed and will miss in Chris Pronger.
While Weber is struggling to come to a contract extension with Nashville and seems determined to become a free agent this coming summer, the Predators will be looking to get something in return if they are going to lose yet another franchise defenseman.
Weber's $7.5 million cap hit is a mathematical impossibility for the Flyers to absorb without unloading NHL talent, and the question of a long-term extension may further complicate any potential trade talks.
But the Flyers need to decide how to handle the Pronger issue no matter who the target ends up being.
According to Capgeek.com, Philly has about $1.3 million in long-term injury allowances, while buying out Pronger's contract would create no real cap space.
So if the Flyers choose to address this issue through the trade market, they will have to make tough decisions about players currently contributing at the NHL level, as the next few slides will indicate.
Was James Van Riemsdyk Worthy of His Contract Extension?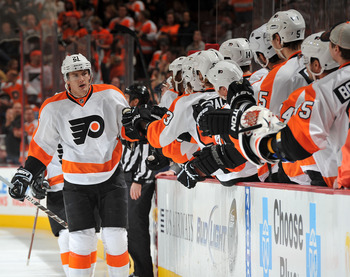 Christopher Pasatieri/Getty Images
2007's second overall draft pick affectionately known as JVR signed a six-year, $25.5 million extension during the offseason that kicks in next year.
Van Riemsdyk signed the deal coming off the strength of a seven-goal (in 11 games) playoff performance, and the promise of a 40-point, +15 sophomore season—far from a slump following a 35-point, -2 rookie campaign.
But JVR does not yet seem to be making that next step warranting a six-year commitment with an annual cap hit over $4 million, as his 18 points in 27 games is solid but not near the type of point-per-game improvement expected from his first two seasons (Giroux averaged 0.61 PPG his first two seasons before jumping to .93 PPG last season.) JVR is averaging .67 PPG so far, only slightly above his career mark of 0.50.
Much like the decisions made about Mike Richards and Jeff Carter over the past summer, Paul Holmgren must decide if JVR, with a modified no-trade, is worth the money, or if his salary would be better allocated towards an upper-echelon defenseman.
Similarly, the Flyers will need to decide whether Matt Carle will be worth the extension and raise he will be due before his contract runs out after this year's playoffs.
Already sporting a $3.5 million cap hit, Carle is in a similar situation to Nashville's Shea Weber, as the organization decides if moving the young defenseman best suites the future of the franchise.
Is Sergei Bobrovsky on the Trading Block?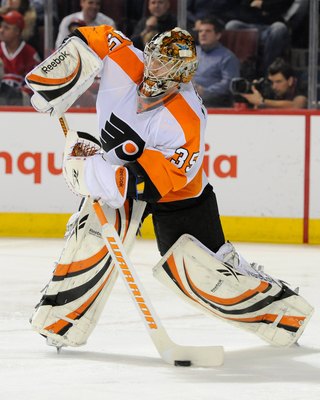 Richard Wolowicz/Getty Images
As Ilya Bryzgalov continues his inconsistent play in the first year of his nine-year, no-movement clause contract, the Flyers have a decision to make about Bob.
Although Bobrovsky has statistically outperformed the $51 million Bryzgalov in limited action, Bob still finds himself fully entrenched in the role of backup netminder.
Although it is a luxury to have a goalie who could arguably start for many other teams in the league, management must decide if a solid backup is an important enough asset to neglect other areas.
As the Flyers look to improve their roster before the trade deadline, the goalie who is not playing much but coming off a 28-win rookie campaign and only taking in a $1.75 million cap hit at 23 years of age is a rather valuable piece, and one that many teams could covet.
Is it worth keeping Bob around? Probably not, considering the nature of Ilya Bryzgalov's contract.
In terms of Shea Weber, Bob would probably not come up in those particular discussions given Nashville's seven-year, $49 million extension awarded to 29-year-old goaltender Pekka Rinne, keeping him a Predator through 2018-19.
Is the Philadelphia Flyers Hockey Organization Cursed by Concussions?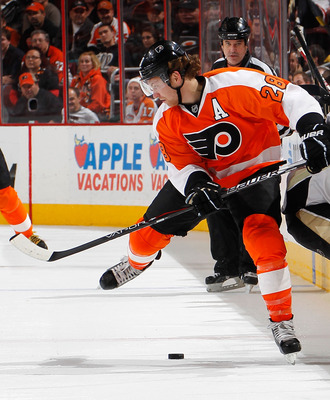 Paul Bereswill/Getty Images
Sure, there's a plague of concussions in the NHL and all around the sporting world partly due, in my opinion, to over-diagnosis, but also because of greater awareness.
Whatever the cause, many star players are missing a lot of playing time because of the still-mysterious brain injury.
But it seems concussions were holding the Flyers back before it became "cool."
We all know the stories of Eric Lindros and Keith Primeau, and every fan is now hoping Claude Giroux does not fall to the same fate.
Chris Pronger is out with what is being described as an "eye concussion," stemming from taking a stick to the eye in October. Giroux got kneed in the head by teammate Wayne Simmonds as both hustled to make plays in the neutral zone and ended up colliding with Simmonds' knee to Giroux's head.
Brayden Schenn is also suffering from concussion symptoms, and Sean Couturier was recently hit in the side of the head with a shot puck and is now out with a "head injury."
And what fan did not automatically react to Harry Z's face-first collision with the boards in Monday night's loss to the Colorado Avalanche with the thought "concussion?" Luckily, Zolnierczyk was able to return to the game.
This is not really an answerable question from the Flyers perspective, but it definitely makes me wonder: Why does this keep happening to Philly's best players?
The open ice and full-speed mentality of the post-lockout NHL and the evolutionary "bigger, stronger, faster" athlete training technology makes every collision in the pros more violent than the ones from past generations.
But there seems to be a pattern, no?
As I'm writing this, Comcast Sportsnet Philadelphia reports Giroux could return as soon as Wednesday in Dallas, but still, the nerves of that first hit and those first few games remain.
Sidney Crosby was well on his way to returning to full strength before several setbacks over the past 12 months have put his career in question.
Having already suffered the loss of Eric Lindros and never cashing in on a Cup like Crosby already has, the sentiment around Giroux is even more desperate, and all we can do as fans is enjoy Giroux and hope he's 100 percent.
Are the 24/7 Cameras a Distraction?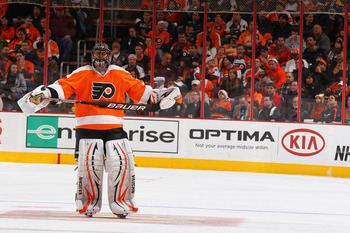 Al Bello/Getty Images
True, the Flyers kept their winning streak alive when filming for 24/7 began and played some of their best hockey under the microscope of HBO cameras, as was detailed in the first episode of the documentary series counting down to the Winter Classic.
But now the show has aired and a spotlight has been drawn to a Flyers team that was able to fly a bit under the radar in Philly since this time of year in the city, no matter the team's struggles, is football season.
24/7 Flyers/Rangers creates a buzz and brings attention to the Flyers usually reserved for the playoff push, and since the airing of the first episode the orange and black have skated to a 1-1-1 record, having allowed 12 goals (11 in regulation plus one awarded to Colorado for their shootout victory) over those three games.
The defense and goaltending have been mediocre at best over the past week, and one can only wonder if the increased turnovers and lack of discipline can be attributed to the HBO documentary series.
Peter Laviolette is a great coach and has guided his team through adversity before, but it is impossible to prepare each individual player's personality for the inevitable break in routine they are all sure to experience during this time.
When Will Kimmo Timonen Score His First Goal?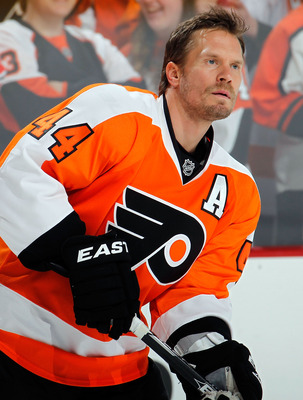 Paul Bereswill/Getty Images
This question is really a statistical anomaly, but one worth noting.
Kimmo Timonen's 20 assists rank him second overall on the Flyers and third amongst all NHL defenseman in the category.
Timonen's plus-12 rating is the fifth highest total for a D-man in the league.
Despite having not scored a goal, Timonen is having yet another great season in the orange and black.
The assistant captain has received plenty of opportunity to score this season, playing almost four minutes of his 22:28 nightly average on the power play.
Timonen has not been much of a goal scorer since being traded from Nashville, where he averaged 10 goals per year over eight seasons, to Philadelphia, where he has averaged under six goals over his last four years.
But no goals through the first 32 games, despite the 20 assists, is less than fans, and Timonen himself, expect.
Kimmo's role, especially in Pronger's absence, is, first and foremost, his defensive responsibilities.
But his role must also expand offensively, as no other defenseman on the roster has an offensive skill set as competent or comparable to Pronger as Timonen.
Timonen is bound to score and more times than not players meet their yearly averages, so really Timonen's current drought could mean an explosive second half of the season.
Why Hasn't Home Ice Been an Advantage?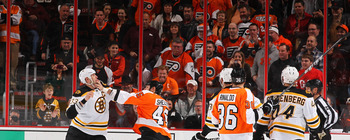 Al Bello/Getty Images
The Flyers' 12-3-2 record and 26 points away from Philadelphia are the best road numbers in the NHL.
But at home, in front of the Broad Street faithful—the most intimidating fans in hockey—they have only eight wins and 18 points in 15 contests at the Wells Fargo Center; middle-of-the-pack statistics in the Eastern Conference.
Combined with the Eagles' 2-5 home record, there have been a lot of disappointed fans in Philadelphia this Fall, leading many to question, "Is it us?"
My feeling is that the home winning will come around, at least for the FlyGuys, as all the new players get better accustomed to playing in front of such demanding fans.
Ilya Bryzgalov was told this market and city are "hell" for goalies, but really, Philly is tough on anybody who does not know what to expect from the fans. Players acquired from less enthusiastic hockey markets (Los Angeles, Phoenix, Columbus, etc.) have experienced some early season culture shock but have picked up their play recently.
Maybe this is just my hope as a fan who cleared his bank account for a Winter Classic ticket, but the home-ice advantage should pick up as the city's excitement level picks up as hockey's biggest day draws nearer (and New Year's Day, in all likelihood, will signal the end of football season).
Should the Front Office Offer Jaromir Jagr an Extension?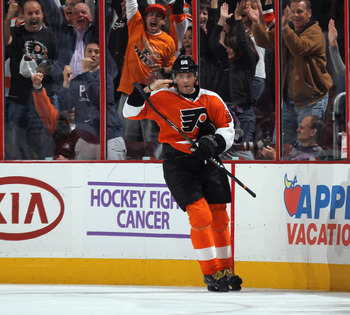 Bruce Bennett/Getty Images
The smart answer to this question, for both sides, is to wait and see how Jagr finishes the year and how he feels about the organization and his ability to make it through another long regular and postseason.
But with the prospect of losing Pronger forever and possibly trading away more scoring wingers (JVR) for defensive help, keeping Jagr around makes sense.
Jagr's experience and leadership are priceless qualities, and the respect he's gained from his teammates for his work ethic is Doc Halladay-esque.
The soon-to-be 40-year-old future Hall of Famer has 27 points in 28 games and is still one of the most exciting players in the league.
Jagr is already part of the leadership circle of this team, and rewarding his efforts with an extension could further motivate him, if that is in fact possible.
Jagr has already expressed an interest in possibly playing hockey somewhere next season, Flyers Insider Tim Panaccio reported in late November.
Where exactly he'll be playing depends on how much he feels he can help a team make a Stanley Cup run. There are a lot of young players who could continue to learn from the Czech legend, and his production could go a long way in helping this team reach the playoffs this year and next.
The Flyers are risk takers and in Jagr they are presented with another high-risk, high-reward opportunity, and I would be surprised if they did not give the dude who used to look like a lady a shot to further cement himself as one of the game's greatest again next season.
Will Brayden Schenn Ever Reach His Potential?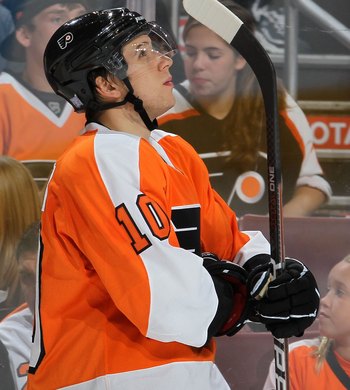 Jim McIsaac/Getty Images
Brayden Schenn came to town regarded as the best prospect not in the NHL when Philly acquired him, along with Wayne Simmonds, for Mike Richards.
Simmonds hit a bit of a lull in November, but has nine goals overall—not a bad total for the young power forward who has never scored more than 16 in any previous season.
But Schenn is a different story.
Schenn was immediately regarded as Richards' successor as the tenacious two-way forward who could win a draw, kill a penalty, score on a break way and lay a bone-crushing hit.
But his career has not gotten off to the start he or the Flyers expected.
Schenn suffered a shoulder injury in training camp, made his Flyers debut October 20th, broke a bone in his foot October 26th, was recalled to the Flyers on November 28th and suffered a concussion on December 3rd.
Having played in only six of the Flyers first 32 games, Schenn has no points and a rating of -6.
As the trade deadline approaches and other Flyers youngsters shine, Philadelphia may have to decide whether trading the unknown for a known commodity is in the best interest of the team.
Injuries have derailed many a potential star's career in this city, and the question everyone discussing potential trades must ask themselves is, "Do you think Brayden Schenn will work out?"
What Happens When the First-Year Players Hit the "Rookie Wall?"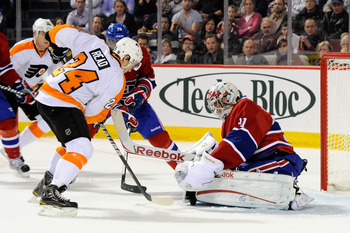 Richard Wolowicz/Getty Images
Harry Zolnierczyk ran into a wall last night, but not the one I'm talking about.
No, it is a metaphorical wall describing the fatigue and stresses of an 82-game season to a player inexperienced in the grind that is an NHL season and playoff run.
So far, 11 rookies have played at least one game for the Flyers, registering 40 points and a plus-9 rating.
Matt Read and Sean Couturier, before his recent head injury, were the standouts, both among rookie league leaders in +/- and time on ice.
But there is a theory that says these players will hit a scoring drought, and the production they've been counted on for will become a big hole in the lineup.
This group of rookies seems different with Read who, at 25 years of age, is more mature than most rookies, and with Couturier who is already a responsible two-way player more concerned with fulfilling his role than individual statistics.
Furthermore, Harry Z and Zac Rinaldo have contributed energy to the skilled veteran roster while Kevin Marshall and Marc-Andre Bourdon have filled in nicely on the depleted blue line.
If Brayden Schenn ever gets himself healthy and up to NHL speed he could be a strong addition to the bottom six forwards later in the year.
Overall, it seems most of the youngsters games may not be affected by "the wall" but then again, having never played 82 games before, keeping the type of intensity it takes to play the style the Flyers demand from their first-year players could wear them down.
If it does happen, however, it will be up to the veterans to step up their production as well as lead the rookies through that "dead leg" feeling they can fall into as they pass the 60- to 70-game mark.
Are the Philadelphia Flyers Good Enough to Win the Stanley Cup?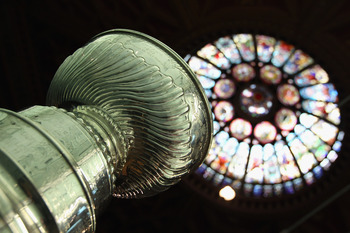 Bruce Bennett/Getty Images
BONUS SLIDE!
The only question that really matters is this: Can this roster win a Cup?
Chairman Ed Snider has made it the Flyers goal to win the Championship every season, as is evident by the organization's quick reactions and willingness to re-load the roster each season. Ignoring the fact they have failed quite a few seasons in a row (37 years or so, but who's counting?), the stated goal must be the measuring stick.
Giroux is on the way back but without Pronger, it may be a stretch to compete into the summer with the rest of the league's elite teams.
That assessment will force GM Paul Holmgren's hand, and his moves would give the answers to many of the questions I have posed.
So what do you think? Answer my questions, pose your own, tell me why they are/aren't good enough to win the 2011-12 Cup Finals.
Thanks for reading.
Keep Reading

Philadelphia Flyers: Like this team?