Cleveland Browns Sign Free Agent Tight End Dan Gronkowski
December 20, 2011
Ronald Martinez/Getty Images
In a move that exemplifies why they are the most futile franchise in the NFL, the Cleveland Browns have signed free agent tight end Dan Gronkowski.
Dan Gronkowski is of course the older brother of the New England Patriots star tight end, Rob Gronkowski.
Dan is, unfortunately, not nearly as good as his little brother.
Dan Gronkowski was drafted in 2009 out of Maryland by the Lions. He has had stints with the Lions, Broncos and even the Patriots. His career totals are nine catches for 69 yards and no touchdowns.
To put that in perspective, earlier this year Rob Gronkowski went for eight catches, 113 yards and two touchdowns in one game against the Jets.
Rob has had a breakout year in his second season out of Arizona and is exactly the type of playmaker that the Browns have not had since returning to the league in 1999.
So while the Patriots have been loading up on playmakers in Gronkowski, Aaron Hernandez and Wes Welker, the Browns are picking up their crappy siblings off waivers.
This is everything that is wrong with the franchise.
Now, I know that the Browns aren't picking up Dan Gronkowski thinking that he will become his brother and that he's just filling roster spots that have been vacated by injured Ben Watson and Alex Smith.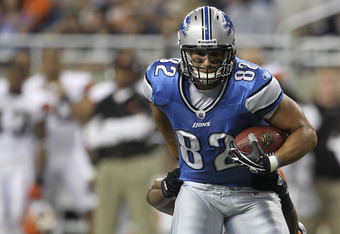 Leon Halip/Getty Images
But just the sheer idea of the Browns signing a scrub, who has a brother that is the best at his position (the same position incidental) in the NFL is almost laughable to me.
And the kicker is that the Browns passed on Rob Gronkowski in the 2010 draft to take T.J. Ward.
Now, I like Ward (when he's healthy) a lot. He could develop into a top safety in the NFL.
But wouldn't you rather have Rob Gronkowski?
Wouldn't it be nice if Colt McCoy had a guy like Gronk to throw to as his safety valve? A guy who makes amazing catches and proceeds to throw tacklers off him like they're rag dolls. A guy who is the best player in the NFL at his position!
But it's okay, we have his smaller, less impressive older brother.
And another draft and offseason will go by this coming summer, and the Browns will still refuse to pick up a playmaker.
How wonderful.
You can follow Benjamin Flack on Twitter @ClevelandFlack