Beef 'O'Brady'S Bowl: Live Scores, Highlights and Analysis of Marshall vs. FIU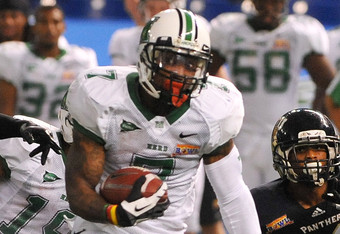 Al Messerschmidt/Getty Images
Tonight, I will be live blogging the 2011 Beef 'O'Brady's Bowl featuring the FIU Golden Panthers vs. Marshall Thundering Herd. I will update you on live scores, highlights and in-game analysis from the opening kickoff to the final whistle.
This is the bowl's fourth year of play and marks the first time the game will feature a Sun Belt Conference team. Normally, the game is a battle between the Big East and Conference-USA, but this season, the Big East failed to yield enough bowl-eligible teams.
FIU is making its second consecutive bowl appearance coming off its first back-to-back winning seasons. The Golden Panthers are 1-0 all-time in postseason play after defeating Toledo in the Little Caesers Pizza Bowl last year. They are led by head coach Mario Cristobal and finished the season with an impressive 8-4 record overall and 5-3 in the Sun Belt.
Marshall is making its first bowl appearance since the 2004 Fort Worth Bowl. The Thundering Herd are 6-3 all-time in postseason play. They are coming into bowl season on a hot streak winning four of their final six games. They are led by head coach Doc Holliday and finished the season with an 6-6 record overall and 5-3 in Conference USA.
This will mark the first time these two teams have played each other.
Conference-USA has had its struggles in the Beef 'O'Brady's Bowl losing all three games to the Big East. With no Big East team in the picture this year, the game is wide open for a new conference to take home the trophy.
Marshall is winning 13-10 in the fourth quarter.
Jamal Wilburg is a Featured Columnist for Bleacher Report.
Follow him on twitter @JWilburg or visit his website www.jamalwilburg.com
Congratulations to the Marshall Thundering Herd as they win the 2011 Beef 'O' Brady's Bowl over the FIU Panthers 20-10. The win marks the first win in this bowl game for Conference-USA.
The games MVPs were wide receiver T.Y. Hilton for FIU and wide receiver Aaron Dobson for Marshall.
Marshall quarterback Rakeem Cato on fourth down escaped the pressure and threw a well timed pass to Aaron Dobson to give Marshall a 20-10 lead with 30 seconds remaining.
Scoring Drive: 7 plays, 60 yards, 3:54
Marshall called their final timeout with 38 seconds remaining. It is now fourth down and five yards to go.
FIU has called its third and final timeout with 2:06 on the clock.
That first down by Marshall should just about wrap this game up as FIU is down to one timeout.
T.Y. Hilton is making his bid to be the Marshall MVP as the FIU receiver fumbled the ball for the second time in the game. Marshall has recovered and takes over with 4:24 left in the game.
Marshall takes the lead 13-10 after Tyler Warner's field goal.
Marshall has taken their second timeout leaving both teams with one timeout remaining with 6:50 left in this tied game.
Marshall should still be able to convert this turnover into a field goal and take the lead.
Marshall blocks a FIU punt and recovers the ball in the end zone for a touchdown. However, there was an illegal forward pass on the return which will negate the touchdown. There was an additional personal foul on the play. Marshall will take over on the 20 yard line.
Now my punter analysis has paid off. I had a quirky feeling this game would be decided by a special teams play.
Another false start on the FIU offense. They are in a hurry to go somewhere.
T.Y. Hilton just turned towards the FIU crowd to pump them up. FIU's offense responded with a false start.
Marshall's offense is showing signs of life.
At the end of the third quarter FIU's punter Josh Brisk is leading the battle of the punters with seven punts for 273 yards compared to Marshall's Kase Whitehead's 5 punts for 192 yards.
Yes, this game has come down to comparing the punters.
FIU has a second down after a review showed that the ball touched the ground before being caught.
There should be a list of artists that should be banned from bands playing in college football games. Anything by Ke$ha should be at the top of that list.
At the end of the third quarter the game is still tied 10-10.
FIU is burning timeouts like they have a cheat code for more.
Marshall's Omar Brown just dropped an interception that might as well have been gift wrapped for him. We now know why he plays defense.
Surprisingly, the Marshall band has been playing a lot more popular music than FIU. You would think the team from Miami would be bringing the flavor.
No matter which team wins tonight's game, history will be made in this year's Beef 'O' Brady's Bowl. All three previous games have been won by the Big East Conference over Conference-USA. This year the Big East did not have enough bowl eligible teams to participate.
Either the Sun Belt Conference or Conference-USA will win the first Beef 'O' Brady's Bowl for their conference.
So far the third quarter has been a ping-pong match of punts back and forth among the two teams.
It's Halftime at the Beef 'O' Brady's Bowl and the FIU Golden Panthers are tied with the Marshall Thundering Herd 10-10.
The game has been a pretty balanced contest. Both teams have eight first downs and Marshall has the slight edge in time of possession at 15:16.
FIU has been much more successful in the running game with 68 yards on 16 carries. Darriet Perry is currently the leading rusher in the game with 31 yards.
Surprisingly, Marshall has been the dominant team in the passing game. Rakeem Cato has 16 completions on 25 attempts for 139 yards and a touchdown. Aaron Dobson has been his favorite receiver with four receptions for 37 yards.
Wesley Carroll has 11 completions on 16 attempts for FIU but only has accumulated 69 yards through the air. T.Y. Hilton has been their leading receiver as expected with 33 yards on 3 receptions.
As if the crowd didn't have enough to chair about Aaron Dobson just made a beauty of a catch from Rakeem Cato to tie the game for the Herd.
Scoring Drive: 6 plays, 55 yards, 1:15
The Marshall crowd is erupting into a very loud "We are, Marshall" chant. They have definitely brought the bigger and more energized crowd to the game even though they come from the further distance.
This article is
What is the duplicate article?
Why is this article offensive?
Where is this article plagiarized from?
Why is this article poorly edited?