MLB Rumors: Prince Fielder and Big-Name Free Agents Still Waiting for a Home
December 20, 2011
Dilip Vishwanat/Getty Images
With the beginning of the 2012 baseball season within shouting distance, there are still big-name free agents that have yet to sign a contract.
Players like Prince Fielder and Carlos Beltran were thought to be major stars in the free-agent market, but the lack of a contract signing shows that both are still waiting for the right offer.
All of the following stars will be gone sooner rather than later, but it's a testament about what their true value is that they are still on the market in the first place.
Prince Fielder
The best first baseman on the market now that Albert Pujols is an Anaheim Angel is by far Prince Fielder. So why isn't he signed?
The second-best free agent this offseason is still a free agent because his agent is Scott Boras, and that means he will not accept anything less than what he knows he can earn.
While he still may be a free agent, Fielder's just getting the best possible deal for the future and it won't be long before he is ready to sign with a team. The Chicago Cubs look like front runners.
Carlos Beltran
The San Francisco Giants sent the New York Mets plenty of solid prospects in hopes that Beltran would be the piece that sent the team back to the World Series.
Not only did the Giants fail, a big part of that burden has to fall on the shoulders of Beltran. The worst thing that can happen in a contract year is for a player to fail in the playoff stretch.
Beltran will get a job, but it won't be nearly as lucrative as it would have been if he helped the Giants accomplish something.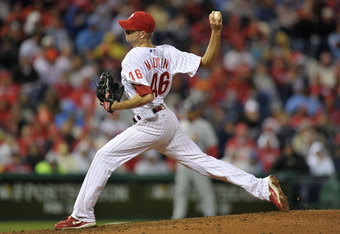 Drew Hallowell/Getty Images
Ryan Madson
The Philadelphia Phillies wanted to bring back Madson as the set-up man for former Boston Red Sox closer Jonathan Papelbon, but he has decided to test his other options.
While the bullpen veteran thinks since he was closer for half a season he deserves big money, he will not get paid anywhere near what he wants.
With the market still open for closers, he will get paid, but it will be a team like the San Diego Padres. Not a contender.
Check back for more on the Major League Baseball as it comes, and check out Bleacher Report's MLB Page to get your fill of all things baseball.