NBA Trade Rumors: Top Potential Targets to Replace Darrell Arthur in Memphis
December 20, 2011
Ronald Martinez/Getty Images
The Memphis Grizzlies have a pressing need to acquire a backup big man after hearing the official word today that they have lost Darrell Arthur for six-to-12 months with a torn Achilles.
With the NBA regular season tip off less than five days away, the Grizzlies must act fast to find a suitable replacement for their versatile power forward/center who plays behind Marc Gasol and Zach Randolph.
The Grizzlies cannot afford to fail, as this year is crucial for them. They are coming off the most successful season in franchise history and pushed the Thunder to seven games in the Western Conference semifinals.
Fortunately, they have a few solid targets on the radar.
According to Ronald Tillery at The Commercial Appeal, Memphis is gunning to bring in either Dante Cunningham or Marreese Speights and feel a replacement cannot be found on their training camp squad.
Cunningham, a restricted free-agent with the Charlotte Bobcats, is a bit undersized and offensively inept, but possesses the versatility on defense to take over Arthur's minutes.
The Bobcats brass has a $1 million qualifying offer on the table right now and would have three days to match anything higher that the Grizzlies throw at him.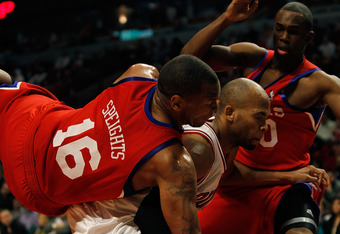 Jonathan Daniel/Getty Images
Another option is to trade for Speights. The Philadephia 76ers' 6'10" big man is owed $2.7 million in the last year of his contract.
They may be willing to part with him because his skills clash with coach Doug Collins' defensive game plan.
Xavier Henry and Greivis Vasquez would be two players that the Grizzlies could potentially send to Philly in exchange for the offensive PF/C.
Depending on which direction they want to go, either player will be a fit with the team and is desperately needed to fill the gaping hole that Darrell Arthur's injury has left.