Wisconsin Badgers: Rose Bowl Bound Once Again
December 31, 2011
Kevork Djansezian/Getty Images
Anyone that has ever grown up in the Midwest or in Big Ten country will tell you that going to the Rose Bowl is the ultimate dream. 
Now that we have the BCS (Bowl Championship Series), some might say the BCS championship game is the ultimate experience, but the Rose Bowl is still tops in the minds of many.  The Rose Bowl is a BCS bowl anyway, and the Wisconsin Badgers have been in Pasadena in back-to-back years (1999 & 2000) shortly after the BCS system originated in the 1998 season.
The ninth-ranked Badgers will be back for their eighth appearance (and second straight again) in the Rose Bowl on January 2nd, 2012 vs. the fifth-ranked Oregon Ducks.
Before we look at that game, let's look at some history first.  The Badgers have played in 22 bowl games and have a record of 11-11.  Bucky has also been to seven Rose Bowls before this year and has a 3-4 record. 
The three Rose Bowl wins came in the Barry Alvarez era, which was from 1990-2005.  Before Barry came to Madison, the Badgers had only been to six bowl games, which included three trips to Pasadena.  OK, let's go way back in time.  The Badgers have been playing football since 1889.
Over that time, the Badgers have compiled a record of 636-469-53.
However, the Badgers first bowl appearance was in the 1953 Rose Bowl.  The Badgers had many excellent squads before then, but at that time, only the conference champions went to bowl games, as there were only a few bowls in that day and age, most notably being the Rose Bowl, Cotton Bowl, Orange Bowl and Sugar Bowl. 
The history of bowl games started around the turn of the 20th century, when the Michigan Wolverines beat Stanford 49-0 in the 1902 Tournament East-West football game in Pasadena, later to become the Rose Bowl.
The first bowl game to be played in the actual Rose Bowl stadium was in 1923, when the USC Trojans beat the Penn State Nittany Lions 14-3.  The Big Ten and the now Pac-12 first started their alliance at the Rose Bowl in 1947, when Illinois and UCLA played. 
The BCS system has changed that a bit, like last year for instance when TCU played the Badgers.  Before 1947, many college teams played in the Rose Bowl, including Alabama, Georgia, Pittsburgh, Tulane, Duke, SMU and others, usually against teams from the west.  Since the BCS started teams like Nebraska, Miami (FL), Oklahoma and Texas have played in the Rose Bowl as well.
Back to the history of the Badgers now.  The Badgers have won 12 conference championships (Western and Big Ten) and have had many excellent teams and had many fine coaches.  Phil King won 66 games and three conference championships around the turn of the 20th century. 
Charles Hutchins coached a Badger squad that won the conference in 1906.  Then, William Juneau also coached a team that won the conference in 1912.  It would be another 40 years before the Badgers won another one, although the Badgers had an excellent team in 1942 under coach Harry Stuhldreher that went 8-1-1 and finished third in the country.
The next conference championship was under the direction of Ivy Williamson, who led the Badgers to the 1953 Rose Bowl behind FB Alan Ameche.  Ameche won the Heisman trophy in 1954 as a matter of fact.  Williamson's teams had a 41-19-4 record from 1949-1955.
The man who took over for Williamson was Milt Bruhn.  Bruhn had two teams win conference titles and also get to the Rose Bowl (1960 and 1963).  Overall, Bruhn was 52-45-6 as a Wisconsin coach from 1956-1966. 
The 1963 Rose Bowl game was probably the most famous game ever played in Pasadena.
The Badgers rallied from a 42-14 deficit at the hands of USC and almost came back to win, as they eventually lost 42-37 behind the heroic efforts of QB Ron Vander Kelen and TE Pat Richter.  After that infamous game, the Badgers finished No. 2 in the country, right behind USC.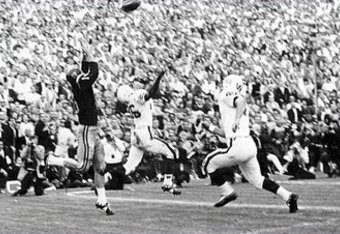 After Bruhn left, the Wisconsin football program started deteriorating in a rapid fashion.
Former Badger player John Coatta took over for Bruhn and had three terrible squads that went 3-26-1.  John Jardine brought the Badgers football program back to somewhat respectability as he led the Badgers to a 37-47-3 record from 1970-1977. 
However, the Badgers did not go to a bowl game in the Jardine era.  That changed when Dave McClain came to Madison.  McClain led the Badgers to a 46-42-3 record and three bowl games from 1978-85, including their first ever bowl win (1982 Independence Bowl), before tragically suffering a fatal heart attack in 1986.
After McClain died, the Badgers had Jim Hilles and Don Morton run the football program with terrible results, as the team was 9-36 in that period from 1986-1989.  The overall athletic program also had a change around that time, as former Badger All-American Elroy Hirsch stepped down as athletic director in 1987, after holding the job since 1969. 
In 1989, another former Badger All-American took over as AD…Pat Richter.  Richter made the best decision he ever made when he hired a man by the name of Barry Alvarez to be his next head coach of the Wisconsin football team.
Here's a brief summary of what Alvarez did as head coach of the Badgers…
- Alvarez won 118 games at Wisconsin, which is 53 more than any other head coach
- Alvarez won three conference titles at Wisconsin (1993, 1998 and 1999)
- Alvarez won three Rose Bowls at Wisconsin (1994, 1999 and 2000)
- Alvarez is the only coach to lead a Big 10 team to back to back Rose Bowl wins
- Alvarez was 8-3 in Bowl games, which is the best in NCAA history (based on 11 games)
- Alvarez coached Ron Dayne, who won the Heisman trophy in 1999
- Alvarez coached 9 1st round draft picks who were selected in the NFL draft
- Alvarez coached 59 NFL draft choices overall
- Alvarez coached 34 All-Americans
- Alvarez coached seven consensus first-team All-Americans
- Alvarez coached 62 first-team All-Big Ten selections
- Alvarez coached 119 Academic All-Big Ten selections
- Alvarez coached four Big Ten Defensive Players of the Year
- Alvarez coached two Big Ten MVPs
- Alvarez coached two Big Ten Offensive Players of the Year
- Alvarez coached three Big Ten Freshmen of the Year
- Alvarez coached 10 straight seasons with a 1,000-yard rusher (Big 10 record)
- Alvarez was named Big Ten Coach of the Year, 1993 and 1998
- Alvarez was named National Coach of the Year, 1993 and 1999
- Alvarez was elected to the Wisconsin Athletic Hall of Fame, Class of 2009
- Alvarez was elected to the Rose Bowl Hall of Fame, Class of 2009
- Alvarez was elected to the College Football Hall of Fame, Class of 2010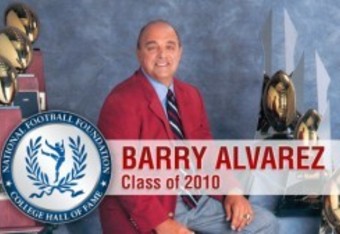 In addition, Alvarez became AD in 2004, along with being football coach for two more years. Alvarez hand selected the next head coach of the Badgers when he promoted defensive coordinator Bret Bielema to succeed him in 2006. 
Bielema had joined the Badgers in 2004, after former defensive coordinator Kevin Cosgrove left for Nebraska to take the same job there.  Bielema is in his sixth year as head coach and has 60-18 record, plus is 2-3 in bowl games.
Bottom line, the landscape of Wisconsin football changed the day Alvarez came to Madison.
Alvarez put together a talented and hard-working staff when he arrived at Wisconsin.  Among that group was Cosgrove, who most recently was the co-defensive coordinator at the University of Akron.  Cosgrove was with Alvarez longer than any other assistant coach that ever coached under Alvarez at Wisconsin.
Cosgrove knew that Alvarez had a vision about the direction of the program.  "As with everything Barry always did, he had a plan," said Cosgrove.  "When he got that job, he pretty much knew who he was going to hire.  Barry put together a strong staff, and then the first couple of years he fined tuned it, and turned it into a great staff."
Cosgrove also knows that Alvarez basically had to start from scratch.  "Attendance was down.  Interest in the Badgers was nil," Cosgrove said.  "I think the Badgers averaged 30,000 fans a game the year before we got there.  But we gradually pumped it up until it became sell out after sell out.  But naturally that first Rose Bowl was something special.  The thrill of getting there, when you consider all the things we had to do to build that program."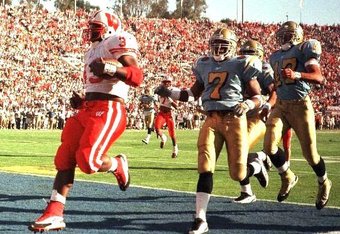 The program has just continued to get better as well.  "It's one of the top programs in the country right now.  Barry built it.  Like I said, he had a plan in everything he did," Cosgrove said.  "He hired a great staff, a staff that worked well together.  There was a lot of things that went into this process.  But you have to have a tremendous leader, and Barry was a tremendous leader."
That leadership is apparent today, as Alvarez presides over great programs in football, basketball and hockey among others just in men's sports.  But football has always been Barry's passion.  And watching his successor win another conference championship and to get back to back Rose Bowls has to be an exhilarating feeling for Alvarez.
That takes us to the Rose Bowl game that will be be played on Monday afternoon vs. the Ducks of Oregon.  The Ducks have played in four Rose Bowl games in its past, with the most recent one being the 2010 Rose Bowl game, when the Ducks lost to Ohio State 26-14.
Overall, the Ducks are 1-4 at the Rose Bowl, with their only victory coming in the third Rose Bowl game ever played in 1917, when Oregon beat Pennsylvania.
Oregon has become one of the elite programs in the Pac-12 conference, as the Ducks have won three straight conference titles under head coach Chip Kelly.
The matchup between the Badgers and the Ducks looks to be on of the best on the docket in terms of Bowl games.  Both teams can score with the best of them.  Oregon (46.2) ranks third nationally in scoring offense, while Wisconsin (44.6) is ranked fourth.  Neither team has been held to fewer than 27 points in a game at any point this season.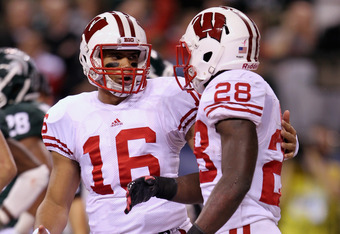 Andy Lyons/Getty Images
Oregon and Wisconsin are somewhat mirror images of each other offensively.  Both have quarterbacks who are very productive and very seldom make mistakes.
Darron Thomas is the QB of the Ducks, and he has thrown 30 TD passes vs. just six interceptions for 2,493 yards.  Thomas has also rushed for 205 yards and three TDs.
Meanwhile, QB Russell Wilson of the Badgers has thrown 31 TD passes compared to just three picks for 2,879 yards.  Wilson is also very nimble on his feet, as he has rushed for 320 yards and five TDs.  Wilson has also caught three passes for 56 yards and a TD. 
But it's the ground game that is the staple for both teams.
The Ducks are led by LaMichael James, who ran for 1,646 yards (7.4 rushing average) and 17 TDs.  James also caught 17 passes for 210 yards and another TD.  Kenjon Barner also chips in at RB, as he had 909 yards rushing, along with 11 TDs.
The Wisconsin ground game is led by Montee Ball, who was a Heisman Trophy finalist.  Ball rushed for 1,759 yards (6.4 rushing average) and a whopping 32 TDs.  Ball also caught 20 passes for 255 yards and six more TDs. Ball gets help at RB with James White toting the rock, as White has 683 yards rushing and has six TDs.
In terms of receiving weapons, the Ducks are led by RB De'Anthony Thomas who had 42 receptions for 571 yards and nine TDs.  Thomas gets help from WR Lavasier Tuinel, who had 40 catches for 441 yards and eight TDs.  TE David Paulson also pitches in, as he had 30 catches for 428 yards and six TDs.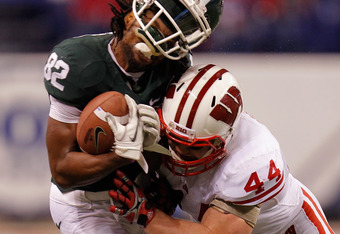 Gregory Shamus/Getty Images
The Badgers also have some receiving threats.  Wisconsin has a dual threat at wide receiver with Nick Toon and Jared Abbrederis.  Toon has 55 receptions for 822 yards and nine TDs, while Abbrederis has 51 catches for 814 yards and seven TDs.  TE Jacob Pedersen also has 29 receptions for 339 yards and eight TDs.
Bottom line, both squads will give you plenty of offense.  But if Wisconsin is to win this game, it will be because of an effective ground game behind it's massive offensive line, led by C Peter Konz, who looks to be back after missing some time with a dislocated left ankle.  The Badgers want to use as much clock as they can to keep the quick striking Oregon offense off the field.  The Badgers also like to run behind All-American G Kevin Zeitler.
The Oregon defense is ranked only 59th nationally, including 42nd vs. the run and 81st vs. the pass.  The Badgers can have their way with the Ducks either by running or passing the ball.  I think the Badgers will do both very effectively, but running the ball is more advantageous against an opponent like Oregon, with an offense that has had 41 TD drives that took two minutes or less.
The Wisconsin defense is ranked eighth nationally, which includes being ranked third against the pass and 43rd against the run.  The speed of the Oregon offense will be the biggest problem for the defense of the Badgers.
The Badger defense is led by linebacker's Mike Taylor and Chris Borland.  The two were ranked 1-2 in the Big Ten in tackles this year.  Taylor had 137 tackles, while Borland had 131.  That averages to over 10 tackles a game for each of them folks.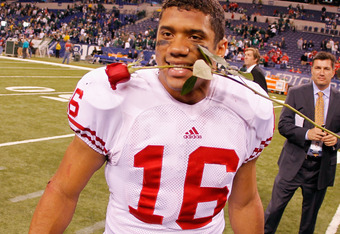 Gregory Shamus/Getty Images
The Badgers' secondary is led by S Aaron Henry, who had three interceptions.  CB Antonio Fenelus also had three picks, while S Shelton Johnson had four.
This type of game could also be won or lost because of the play of special teams.  Wisconsin knows this all too well, as they can pin both of their two defeats on special teams mistakes.  In both of their back-to-back losses to Michigan State and Ohio State, the Badgers had a punt blocked which led to a TD.
Oregon is very good at returning kicks (12th nationally), while the Badgers have issues covering kicks (80th nationally).
Overall, the kicking game of the Badgers is pretty good, as K Phillip Welch has been OK, as he has converted four out of five FG attempts (and 48-49 extra point attempts), while P Brad Nortman has averaged 42.1 on his punts.
The Badgers have a dangerous return game as well, as Abbrederis is third nationally (16.06 average) in punt returns, while he averages 24.4 on kickoff returns.
Bottom line, the 2012 Rose Bowl is going to be a hell of a game.  I think that the Badgers have a slight edge because of their overall balance.  I know most of the national pundits give the edge to Oregon, mostly because of their great team speed. 
I believe that Badgers will pound the ball offensively running the football, which will keep the potent Oregon offense off the field as much as possible.  I also think both Russell Wilson and Montee Ball will both have big games, just like they have all season.
When it's all said and done, the Badgers will see their efforts come up roses in a win, albeit by a close margin.
Bob Fox is a Featured Columnist for Bleacher Report. Unless otherwise noted, all quotes were obtained first hand.