St. Louis Rams: Adding a Running Back Is a Must for 2012
January 16, 2017
Dilip Vishwanat/Getty Images
Steven Jackson has had another solid season for St. Louis.
He's week in and week out battled for one of the most inept offenses in pro football. He will almost assuredly eclipse the 1,000-yard mark for the seventh consecutive year (he has 966 yards through 14 games). He's this generation's Barry Sanders—an outstanding player on a traditionally poor team.
Jackson is seemingly the Rams' only consistent weapon, because the passing game has struggled so mightily. Unfortunately, he's taken a beating this season and the past years. He is 28 years old and is reaching the end of the normal NFL running back's life span.
No, this is not an article about trading Steven Jackson.
It's more to the point that the Rams need to probably address this position as well this offseason. If the Rams see a quality running back in the free-agent pool or in the second or third rounds of the NFL draft, they should probably make the acquisition.
It's time to find the player who can truly spell Jackson or take over for him in the near future.
It's always nice to have two good running backs. Injuries to fellow Rams like Cadillac Williams have hurt Jackson's ability to play at full strength this year. Honestly, he's had to carry the load too much for the past half decade.
In the free-agent market, some decent veteran options are out there. Peyton Hillis, BenJarvus Green-Ellis and Mike Tolbert all would be solid fits.
A current Cleveland Brown, Hillis would offer a similar style to Jackson with an in-between-the-tackles, physical style. BenJarvus Green-Ellis from the Patriots is in that similar vane.
Tolbert is a savvy veteran who offers great third-down options. He's as good a receiver out of the backfield as is Tim Hightower from the Redskins.
These are not the only names in the free-agent market, but they don't disprove the point that Jackson needs a productive back to help his workload. Even though Steven Jackson is terrific at catching the ball, the next step to preserve his body might be to sub him out on third down.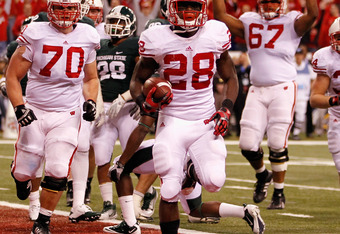 Gregory Shamus/Getty Images
If the Rams go in a different direction by drafting a young back, there are some good options.
Again, ignore the first round. The Rams must draft a receiver or offensive tackle there.
Potential second-round selections could be Oregon running back LaMichael James (if he comes out). James is a smaller back and would be a terrific pass-catcher on third down. Plus, he has the opposite style of Jackson, which is nice.
Other second- or third-round options include Cyrus Gray out of Texas A&M. He split carries this season for the Aggies, so durability should not be an issue as a pro.
Some have speculated that junior Montee Ball might leave school early. A St. Louis native, Ball would be a good second option to Jackson. He has 39 touchdowns this season for Wisconsin.
Whatever the Rams do this offseason, another option at running back should probably be in the cards. It's not the Rams' No. 1 need, but the long-term health of Steven Jackson may become an issue with his age approaching 30.
The Rams should do their best to lighten his workload and maybe sub him out on third down. It would prolong his career.
It's the least they could do for all Jackson has done for this downtrodden franchise.