Indiana Hoosiers Tie Record Start with Rout over Howard
December 20, 2011
Andy Lyons/Getty Images
The Indiana Hoosiers (11-0) are off to their best start since the 1975-76 season with a 107-50 rout over the Howard Bison (3-9) tonight.
They must have read my article recapping Saturday's win over Notre Dame in which I wrote that if it wasn't for freshman, Cody Zeller, the Hoosiers wouldn't be where they are right now.
They proved me wrong by shooting a scorching 67 percent from the field, including hitting 11 three point shots.
That's a far cry from hitting only one three point shot on Saturday against Notre Dame.  The Hoosiers are the nation's leading three point shooting team and showed tonight that Saturday was just a slump.
Indiana hit 7-11 three point shots in the first 10:26 of the game.  They were 7-9 at that point of the game and already held a 33-10 lead over the Bison.
The Hoosiers showed they were more than just a Zeller-led team in assisting on 27 of the 35 made baskets.
Don't get me wrong, a lot of those open shots were due to Zeller finding the open man, but the Hoosiers just worked so well together as a unit.
This was one of the most balanced games scoring that I've seen for Indiana in quite some time.  13 Hoosiers scored at least a point, and 16 Hoosiers earned playing time.
Junior, and Kentucky game hero Christian Watford, got the Hoosiers started scoring the first five points of the game. He finished with ten points for the contest.
Five other players joined Watford in double figures tonight with fellow junior Jordan Hulls having a game high 16 points. 
Things were going so right for the Hoosiers that Hulls hit a left-handed shot as time expired on the shot clock in the second half.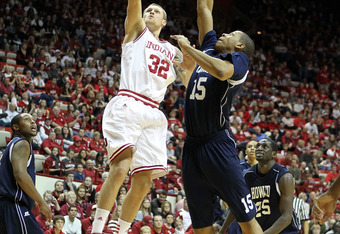 Andy Lyons/Getty Images
Joining Hulls and Watford in double figures were Verdell Jones III, Will Sheehey and Cody Zeller, each with 12 points, and Victor Oladipo with 10.
Freshman Remy Abell had a career high with nine points and five assists off the bench.
The Hoosiers also played very solid defense, holding Howard to 30 percent shooting from the field and only 20 percent from behind the arc.
They forced the Bison to 17 turnovers and only allowed five assists.
Freshman Simuel Frazier led Howard with 13 points.
Indiana returns to action on Thursday in Assembly Hall against the UMBC Retrievers (1-9) at 6 P.M.
The game can be seen on ESPN 3. It will also be the last non-conference game before Big Ten play begins next Wednesday against Michigan State in East Lansing.