MLB Free Agents: Hot Stove Steals Still Available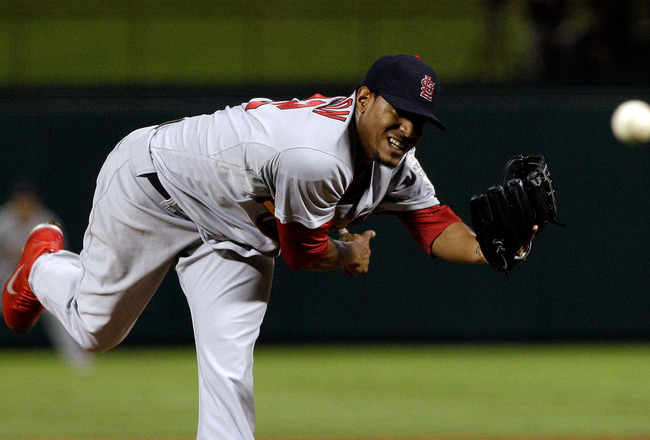 Pool/Getty Images
While there are still plenty of big names available on the market, the Major League Baseball Hot Stove is burning with a number of interesting players who likely won't command a big deal—in years or dollars—for teams to take a chance on.
In fact, your team would probably be better off looking at these players than someone like Prince Fielder or Yu Darvish because there will be less risk involved with them. They may not have the same potential impact as those players, but they can be solid contributors to playoff contenders.
As much as no one likes to hear about billionaire owners worried about financial restraints in their market, the reality is that every team worries about the bottom line. That is why the bargain bin is so important in free agency.
Here are five players still left on the market who would be good additions for teams that have enough talent to compete but need one more piece to push them over the top.
Edwin Jackson, SP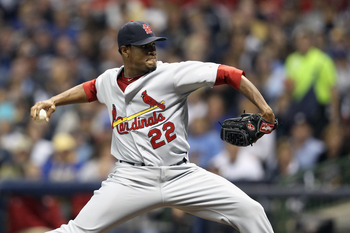 Christian Petersen/Getty Images
2011 Stats: 12-9, 3.79 ERA, 148 Strikeouts in 199.2 Innings Pitched
I am convinced that Jackson will either be the biggest bargain signed this offseason or the biggest bust. There is no in between with him.
He has the stuff to be a top-of-the-rotation pitcher with a mid-90s fastball that he can hold for an entire game. His slider can be an above-average offering and he mixes in a change-up to keep hitters off balance.
The problem with Jackson—and this has been the case since he got to the big leagues—is his command. He doesn't locate his pitches within the strike zone well at all. He likes to pitch up in the zone, which leaves him susceptible to extra base hits.
But when he is on, he is electric. He may never fulfill his potential as a No. 1 or 2 starter, but he can be a good No. 3 on a playoff team if he is right.
Hiroki Kuroda, SP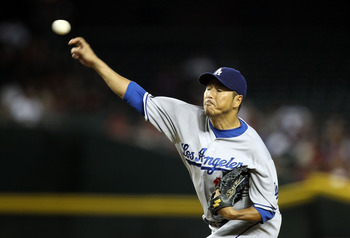 Christian Petersen/Getty Images
2011 Stats: 13-16, 3.07 ERA, 161 Strikeouts in 202 Innings Pitched
We have heard Kuroda's name in trade rumors for much of the last two seasons, and now that he is a free agent, he should have his share of suitors.
He is a more reliable pitcher than Edwin Jackson because his command is better, but he doesn't have the upside. Of course, that also means he doesn't have as many risks as some of the other starters on the market.
The one thing that would concern me if I were giving Kuroda a deal is that he has played in an environment that favors pitchers.
The National League West is the worst hitters division in all of baseball with the Los Angeles Dodgers, San Diego Padres and San Francisco Giants all ranked in the bottom half of the league in runs scored.
I am interested to see just how much of his performance was helped by pitching against those teams. I don't think he will be bad anywhere else, but I don't think his numbers will look as good if he goes to another division.
Johnny Damon, DH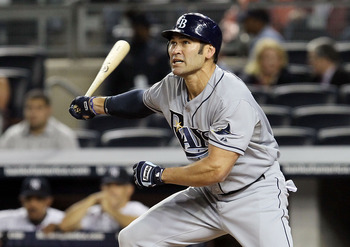 Jim McIsaac/Getty Images
2011 Stats: .261/.326/.418, 16 Home Runs, 19 Stolen Bases
Damon is obviously in the twilight of his career, and he should not be played in the field anymore because he has no throwing arm and little range that he can cover, but there are a few places where he can be a useful hitter.
He can still hit lefties and righties, so whichever team signs him won't have to worry about platooning him with another player.
The one concern that I do have with Damon is his plate discipline. His .326 on-base percentage is problematic and that is not good enough for a full-time designated hitter.
But of all the hitters left, he might be the cheapest and will give you solid bang for your buck.
Andruw Jones, OF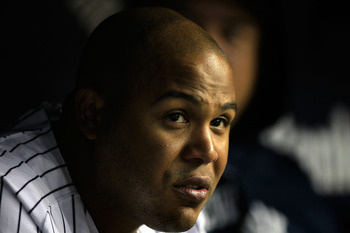 Chris Trotman/Getty Images
I can't remember the last time that I talked about Jones in a positive way, but give him credit for finding a way to reinvent himself as a platoon specialist.
He still plays good defense in the outfield, though he is limited to a corner spot because he has lost too much speed and range to play center field.
You can't start him against right-handed pitching—he hit just .172 with 23 strikeouts in 64 at-bats against them in 2011—but he can be a valuable addition for a team that needs power off the bench and an outfielder who can start against lefties.
He won't play in more than 100 games, so he can be had for a cheap one-year deal.
Carlos Pena, 1B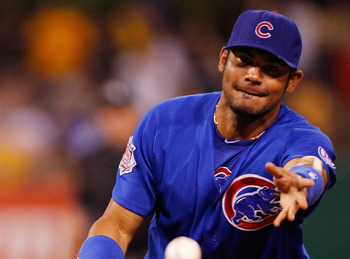 Jared Wickerham/Getty Images
Like Andruw Jones, Pena is strictly a platoon player if you want to maximize his value. He is clearly in the twilight of his career now, but he does still have enough pop left in his bat and plays strong enough defense to warrant taking a chance on him if you need a first baseman.
If Pena was able to make consistent contact with the ball enough to get his average up to around .250, he would be a great player. As it stands, he is only going to hit .225-.235, but he still has good plate discipline with over 100 walks in 2011.
A team like the Rangers, who are in desperate need of some production at first base, would be a good fit for him if they wanted to pursue him.
Keep Reading